KARACHI -- Following the lead of the United Nations Security Council (UNSC), Pakistan has added three "Islamic State of Iraq and Syria" (ISIS) affiliates to its terrorism watchlist.
Islamabad on March 8 banned Jamaah Ansharut Daulah (JAD), an Indonesia-based terror organisation, ISIS-Libya and ISIS-Yemen.
The UNSC sanctioned the three ISIS affiliates on March 6.
The Pakistani government regularly updates its list of proscribed militant outfits based on the UN's actions, said a Foreign Ministry official confirming the ban.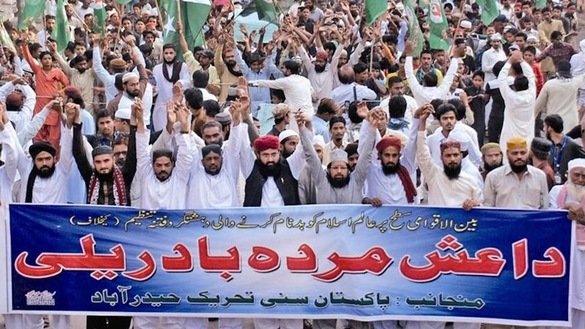 The ban means applying "restrictive measures with a view of combating terrorism at global level" to groups, entities and individuals, said the official on the condition of anonymity.
The US State Department designated JAD a global terror outfit in 2017 and ISIS-Libya and ISIS-Yemen in 2016, according to its list of designated ISIS branches and individuals.
JAD was formed in Indonesia in 2015 as an umbrella group for about two dozen Indonesian militant groups who had pledged allegiance to then-ISIS leader Abu Bakr al-Baghdadi. US forces killed al-Baghdadi in Syria in 2019.
The group is the largest ISIS-affiliated terror network in Indonesia and has carried out numerous attacks since its formation, according to the UN. Its imprisoned leader, Oman Rochman, has been awaiting execution in Indonesia since 2018.
ISIS-Libya emerged in November 2014 when al-Baghdadi announced its formation. The group was a member of the Shura Council of Benghazi Revolutionaries, a local alliance of several terror outfits.
That same month, al-Baghdadi also declared the existence of ISIS-Yemen, announcing in an audio message that he had accepted oaths of allegiance from fighters based there.
The group has attacked mosques, detonated an explosive device near the US Embassy in Sanaa, Yemen, in 2015 and targeted the headquarters of a Yemeni counter-terrorism unit in Aden, Yemen, in 2018.
Joining the global fight against ISIS
Since May 2019, UN members have blacklisted six global ISIS branches, according to the UN.
Pakistan is part of global counter-terror efforts and has banned 79 terror outfits since 2001, according to the National Counter Terrorism Authority (NACTA), a governmental counter-terrorism body.
In 2003, Pakistan banned al-Qaeda, founded by Osama bin Laden, who was killed in 2011 by US Navy SEALS at a compound in Abbottabad.
In 2013, Pakistan included two Central Asian militant groups -- the Islamic Movement of Uzbekistan (IMU) and the Islamic Jihad Union (IJU) -- to its list of proscribed outfits.
The same year, Islamabad banned the East Turkestan Islamic Movement (ETIM), a China-based militant outfit linked with al-Qaeda.
Pakistan imposed a ban on ISIS in August 2015.
Pakistan's action to ban ISIS's international affiliates will not only weaken the terror group's efforts to regroup but strengthen the country's crackdown on ISIS's Khorasan branch (ISIS-K), a local chapter of the terror outfit operating in Pakistan and Afghanistan, say analysts.
"Pakistan from the beginning has been supporting international efforts in curbing terrorism because it considers it a global threat," said Abdul Hadi, a Karachi-based analyst of anti-extremism projects.
The ban will help Pakistan's law enforcement agencies, which are shattering the ISIS-K network in the country, he said.