ISLAMABAD -- A number of Pakistani analysts and observers are expressing concern about Russia's recent attempts to cozy up to Pakistan.
The regime of Russian President Vladimir Putin for years has been attempting to regain relevancy in the Middle East, Afghanistan, Central Asia and beyond following the fall of the Soviet Union and the Russian Federation's subsequent international isolation due to its actions in Syria and Ukraine.
Now it appears Moscow has designs on Pakistan, making a concerted effort in recent months to entice Islamabad into a number of agreements.
For instance, at the invitation of Russian Foreign Minister Sergei Lavrov, Pakistani Foreign Minister Khawaja Muhammad Asif travelled to Moscow in February for a three-day visit.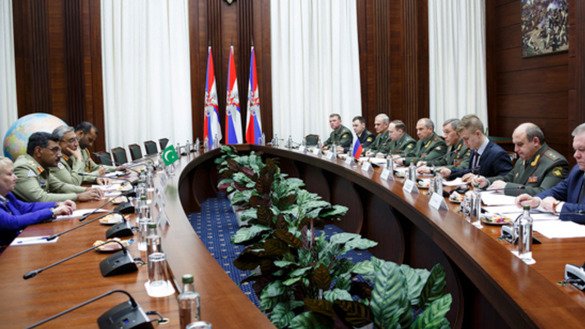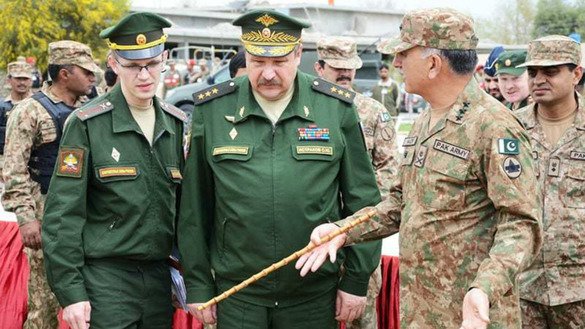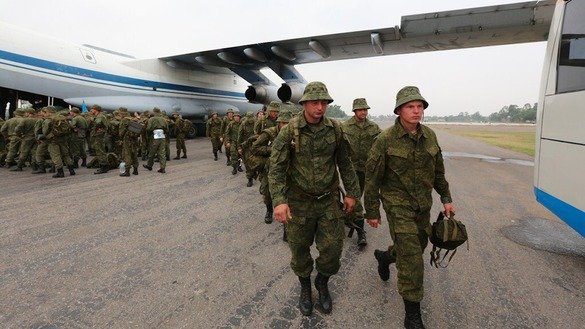 One of the results of that trip was the establishment of a joint "Anti-Terror Military Co-operation Commission" between Russia and Pakistan.
On April 24, Chief of Army Staff Gen. Qamar Javed Bajwa also visited Moscow to discuss military relations between the two countries.
Russian statements following the meeting clearly show the Kremlin is trying to woo Pakistan.
"Pakistan is a geo-strategically important country, and Russia is keen to expand its existing bilateral military to military co-operation," Col. Gen. Oleg Salyukov, commander of Russia's ground forces, said during Bajwa's visit, Pakistani media reported.
"We want to promote defence ties with Pakistan," he said.
Meanwhile, Russia has taken a number of other diplomatic steps to improve relations, such as opening up a consulate in Peshawar in February.
Russia's efforts self-serving
Despite Moscow's friendly overtures, a number of Pakistani analysts and observers say they see through the Kremlin's self-serving efforts.
Pakistan's Express Tribune described a Pakistani Foreign Ministry statement in February saying "Russia enjoys a special place in our foreign policy" as "an unprecedented expression... for a country that remained Pakistan's bitter cold war rival".
"Of late, the shift in Russia's policy towards Pakistan is very clear," said Abdur Rehman, a lecturer at the University of Peshawar.
"Pakistan has assumed greater significance for Russia because of its role in Afghanistan," he told Pakistan Forward.
"However, it is not possible for the two erstwhile foes to see an improvement in their relations because of their history of being poles apart as far as the war in Afghanistan is concerned," he said, referring to the USSR's invasion of Afghanistan and to Pakistan's aid to insurgents at the time.
Russia's pivot towards Pakistan is based on "its desire to gain access to the Arabian Sea and beyond", he said.
"The only purpose of Russia's warmth in relations with Pakistan is to serve its own interests," Rehman said. "Pakistan's friendship with Russia will harm its relations with China, the United States, Saudi Arabia and European countries that have had trade ties with Pakistan for decades."
"Russia's engagement with Pakistan will drastically reduce [Islamabad's] ties with the rest of the world," he said.
Russia cannot replace the US
Rehman also cited US support in non-military matters.
"Besides its military assistance to Pakistan, the United States has been helping Pakistan overcome its energy crisis by installing several electricity-generating projects in all four provinces," he said.
"Thousands of Pakistani students are studying in the United States on scholarships, while thousands have been employed in the United States," he said.
"Russia's economy is extremely fragile and cannot extend any assistance to Pakistan," Rehman said. "Pakistanis know Russia does not have quality exports. On the contrary, other countries, including the United States, have top quality exports, including medicines, machines, etc., which are in high demand here."
Muhammad Asim, a lecturer in international relations at the University of Peshawar, provided a similar assessment.
"The Russian economy is very weak and cannot help Pakistan like the United States can," he told Pakistan Forward.
"We have time-tested relations with the United States," he said. "The Americans have been supporting us financially, militarily and technically for a long time, while Russia lacked the capacity to help us."
Former Brig. Saad Muhammad, a senior security analyst based in Islamabad, agreed.
"The United States is a superpower and Russia does not have that sort of capacity," he told Pakistan Forward.
Russia an international pariah
One of the main issues of aligning with Russia is the baggage that comes with the Putin regime.
One sore point is Moscow's increasingly close ties with Tehran, which are exacerbating sectarian fault lines across the Muslim world and reveal the Kremlin's aim to gain influence by aligning with Iran's destabilising activities.
In terms of Pakistan, this includes Iran's continuing support of the Zainabiyoun Brigade, a Shia militia fighting in Syria that undermines the sovereignty of Pakistan, as well as Iran's multiple attempts to sabotage the Turkmenistan-Afghanistan-Pakistan-India (TAPI) pipeline.
Another issue is Russia's growing state of international isolation due to its illegal annexation of Crimea in 2014 and its support and protection for Syrian dictator Bashar al-Assad, who has used chemical weapons against his own people.
"I am sure there will be no acceptance for Russia either at the state or the public level," Asim said.
"Historically, our people as well as our governments have been opposed to Russian intervention in Pakistan," he said. "Despite Russia's struggle and willingness to see a toehold in Pakistan, I see no tangible improvement in relations."
"Pakistan cannot trust Putin's government," he said. "The level of trust between both the countries is next to zero. Even the Pakistani people consider Russia a permanent enemy."
[Ashfaq Yusufzai from Peshawar contributed to this report.]