ISLAMABAD -- Russian Foreign Minister Sergey Lavrov on Wednesday (April 7) concluded a two-day visit to Islamabad for talks on diplomatic, economic and military ties between the two countries, but observers are wondering about Moscow's true intentions.
It is the first time in nine years a Russian foreign minister has visited Pakistan.
"During the talks between the two foreign ministers, the entire gamut of Pakistan-Russia relations will be reviewed and ways discussed to further broaden and deepen bilateral co-operation in diverse fields," the Pakistani Foreign Ministry said in a statement ahead of the visit.
Regional peace, specifically the Afghan peace process, was one of the top issues on the agenda, the ministry said.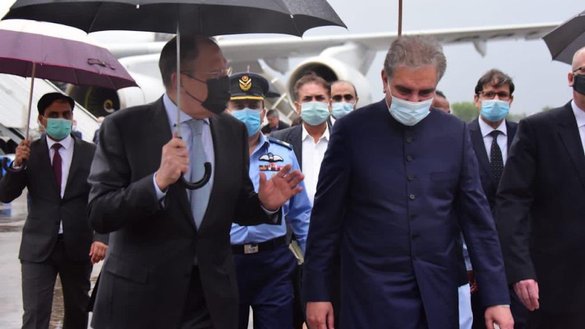 Lavrov, accompanied by Russian presidential envoy to Afghanistan Zamir Kabulov, held meetings with Prime Minister Imran Khan and Chief of Army Staff Gen. Qamar Javed Bajwa.
Questioning the Kremlin's intentions
While publicly Moscow claims that it supports peace talks in Afghanistan, its true intentions remain murky.
Russia on March 16 attempted to host peace talks between the Afghan government and the Taliban as part of an effort to cement its role as a powerbroker.
The Afghan Foreign Ministry described the meeting in Moscow and a proposed peace conference in Turkey scheduled for later this month as "complementary to the Afghanistan peace negotiations in Doha and not as a substitute to it", referring to legitimate peace intra-Afghan peace talks being held in Qatar.
Over the past few years, Russian activity in Afghanistan -- specifically its support for the Taliban -- has been steadily increasing.
The Kremlin claims it maintains ties with the group only to counter the regional growth of the "Islamic State of Iraq and Syria" (ISIS) and to encourage the Taliban to negotiate with the Afghan government.
However, it is no secret that the Kremlin desires to avenge the former Soviet Union's humiliating defeat in Afghanistan, regardless of the cost paid by the Afghan people.
The Russian regime, under President Vladimir Putin, for years has been providing diplomatic and political support to the Taliban to boost their legitimacy, and also has been funnelling weapons and funds to the group to strengthen it militarily.
Serving Moscow's interests
The visit also comes while Russia is suffering from diplomatic isolation and a severe economic slump, due mostly to sanctions imposed on it for a host of malign activity, from the illegal annexation of Crimea to meddling in foreign elections and poisoning domestic opponents.
As such, Moscow is eagerly seeking new markets for its products and alliances with other nations.
Pakistani observers have long viewed Russia's overtures with wariness.
At best, Moscow is trying to position itself to sell energy and weapons. At worst, Moscow is trying to edge out Pakistan's other historical allies in its game of geopolitical chess.
"The shift in Russia's policy towards Pakistan is very clear," Abdur Rehman, a lecturer at the University of Peshawar, said in June 2018 after diplomatic relations between Pakistan and Russia appeared to improve.
"Pakistan has assumed greater significance for Russia because of its role in Afghanistan," he said.
"However, it is not possible for the two erstwhile foes to see an improvement in their relations because of their history of being poles apart as far as the war in Afghanistan is concerned," he said, referring to the Soviet invasion of Afghanistan and Pakistan's aid to mujahideen insurgents at the time.
Russia's pivot towards Pakistan is based on "its desire to gain access to the Arabian Sea and beyond", he said.
"The only purpose of Russia's warmth in relations with Pakistan is to serve its own interests," Rehman said. "Pakistan's friendship with Russia will harm its relations with China, the United States, Saudi Arabia and European countries that have had trade ties with Pakistan for decades."
"Russia's engagement with Pakistan will drastically reduce [Islamabad's] ties with the rest of the world," he said.