PESHAWAR -- Ali Begum, a 63-year-old retired civil servant from Kurram Agency of the Federally Administered Tribal Areas (FATA), has declared her intent to run in the next general election.
It is relatively rare for women to take part in politics in the conservative region once beset by militancy.
During the last general election in 2013, Bajaur Agency resident Badam Zari was the first woman candidate from FATA to run for the general election.
Zari lost her bid, but many FATA residents have high hopes for Begum's campaign for a seat in the National Assembly. The election is tentatively scheduled for late July.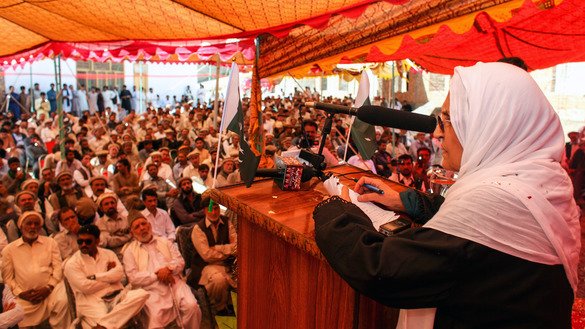 Begum opened a campaign office in Parachinar April 7.
"My aim is to end terrorism, establish peace, empower women and democratise the tribal population," she told Pakistan Forward.
"I want to work [to improve] women's roles and rights in Pakistan's male-dominated society and create sectarian harmony for peace," she said.
"The unity of tribe members for the development and prosperity of the area is [my goal and what brought me] to politics," Begum said, adding that she has started organising public meetings to include women.
"Women are the most neglected, and I want to awaken them to politics so that they can take part in the democratic process," she said. "We must address the problems faced by women."
Locals pledge support
Begum said she would earn the support of the public, both men and women, to win at the polls. She already has a number of backers.
"We praise Ali Begum and hope she will serve the people," Jamal Hussain, a 41-year-old schoolteacher in Parachinar, told Pakistan Forward. "[Voters] will fully support her."
"She knows our problems very well because of her educational background and from working in important positions as a civil servant," he said, adding that Begum will prove to be a cementing force in uniting women to struggle for their rights.
Muhammad Suhail, a lecturer in the history department at the University of Peshawar, said that Begum could become a symbol of unity and act as an inspirational force for tribe members.
"She is an educated woman and enjoys respect throughout the area, and the public will rally behind her," he told Pakistan Forward. "It would be very encouraging for her to win."
The return of peace
Begum's announcement that she would contest polls in a conservative area sends a strong message that FATA is a peaceful place, said Parachinar elder Attaullah Khan.
"It is very important for the world to notice the return of peace to the area, where a woman candidate can [go door to door] seeking votes," he told Pakistan Forward.
Begum's decision to run is a welcome development for all of FATA because it will raise awareness among women about their rights and responsibilities, Khan said.
"Extremism is the main obstacle blocking development of FATA, for which we require hard workers, like Ali Begum, to motivate others and work jointly," he said.
The move also sends a clear message to militants that they cannot browbeat women through oppression, he said.
Khan predicted Begum's success on election day.
"Most women in the area will take part in her campaign to send her to parliament to resolve their problems," he said, adding that women's education should be at the top of Begum's agenda.