PARACHINAR, Kurram Agency -- Pakistani security forces and intelligence agencies have arrested three suspected terrorists in Kurram Agency, breaking up a major terror network and seizing a major cache of weapons, according to a statement from Inter Services Public Relations (ISPR) Tuesday (April 10).
Authorities jointly conducted the security operation as part of Operation Radd-ul-Fasaad.
The arrested suspects confessed that they were involved in three major terrorist attacks in Parachinar, the provincial capital, including suicide bombings.
They were also linked to a terrorist network that smuggled illegal weapons, ammunition and explosives inside Kurram Agency, ISPR said.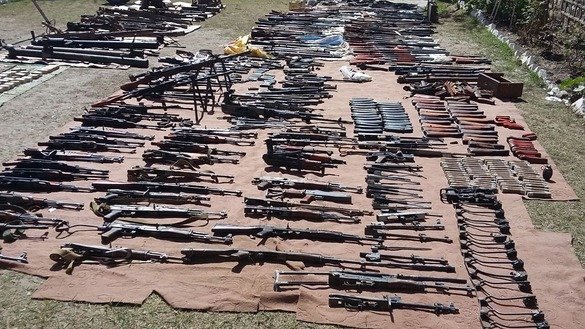 Based on the information obtained from the suspects, authorities seized a large quantity of arms, ammunition, bombs, improvised explosive devices (IEDs), mines and other explosives from an underground militant facility.
"Such operations will cut the weapon and explosive supply to the militants in the agency and also throughout the country, thus drying up the source of terrorism," Lt. Gen. (ret.) Amjad Shoaib, an Islamabad-based security analyst, told Pakistan Forward.
The terrorists would have used these explosives to kill civilians, so a tragedy was averted, Lt. Gen. (ret.) Talat Masood, another Islamabad-based senior security analyst, told Pakistan Forward.
"It's also a message to the terrorists that Pakistani forces are vigilant and that the terrorists can't operate here, even in secret," said Masood.
Kurram matters as it borders three Afghan provinces -- Paktia, Paktika and Khost -- and the recovery of explosives and ammunition will be helpful in defeating terrorism not only in FATA but also across the border, according to Brig. (ret.) Mehmood Shah, a Peshawar-based security analyst and former security secretary for the Federally Administered Tribal Areas (FATA).