KARACHI -- Pakistani efforts to crack down on violent extremist groups across the country have been effective in reducing sectarian violence.
Pakistani security forces have been stepping up operations against militancy as part of the National Action Plan (NAP), a comprehensive road map devised by the government in 2015 to tackle militancy and terrorism.
One of the plan's goals is to take "action against elements spreading sectarianism".
Such efforts have led to a reduction in sectarian violence for the fourth year in a row, according to the Pak Institute for Peace Studies (PIPS) annual security report for 2017.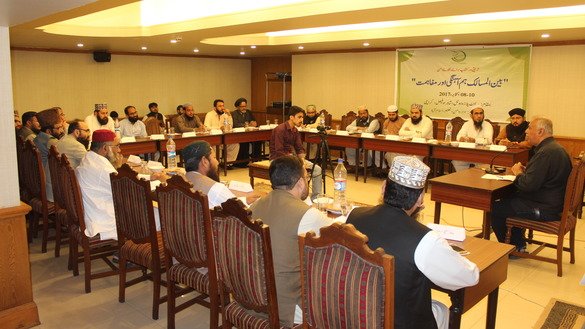 Decline in sectarian violence
The number of terrorist attacks in 2017 fell by 41% from the previous year, according to the report published in January 2018.
Twenty incidents of sectarian violence were reported in 2017, a 44% decrease from 34 in 2016, the report said. Fifty-eight such incidents were recorded in 2015.
The number of killings in sectarian attacks and clashes in 2017 decreased by about 29%, from 104 in 2016 to 74 in 2017. As many as 106 people were injured in sectarianism-related attacks throughout the year, down by 34% from 2016.
The National Counter Terrorism Authority (NACTA), in its briefings and policy papers, confirmed that sectarian violence has significantly diminished.
A continuous crackdown has greatly weakened proscribed militant outfits involved in sectarian attacks, according to NACTA chief Ihsan Ghani.
"If you compare [it to] the statistics of ... sectarian attacks of the 2012-2014 period, there is a clear reduction there now," he told Pakistan Forward.
Banned militant groups weakened
Law enforcement agencies have decimated sectarian groups across the country -- especially Lashkar-e-Jhangvi (LeJ) -- by arresting or killing key leaders.
About 90% of the sectarian attacks in 2017 occurred in the first half of the year, according to PIPS director Muhammad Amir Rana. The frequency of attacks by sectarian terror groups dwindled in subsequent months.
"The major reason for [the decrease] was the disruption of the network of proscribed sectarian groups -- LeJ and LeJ al-Alami, a LeJ splinter faction -- in Sindh and Balochistan provinces," he told Pakistan Forward.
In February 2016, the Pakistani army announced the arrest of three high-profile militant commanders: LeJ central leader Naeem Bukhari; LeJ Karachi deputy chief Sabir Khan, also known as Munna; and Farooq Bhatti alias Musana, the leader of al-Qaeda in the Indian Subcontinent.
LeJ chief for Sindh and Balochistan provinces Asif Chotu was killed January 18, 2017, in a shootout with police in Sheikupura District, Punjab Province. He was on Pakistan's most-wanted terrorist list for his involvement in more than 100 sectarian slayings and had a bounty of Rs. 3 million ($27,000) on his head.
Karachi police killed LeJ Karachi chief Saad Sar Khan in the Zarina Colony neighbourhood last October 6.
Most recently, Balochistan police January 15 in Quetta killed Shaira Lehri, the most wanted LeJ terrorist in that province.
Promoting inter-sect harmony
Civil society organisations have reduced sectarian violence and conflict by bringing together clerics of various sects.
For example, the Islamabad-based Peace and Education Foundation (PEF) has organised a series of workshops with religious scholars and seminary teachers of various sects throughout Pakistan to promote inter-sect harmony.
"Our main purpose for organising these workshops is to identify the common avenues for promoting sectarian harmony among various sects," Mujtaba Rathore, a researcher at the PEF, told Pakistan Forward.
Participants in the workshops have agreed that efforts should be made to promote the commonalities, rather than differences, among sects, he said.
Religious leaders have taken steps to encourage their followers to avoid sectarianism.
Scholars of various sects who attended a PEF workshop in Karachi in October recommended a fatwa against calling each other infidels.
On January 15, more than 1,800 clerics issued a fatwa condemning suicide attacks and agreeing that sectarian hatred and armed sectarian conflict are contrary to the teachings of Islam.
The clerics also declared support for the government's ongoing crackdown on the Taliban and its allied sectarian groups.