SWAT -- Nobel peace laureate Malala Yousafzai visited the Swat Valley over the weekend for her first trip back to the once militant-infested Pakistani region where she was shot in the head by the Taliban more than five years ago.
The brief trip is a highly symbolic moment for Pakistan, which regularly touts Swat as a success story in its long battle with extremism.
"I left Swat with my eyes closed, and now I am back with my eyes open," Yousafzai told AFP, referring to how the army airlifted her in a coma after the 2012 shooting.
"I am extremely delighted. My dream has come true. Peace has returned to Swat because of the invaluable sacrifices rendered by my brothers and sisters," she said at a school in Mingora.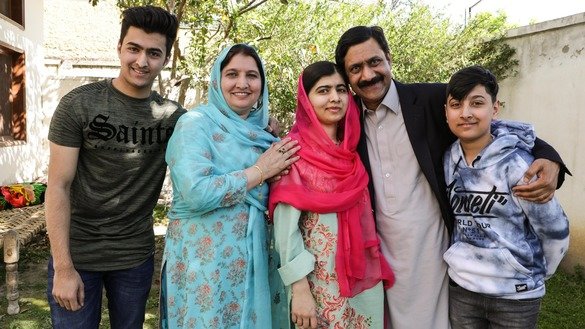 Mingora is where Malala's family was living and where she was attending school on October 9, 2012, when a gunman boarded her school bus, asked "Who is Malala?", and shot her.
She received treatment first at an army hospital and then in Birmingham, England.
On Saturday, Yousafzai photographed the Swat Valley from an army helicopter and tweeted the images, saying: "The most beautiful place on earth to me."
"So much joy seeing my family home, visiting friends and putting my feet on this soil again," she tweeted.
There she lingered some 45 minutes, taking more photographs, before travelling back to Islamabad. The entire visit apparently lasted just more than two hours.
Her family also told AFP of their joy in coming home.
"I am unable to believe I am back in Swat and meeting my own people," her father, Ziauddin Yousafzai, said.
Tearful homecoming
The trip comes two days after Malala, a student at Oxford University in Britain, made her emotional return to Pakistan, where her surprise visit has evoked widespread joy and pride. She returned to Britain Monday (April 2), according to government officials.
She broke down in tears as she made a televised speech last Thursday (March 29), saying it was her "dream" to be back, and has vowed to Pakistani media that she will return permanently after she has completed her education.
However, she has also encountered pockets of intense criticism. Malala receives wide respect internationally, but opinion is divided in Pakistan, where some conservatives view her as a Western agent on a mission to shame her country.
Residents of the area have praised Malala to AFP in recent days, crediting her with helping to generate improvements in education -- especially for girls -- in the deeply conservative region, part of Khyber Pakhtunkhwa Province.
Earlier this month, an all-girls school built with money from the Malala Fund opened in Shangla District northeast of Mingora, where her family lived before moving to the city.
Malala told AFP in Swat that she could see vast changes in the area since 2012 -- but added she has read reports which claim up to 50% of children are still out of school.
"We will have to work very hard to bring them all to school," she vowed.
Residents of Swat also welcomed her visit and urged fellow Pakistanis to support her efforts to promote girls' education.
"We welcome Malala and the slogan that she has raised -- one pen, one teacher. We have pinned our hopes on Malala," Nazir Khan, a government worker, told AFP.
"People have positive as well as negative views about her," fellow resident Arshad Ali said.
"We need to see what she has done until now, she has constructed a model school at Shangla reflecting her sincerity of purpose -- to promote education especially among girls in the country."