PESHAWAR -- Pakistani security forces have been seizing major arms caches and unearthing weapons dumped by militants forced to flee from ongoing military operations, security analysts say.
Operation Zarb-e-Azb, launched in June 2014, has flushed out terrorists from Pakistan's tribal areas.
The subsequent Operation Radd-ul-Fasaad, which began in February 2017, saw the arrest and surrender of key militant commanders, many of whom have given authorities information leading to the seizure and destruction of arms caches.
Fleeing militants dislodged from their strongholds often dump their weapons and ammunition in underground complexes and tunnels or hide them in fields and even in mosques.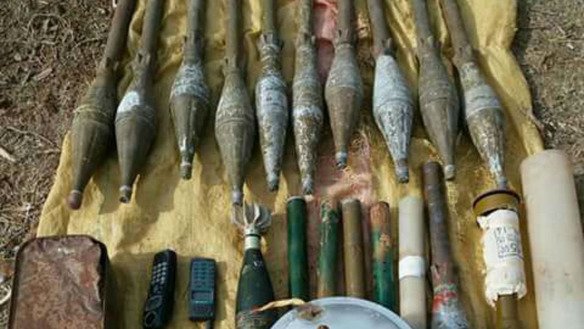 "As the militants are now unable to endure the security forces' onslaught, they are getting rid of these weapons by hiding or dumping them to escape arrests," said Aqeel Yousafzai, a Peshawar-based journalist and tribal affairs specialist.
Unearthing arms, ammunition
In one recent example, security forces January 29 seized a huge quantity of arms and ammunition in the Shakai Tehsil area of South Waziristan Agency, according to Inter-Services Public Relations (ISPR).
The cache, discovered during intelligence-based operations, included rockets, AK-47 rifles, hand grenades and thousands of rounds of ammunition.
Earlier on January 26, security forces -- using information gathered from arrested militants -- also recovered a huge arms cache from a tunnel in Orakzai Agency.
Fifty rocket launchers, 50 three-foot-long missiles, thousands of bullets, rocket-propelled grenades, suicide vests, explosives, improvised explosive devices (IEDs) and other equipment were sealed in mud inside a complex tunnel that had remained hidden for years.
In another operation, the Frontier Corps January 18 carried out a search operation in Pashin District, Balochistan, and recovered a sizable quantity of arms and ammunition, according to ISPR.
On January 14, Peshawar Police arrested five suspects and seized a large cache of weapons in crackdowns in various areas of the city. The bust broke up a major weapons smuggling operation supplying terrorist activities across Pakistan.
In Balochistan, on January 5, security forces recovered arms, ammunition and explosives as part of Operation Radd-ul-Fasaad in the Sui, Muslim Bagh, Barkhan, Sambaza, Mekhtar, Loralai and Mastung areas.
Eliminating terrorist safe havens
These seizures have shattered terrorists' ability to hide and smuggle weapons for future use, security analysts say.
"Leads from arrested militants are key to locating such huge arms caches and depots, which the militants dumped while fleeing the [military] operation in the tribal areas," said Brig. (ret.) Mehmood Shah of Peshawar, a security analyst and former security secretary for FATA.
"It's a reality that most parts of FATA and areas along both sides of the Pakistani-Afghan border were terrorists' safe havens and that they used these areas to hide and dump the weapons when they were flushed out during military operations," he told Pakistan Forward.
During the past few months, "thousands of tonnes of explosives and weapons have been seized in Swat and the tribal areas where the militants were dislodged as a result of the [military] operation," Shah said.
The weapons seized come from two sources, according to Rustam Shah Mohmand, former Pakistani ambassador to Afghanistan and a specialist on FATA based in Peshawar.
In some cases, militants abandoned them when they fled the start of military offensives against them, while Afghan militants dumped other arms in FATA before advancing Pakistani troops took control of the tribal areas, he said.
"There is no denying that the militant leaders who are in custody and who ... have knowledge of the arms caches and safe havens ... [are pointing] the security forces [to] those dens," he told Pakistan Forward.