PESHAWAR -- Increasing military pressure on both sides of the Pakistan-Afghanistan border is giving militants two main options -- surrender or get pummeled by air strikes, security analysts say.
Renewed security co-operation among Pakistani, Afghan and coalition forces has killed many key militant commanders in recent months, while forcing others to turn themselves in to authorities.
In the latest example, two major commanders of Jamatul Ahrar (JA), a Tehreek-e-Taliban Pakistan (TTP) splinter group, Wednesday (December 13) surrendered to the Pakistani government, Bol TV reported.
Militant commanders Ali Shah, alias Umar Mukhtar, and Islam, alias Hazrat Bilal, had been hiding out in Afghanistan for a long time. Both have reached Peshawar and surrendered to the government.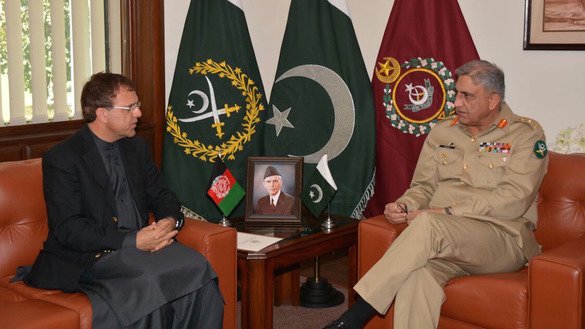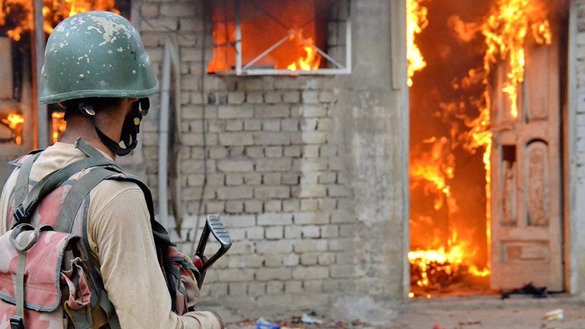 Air strikes taking out terrorists
The TTP and its splinter groups have been hit hard on both sides of the border in air strikes made possible by increased co-operation.
About 70 missile and air strikes along the Pakistan-Afghanistan border in October killed more than 35 key militant commanders of groups who had been hiding in Paktia, Khost and Paktika provinces of Afghanistan, according to news reports.
Militants used to routinely deny the deaths of key commanders in the media to undermine government credibility, say analysts.
Now that they have confirmed the deaths of some commanders and even saw a former spokesman surrender, some analysts are interpreting their change of behaviour as an admission of defeat.
For example, the TTP October 18 confirmed the death of Khalifa Umar Mansoor, alias Umar Naray, the mastermind of the December 2014 Army Public School (APS) massacre in Peshawar, in an air strike in July 2016 in Nangarhar Province, Afghanistan.
The announcement coincided with an air strike the same day in Paktia Province that mortally wounded JA chief Umar Khalid Khorasani, also known as Abdul Wali, dealing a major blow to the terror group.
JA has been involved in a series of deadly attacks in both Pakistan and Afghanistan.
JA spokesman Asad Mansoor October 19 confirmed to Pakistan Forward by telephone that Khorasani was wounded in an air strike in the Khosh Haram area of Paktia Province, Afghanistan, near Kurram Agency, Pakistan. He succumbed to his injuries, dying alongside nine of his close associates.
The spokesman in an earlier statement confirmed the deaths of key JA commanders Qari Shakeel, Mualana Saleh, Azizullah (alias Zarqawai), Shahid, Maulana Shah Khalid, Maulana Khalid Saifullah and many others.
Meanwhile, former TTP spokesman Liaquat Ali, alias Ehnanullah Ehsan, switched sides and surrendered to Pakistani authorities last spring.
In a scathing confessional released April 26, Ehsan expressed disgust with militant commanders who distort Islam and propagandise youth into slaughtering the innocent and destabilising Pakistan.
Another key TTP commander, Maqbool Dawar, was killed in a coalition air strike October 29 in Khost Province, Afghanistan. His brother Murad Ali and two other accomplices were also killed. The TTP confirmed his death and released photos of the deceased commanders.
The air strikes have left JA in shambles, forcing it to appoint a relatively unknown commander, Asad Afridi, as its new chief. Analysts view the appointment as an indication that the group has lost almost all of its founding members and key commanders.
Sending a message
The killing of key militant commanders in operations to bust terror networks on both sides of the border is indicative of renewed efforts by Pakistan and coalition partners in Afghanistan, said Muhammad Amir Rana, director of the Pak Institute for Peace Studies in Islamabad.
"The co-operation shows that all sides are serious about removing apprehension about working together and rooting out remaining terror networks," he told Pakistan Forward.
"Until they [work] jointly against terrorists having safe havens along the [Pakistan-Afghanistan] border, the problems will prevail and there will always be [a threat], so the new initiative will pay off," he said.
"The death of key militant commanders wanted by Pakistan is a very clear message that the co-operation has reached the maximum and [is being reciprocated]," journalist and tribal affairs specialist Aqeel Yousafzai of Peshawar told Pakistan Forward.
"Busting terror networks in North Waziristan Agency and [clearing] Rajgal Valley in Khyber Agency are a great success in hunting down the terrorists threatening both Pakistan and Afghanistan," he said.
The death of key terrorists involved in the APS massacre and other crimes is a great success, said Brig. (ret.) Mehmood Shah of Peshawar, former security secretary for the Federally Administered Tribal Areas (FATA).
"Those still hiding must be hunted down," he said.