PESHAWAR -- The number of terrorist incidents in Khyber Pakhtunkhwa (KP) has reached a ten-year low because of effective operations by the Pakistan army, police and other security agencies, officials say.
"Terrorist incidents reported during the current year were not only half of the attacks that happened last year but also the lowest in more than a decade," KP Inspector General of Police Salahuddin Khan Mehsud told Pakistan Forward.
There were 126 terrorist incidents reported from the beginning of the year through December 14, compared to 258 in all of 2016, he said.
"This speaks of more than 51% improvement against last year, which was already the best in many years," said Mehsud.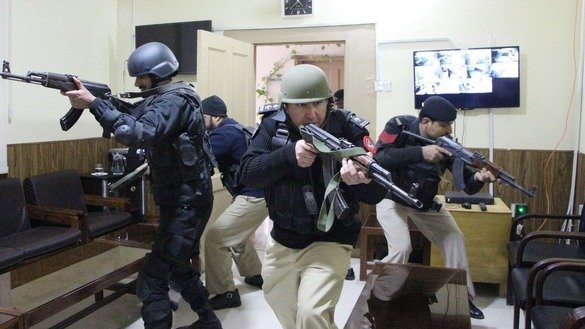 Security forces preventing attacks
KP recorded only two major terrorist attacks this year, Mehsud said, referring to the February 21 attack on the courthouse in Tangi Tehsil, Charsadda District, and the December 1 attack on the Agriculture Training Institute in Peshawar.
"Both these attacks were promptly responded to by the police and security forces to reduce the casualties and damage," he said.
The KP Police Counter Terrorism Department (CTD) carried out a large number of operations this year, arresting 470 militants, he said.
Although terrorism remains a threat, he said, "One thing is sure -- the network of terrorists has been smashed. It is unable to repeat the 2009- and 2010-like situation."
KP Police and the population of the province have fought bravely against terrorism -- that is why the law and order situation is much improved, he said.
"As many as 95 terrorist attacks were thwarted by law enforcement [in 2017]," Mehsud said, adding that 179 militants were arrested, "many of whom were carrying [bounties] worth millions of rupees".
Police in remote areas of the province as well as in Peshawar remain alert, said Capital City Police Officer Peshawar Mohammad Tahir.
"We increase search and strike operations whenever needed to curb the movement of suspects," he told Pakistan Forward.
Police built additional outposts and increased patrols in villages near tribal areas to prevent attacks from outside, he said.
Moreover, security forces regularly carry out mock security exercises in and around sensitive installations, educational institutions and public places to maintain a high level of readiness, Tahir said.
Crime rates down
In addition to the reduction of terrorist attacks in KP, the incidence of other crimes has plummeted, according to Dr. Zahidullah Khan, KP Police spokesman.
"Extortion incidents during the current year have fallen by 27% compared with 2016," he told Pakistan Forward. Murder dropped by 7%, kidnapping by 12%, car theft by 26% and robberies dropped by 34% in 2017 compared to last year.
"When we compared the overall figures for terrorism, 2017 proved to be the most peaceful in more than a decade," Khan said.
Security forces conducted more than 1,000 intelligence-based operations and 12,248 search and strike actions this year, he said.
"We checked more than 378,000 rented houses, and we lodged cases against 12,891 tenants [and owners] who had not registered with the local police," said Khan. "No terrorist can obtain shelter in the province."
No more fear
"There was a time when we had terrorist attacks almost daily, claiming many lives and causing countless injuries, but today the situation is much better," Qaisar Khan, a Peshawar-based journalist, told Pakistan Forward.
Compared to the situation in 2009-2010, parents are now not as concerned about their children's safety when they go to school, he said.
"The same is [true] about people going out for dinner ... and other social activities, which have increased during the last couple of years because of peace," he said.