Beijing has continued buying Russian oil despite a European Union (EU) embargo and a G7 price cap, and has allocated at least four supertankers to ship Russian Urals crude to China, according to trading sources and tracking data.
A fifth supertanker was shipping crude to India, the sources said.
All five shipments were scheduled between December 22 and January 23, according to the trading sources and Eikon ship tracking data, Reuters reported January 13.
China and India have continued buying discounted Russian oil as Western buyers have turned to other suppliers following Russia's invasion of Ukraine last February.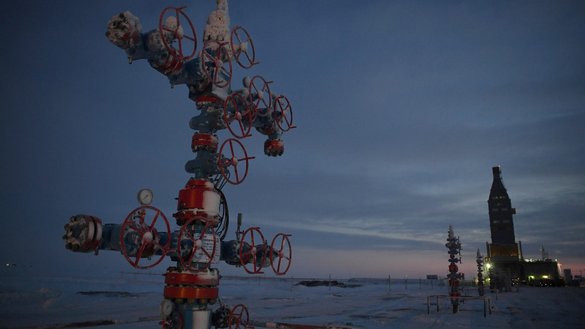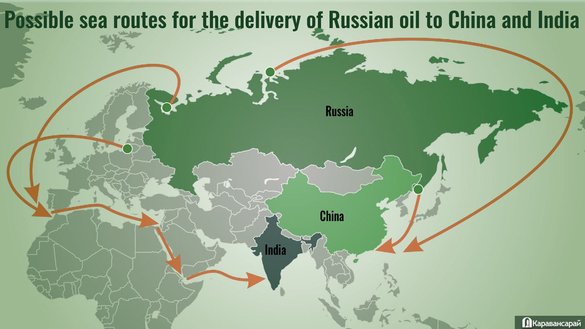 But there is a shortage of shipping vessels available for Russian exports after G7 members, the EU and Australia set an oil price cap on December 3, restricting the use of Western cargo services and insurance.
The $60 per barrel price cap allows countries outside the EU to import seaborne Russian crude oil and petroleum products but prohibits shipping, insurance and re-insurance companies from handling it unless sold for below the cap.
China, which is Russia's top oil buyer and the world's top oil importer, has not agreed to the price cap and traders were doing business as usual, Reuters and Bloomberg reported December 9.
The price cap is specifically designed to further reduce Russia's revenues -- and its ability to wage war in Ukraine -- while keeping global energy markets stable through continued supplies, according to the European Commission.
China fills the gap
In the weeks before the price cap went into effect, Russia started assembling a fleet of more than 100 ageing tankers to help circumvent restrictions, the Financial Times reported December 2.
This "shadow fleet" can reduce the impact of the price cap but will fall short of eliminating the full effect of such measures, traders say.
Beijing has stepped in to fill the gap.
An executive with the Chinese firm involved in the shipments estimated a total of 18 Chinese supertankers and another 16 Aframax-sized vessels could be used for shipping Russian crude in 2023, enough to transport 15 million tonnes a year, or about 10% of total Urals exports, according to Reuters.
Amid the "no limits" friendship Russian President Vladimir Putin and Chinese leader Xi Jinping announced before the start of the war in Ukraine, Beijing has played a delicate balancing act on the global stage.
The Chinese government has refused to condemn -- or support -- Russia's invasion of Ukraine, and has repeated Kremlin propaganda and disinformation about the "special operation".
It opposes economic sanctions on Russia, and it has abstained or sided with Russia in United Nations votes on the war in Ukraine.
Statements from Beijing and Moscow touting "common security" and "just world order" contrast greatly with the military aggression and human rights abuses both regimes espouse.
China, however, fearing Western sanctions, has not supplied weapons to Russia, forcing Putin into the humiliating need to buy drones and artillery shells from other international pariahs, Iran and North Korea.
The war in Ukraine has weakened Putin's diplomatic and political position.
The Russian president in September called the Chinese "tough bargainers" -- an indication that Xi is taking advantage of him to demand steep discounts on Russian natural gas.
To Asia, by any means necessary
With European routes essentially closed off, longer voyages to Asian markets and record-high freight rates have eaten into Russia's export profits.
Late last year, Russia tried a shorter route to reach Asian markets, sending its second-ever crude oil shipment on a 3,300 mile (5,310km) voyage through the Arctic Circle, Fortune reported November 8.
The first oil shipment through the Northern Sea Route -- amid some of the planet's harshest sailing conditions, where icebergs and freezing conditions are common -- took place in 2019.
"The journey is the shortest passage between Europe and east Asia, taking half the time to reach China from Russia's Baltic ports than the conventional route through the Suez Canal," Fortune reported.
"Europe is already sealed off," said Viktor Katona, lead crude analyst at Kpler, an oil analytics firm. "If they're not buying, why circumnavigate the entire universe if you can use the Northern Sea Route to get to China in 20 days?"
Arctic oil is usually shipped west, but the price cap has changed that, Asia Financial reported January 5.
"All these Arctic crudes usually go to the EU but now they have to go elsewhere," a Singapore-based trader said. "Now India and China are their major homes."
At least three oil tankers that loaded Arctic crude in northwestern Russia's Murmansk port are now heading to China, according to Refinitiv, a US-British global provider of financial market data and infrastructure.
One of the tankers -- Nikolay Zuyev, a Russian-owned crude oil tanker flying under the flag of Liberia -- is carrying about 780,000 barrels of crude. Its exact final destination is not yet made public.
Another two tankers -- NS Bravo (a Chinese-built, Russian owned vessel) and Gladiator (owned and operated by a Greek company) -- are expected to arrive at Qingdao in eastern China on February 3 and 15, data showed.
The two vessels are carrying about 900,000 barrels of crude each.