Kremlin-backed Wagner mercenaries are killing civilians and committing other serious human rights violations in the Central African Republic (CAR), Human Rights Watch (HRW) said Tuesday (May 3).
The accusation has followed the Wagner Group and other Russian paramilitaries in nearly every hot zone in which they are deployed -- including in Ukraine, Mali, Libya and Syria.
"Forces in the Central African Republic, whom witnesses identified as Russian, appear to have summarily executed, tortured and beaten civilians since 2019," HRW said.
"Several Western governments, and United Nations (UN) experts and special rapporteurs have found evidence that the forces linked to Russia operating in the Central African Republic include a significant number of members of the Wagner Group, a Russian private military security contractor with apparent links to the Russian government," it said.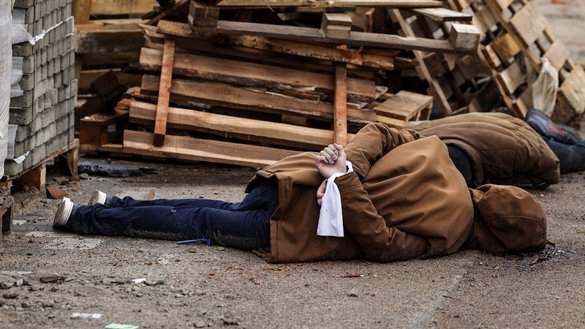 Moscow's 'help'
A civil war in the CAR that began in 2013, pitting numerous militias against a state on the verge of collapse, had eased considerably in recent years.
But about a year ago, fighting resumed abruptly when rebels launched an offensive to overthrow President Faustin-Archange Touadera.
After the president called on Moscow for help, hundreds of Russian paramilitary forces helped push back the rebels, who still hold sway over swathes of the country.
The private military companies (PMCs) are often described as belonging to the "Wagner Group" -- a Russian entity with no known legal status.
Russian businessman Yevgeny Prigozhin, an ally of Russian President Vladimir Putin, is believed to be the money behind the Wagner Group.
Both Prigozhin and the Kremlin deny any ties to the group.
The Carnegie Endowment for International Peace think-tank has described Wagner as "one of Moscow's worst kept secrets".
It said the group has two primary goals: "to provide the Kremlin with plausible deniability when deploying fighters in war zones" and to offer "a ready-made capability for building influence with receptive states".
"The Central African government has every right to request international security assistance, but it can't allow foreign forces to kill and otherwise abuse civilians with impunity," said Ida Sawyer, director of HRW's Crisis and Conflict division.
"To demonstrate its respect for the rule of law, and to put an end to these abuses, the government should immediately investigate and prosecute all forces, including Russia-linked forces, responsible for murder, unlawful detention and torture," she said.
HRW said it had written to the CAR and Russian governments but received no reply.
UN High Commissioner for Human Rights Michelle Bachelet last month denounced "serious human rights violations" in the CAR, including killings and sexual violence against civilians, committed by rebel groups but also by the military and their Russian allies.
Massacres in Bucha
Wagner mercenaries first deployed to Ukraine in 2014, when Russia annexed Crimea. In subsequent years, they have been involved in conflicts around the world, including in Syria, Mozambique, Sudan, Venezuela, Libya, the CAR, Chad and Mali.
Wagner is now again in Ukraine. Ahead of Russia's February 24 invasion, there were reports of hundreds of Russian mercenaries leaving their posts in Africa and heading to Syria in preparation for the war in Ukraine.
Now, up to 20,000 mercenaries from the Wagner Group as well as from Syria and Libya are fighting alongside Moscow's forces in Ukraine, a European official said last month.
Despite Russian denials, Ukraine and its Western allies, along with the UN, say they have proof that Russian forces were responsible for the deaths of most of the civilians found dead in Bucha.
Gruesome scenes of brutal massacres and mass graves in the suburb of Kyiv shocked the world after Russian troops withdrew.
Since the very first days, Ukraine has blamed Russia's 64th motorised infantry brigade, which was based in Bucha.
Ukrainian prosecutors on April 28 said they were investigating 10 of the brigade's servicemen for war crimes and declared them wanted suspects.
Putin on April 18 signed an official decree praising the brigade for its "mass heroism and valour, tenacity and courage".
He did not say where the brigade had been based.
A witness interviewed by AFP said that at the beginning of the Russian occupation she had seen mostly young Russian soldiers.
But, a couple of weeks in, she remembered "brutal" older troops moving in.
"That's when the massacres started," she said.
She said some may have been officers from Russia's FSB security agency.
According to the communications intercepted by German intelligence, Russian mercenaries from the Wagner Group were also involved.
Russian 'war crimes'
A look at Russia's involvement in Ukraine and Syria provides a cautionary tale for Libya, the CAR, Mali and others.
For years the Kremlin has pumped fighters and money into the Syrian conflict in support of President Bashar al-Assad as part of its drive to increase its geopolitical influence.
Russian PMCs have flooded Syria in recent years to the extent that they are undermining the role of the Syrian army.
In a September 2019 report, the Syrian Network for Human Rights accused the Kremlin of committing "hundreds of war crimes" during its military operations in Syria since 2015.
On March 15, 2021, three advocacy groups from France, Syria and Russia filed a landmark legal complaint in Moscow against the Wagner Group over the 2017 beheading of a Syrian man and abuses they believe amount to "war crimes".
In Libya, Wagner Group mercenaries have been fighting since 2018 to buoy the Russian-backed Libyan National Army led by strongman Gen. Khalifa Haftar.
Libya's vast oil reserves and its strategic location on the Mediterranean Sea are attractive to Moscow, which seeks a stronger hand in the Middle East and North Africa.
Wagner is also suspected of having its largest foreign presence in Libya, while other Russian PMCs are involved in the conflict as well, according to the UN.
In Mali, where Wagner Group mercenaries are guarding the presidential palace, controversy has flared over a March operation in Moura that left hundreds dead.
The Malian army and witnesses interviewed by the press and HRW described the operation as a massacre of civilians, with rapes and looting carried out by Malian soldiers and foreign fighters believed to be Russians.