When invading Russian soldiers failed to quickly seize Kyiv, Ukraine, and its suburbs as planned, they began to plunder apartment buildings and businesses for just about anything they could get their hands on.
In the Kyiv suburb of Hostomel, residents reported rampant looting as Russian forces retreated, defeated and demoralised.
At one housing complex, according to a local resident, 90% of the apartments were broken into, robbed, vandalised and destroyed, Politico reported April 13.
Another local resident said he had seen two soldiers entering an apartment complex with an axe, which they used to destroy the locks on a door.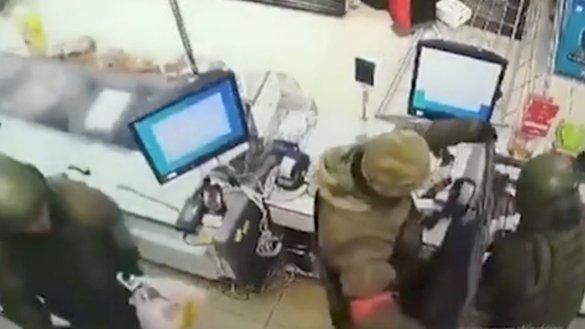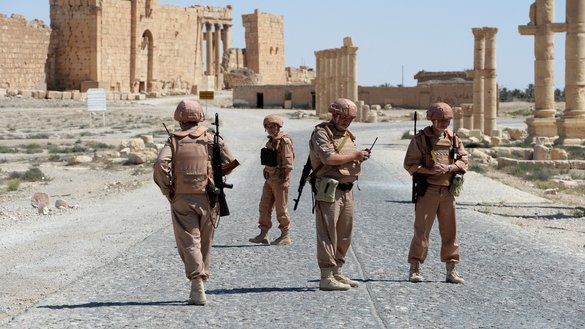 When confronted, a Russian officer claimed they were looking for weapons, he said. "I said, 'Your army is an army of looters ... your soldiers ... are breaking down doors of the civilian population and robbing them.'"
He also recalled seeing one Russian soldier rushing away with a pair of someone else's sneakers dangling over his shoulder. Others were carrying away bags of goods looted from vacant apartments.
"It's just shameful," he said.
Looting is commonplace in conflict zones where the Russian military and Kremlin-backed mercenaries are fighting, observers said, noting that soldiers and mercenaries are ill equipped on the battlefield and deprived at home.
Household items and 'trophies'
As they examine the wreckage left by Russian troops, Ukrainian law enforcement personnel have documented thefts of everything from washing machines, bicycles, perfume and jewellery to toys and fishing equipment from Ukrainians' homes.
In the transcript of a telephone conversation intercepted by the Security Service of Ukraine (SBU) that was published April 12, the father of a Russian soldier asks his son to take fishing hooks from a captured residence.
"Take everything there is, but be careful, see, so they don't attribute the looting to you," the father advises his son, the soldier. "It's kind of like a trophy, but don't let anyone take photos of you there."
In other intercepted phone calls, Russian soldiers boast to their wives about using looted goods to pay off their mortgages, The London Times reported April 6.
In one call overheard by the SBU, a soldier's wife asks him for a laptop, sneakers and a suit of the right size.
"The Russian soldier has to get all these from captured Ukrainian homes," the SBU said. "He brags that he has already got her some good cosmetics and T-shirts, and his colleagues are carrying whole bags of loot!"
Others have joked that the invasion has been "like a trip to a supermarket".
Russian soldiers have been photographed and captured on closed circuit television (CCTV) packaging up and sending about 2,000kg of stolen goods to their families from a Belarusian post office.
Ukrainian historian and political scientist Oleksandr Paliy pointed to the deprivation Russian soldiers experience in their homeland, noting that some do not even have indoor toilets at home.
"In one Ukrainian city, they left an inscription -- 'Who allowed you to live so well?'" he told Caravanserai.
"They have nothing, they are not allowed anything and so they think -- why are others allowed this? The Russians are overwhelmed by envy, so they are scooping up everything they see in beautiful Ukrainian houses," he said.
'Poorer, weaker, less secure'
The Kremlin also uses Russian private military companies -- among them the notorious Wagner Group -- in conflicts around the world, particularly in areas with a bounty of natural resources, observers said.
Russian businessman Yevgeny Prigozhin, an ally of Russian President Vladimir Putin, is believed to be the money behind the Wagner Group, which surfaced in 2014 when Russia annexed Crimea from Ukraine.
In addition to in Ukraine, Russia's mercenaries are present in Syria, Venezuela, Sudan, the Central African Republic (CAR), Mali, Libya, Chad and Madagascar.
"Wagner comes in, further destabilises the country, ravages the mineral resources and makes as much money as they can before they choose to leave," US Navy Rear Adm. Milton Sands, the head of Special Operations Command Africa, told the Washington Post in early March.
"The country is left poorer, weaker and less secure. Every time."
In Libya, Wagner Group mercenaries have been fighting since 2018 to buoy the Russian-backed Libyan National Army led by strongman Gen. Khalifa Haftar.
Libya's vast oil reserves and its strategic location on the Mediterranean Sea are attractive to Moscow, which seeks a stronger hand in the Middle East and North Africa.
The Wagner Group has been helping to prop up the embattled CAR government since 2018. In exchange, a company linked to Prigozhin has been awarded licenses to mine gold and diamonds.
Russia has brought dozens of Syrian and Libyan fighters to CAR to bolster the frontlines, and is now recruiting Syrians to fight in Ukraine.
Poorly paid and badly equipped Syrian and Libyan mercenaries in CAR also carried out widespread looting -- stealing chickens, goats and other livestock, as well as money, motorbikes and mattresses, Foreign Policy reported March 25.
In Mali, where Wagner Group mercenaries are guarding the presidential palace, controversy has flared over a March operation in Moura that left hundreds dead.
The Malian army and witnesses interviewed by the press and Human Rights Watch described the operation as a massacre of civilians, with rapes and looting carried out by Malian soldiers and foreign fighters believed to be Russians.
'Theft rampant in all hot zones'
In Syria, through its use of private security companies, Moscow has sought to gain military control in regions that have oil and mining potential, pushing out rival militias and positioning Russia to benefit from future reconstruction.
Wagner Group mercenaries looted the UNESCO site in Palmyra, former recon company commander Marat Gabidullin told independent Russian news site Meduza in December 2020.
He recalled seeing "ancient stones" and a "bas-relief" on Wagner bases in Syria.
In Deir Ezzor city, Syria, militias fighting alongside the Russian-backed regime regularly engaged in looting the homes of those who fled to escape the war. They even set up markets and publicly sold the stolen items.
"The practices carried out by the regime's army and its militias have become a model followed in all areas, as theft is rampant in all hot zones," Cairo-based Syrian journalist Mohammed al-Abdullah told Diyaruna in 2017.
Similar patterns of looting were observed in Aleppo, where some groups carried out systematic theft and looted numerous factories and houses, and even some government headquarters and buildings, he said.
Looting in Georgia
Georgians have bitter memories of 2008, when Russian troops invaded their country and occupied a fifth of their country.
The Russians behaved the same way they did in Syria and Ukraine.
Rati Mujiri was working for Georgian Public Broadcasting (GPB) in August 2008 and covered the Russo-Georgian war on TV. Georgian journalists worked in towns like Gori that the Russians occupied before withdrawing.
"I will never forget them taking toilets from Georgian military bases and loading them into Russian military trucks," said Mujiri, who now works for an opposition TV channel. "We shot a video, which is in the [GPB] archive."
Tea Motsikulashvili, 63, of Phrisi, Shida Kartli region, lost her son. "It was August 9 or 10 when I fled the village. My boy, Bagrat Bortsavadze stayed ... He was 24."
"Bagrati was murdered," she said. "They [the Russians] left his body on the street for several days. Even now, I don't know what happened. My house was looted and later burned down ... They took what they liked and set the rest on fire."
Leila Kandelaki, 82, of Nikozi, Shida Kartli region, helplessly watched Russians loot her house. "We were held captive for several days," she said of that time.
The Russians took "my grandmother's big, beautiful couch ... They took my kitchen sink, all my winter clothes ... my really good, expensive china. When they were leaving, they told me that I should be glad they didn't kill me."
[Olha Chepil contributed reporting from Kyiv. Matthew Rattman contributed reporting from Tbilisi.]