KYIV -- Global outrage built on Monday (April 4) as more evidence came to light of the extent of atrocities committed by Russian troops in Ukraine after they retreated from areas around the capital of Kyiv.
Local authorities said they had been forced to dig communal graves to bury the dead accumulating in the streets, including some found with their hands bound behind their backs, in scenes that sent shock waves around the world more than a month into Russia's invasion.
Despite Russian denials of responsibility, condemnation was swift, with world leaders, NATO and the United Nations (UN) all voicing horror at reports of civilian murders in Bucha, northwest of Kyiv, and elsewhere.
Ukrainian President Volodymyr Zelenskyy on Sunday was unsparing in his nightly video message, warning "concentrated evil has come to our land".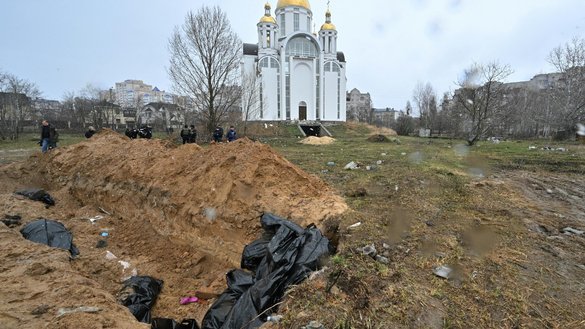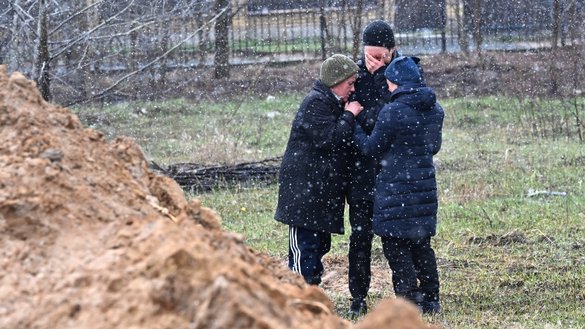 Switching to Russian, he continued: "I want every mother of every Russian soldier to see the bodies of the people killed in Bucha, in Irpin, in Hostomel."
"I want all the leaders of the Russian Federation to see how their orders are being fulfilled."
At a news conference on March 11, Russian prisoners of war (POWs) confirmed that the Kremlin has been committing war crimes as part of its invasion of Ukraine.
Three Russian airmen captured by Ukrainian forces said at the news conference they were thrown into battle like cannon fodder and given orders to deliberately attack civilians.
Zelenskyy said he had created a special body to investigate killings in areas from which Russian troops have withdrawn around the capital, as Moscow refocuses its energies on southeastern Ukraine.
The scale of the killings is still being pieced together, but Ukrainian prosecutor general Iryna Venediktova said 410 civilian bodies had been recovered so far.
And Bucha mayor Anatoly Fedoruk told AFP that 280 bodies were placed in mass graves because it was impossible to bury them in cemeteries within firing range.
Satellite imagery firm Maxar released pictures it said showed a mass grave on the the grounds of a church in the town.
Municipal worker Serhii Kaplychnyi told AFP that Russian troops initially refused to allow residents to bury the dead in Bucha.
"They said while it was cold to let them lie there."
Eventually, they were able to retrieve the bodies, he said. "We dug a mass grave with a tractor and buried everyone."
AFP reporters in the town saw at least 20 bodies, all in civilian clothing, strewn across a single street.
War crimes
Ukrainian Foreign Minister Dmytro Kuleba accused Russia of a "deliberate massacre", while Zelenskyy's spokesman, Sergiy Nikiforov, said the killings in Bucha "look exactly like war crimes".
Russia's Defence Ministry pushed back, saying "not a single local resident" in Bucha suffered violence.
It accused Kyiv of falsifying images of corpses in "another production" for Western media.
But Russia has a history of deliberate attacks on civilians and civilian infrastructure -- including hospitals -- in Syria and Chechnya.
"What is happening in Ukraine is a repetition of what we have seen in Syria," Agnes Callamard, secretary general of Amnesty International, told AFP in March.
In both Ukraine and Syria, Russian forces routinely bombed hospitals and targeted civilians.
UN human rights chief Michelle Bachelet voiced horror Monday at images of dead bodies in Bucha and warned of possible war crimes.
The deaths have heightened calls for new measures against Russia.
On Monday, European Union (EU) foreign policy chief Josep Borrell said the bloc was urgently discussing a new round of sanctions.
Borrell also offered EU assistance in documenting evidence of the alleged atrocities committed in Ukraine.
French President Emmanuel Macron said he was in favour of fresh sanctions.
"There are very clear indications of war crimes. It was the Russian army that was in Bucha," Macron told the France Inter broadcaster.
New measures could target the oil and coal industries, he said.
German Chancellor Olaf Scholz said new sanctions would be decided "in the coming days", with his defence minister raising the possibility of an end to gas imports.
"[Russian] President [Vladimir] Putin and his supporters will feel the consequences," Scholz said.
Polish Prime Minister Mateusz Morawiecki on Monday called for an international investigation into what he termed a "genocide".
And Spanish Prime Minister Pedro Sanchez said his country "will do everything... to deal with these alleged cases of (crimes against) humanity, war crimes and why not say it too, genocide".
During a visit Monday to Poland, Japanese Foreign Minister Yoshimasa Hayashi also condemned the "exceptionally cruel" violence against civilians near Kyiv.