ISLAMABAD -- Saudi medical authorities have yet to approve any Chinese-manufactured coronavirus over concerns of their reliability, making it difficult for thousands of Pakistani workers and pilgrims to enter the country.
Riyadh has approved the Pfizer, AstraZeneca, Moderna and Johnson & Johnson vaccines. Those who have not received those shots must quarantine upon arrival in Saudi Arabia under new measures that came into force last Thursday (May 20).
All visitors must obtain and show proof of vaccination with one of the four Riyadh-authorised vaccines, Saudia, a state-run airline, stated on its website.
Pakistan has administered mostly Chinese vaccines -- Sinopharm and Sinovac -- to its citizens as part of a government-run immunisation campaign that began last February.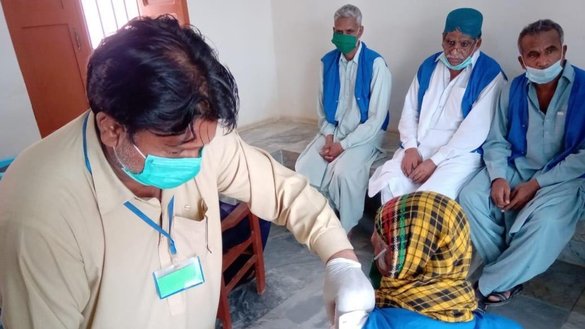 Some 50,000 doses of Sputnik V, a Russian-made vaccine, were commercially available in Karachi, Lahore, and Islamabad in April.
Meanwhile, Pakistan has started using AstraZeneca to inoculate its citizens after receiving 1.2 million doses of the vaccine earlier this month as part of the World Health Organisation's COVAX programme for equitable distribution of COVID-19 shots among developing nations.
The Saudi policy already has affected thousands of Pakistani nationals seeking to travel to the kingdom for work or for the religious pilgrimage (Hajj).
Hajj obstacles
Pakistanis trying to travel to Saudi Arabia face two obstacles: outright denial of boarding by airlines, and mandatory quarantine at a costly hotel if they somehow succeed in boarding their plane.
Saudi authorities have instructed airlines to refuse boarding to passengers holding certificates showing immunisation by Chinese- or Russian-made vaccines, Pakistani travel agencies say.
"The Saudi government has been implementing its new vaccine policy since May 20," said Ashraf Muhammad, a Karachi-based travel agent.
Passengers who manage to board but have not received one of the Saudi-approved vaccines will have to pay $700 in Jeddah or $1,300 in Riyadh to stay in quarantine hotels for seven days upon their arrival, according to Muhammad.
"In Pakistan, only Chinese- and Russian-made vaccines are available, and Saudi Arabia and other developed countries are not accepting them because they are skeptical about the efficacy and safety of Chinese-made vaccines," Hussain said.
Rasheed Hussain, a resident of Lower Dir, Khyber Pakhtunkhwa, said airline officials barred him from flying to Saudi Arabia because he had not received any non-Chinese-made vaccines.
Even if they had permitted him to fly, the cost of a hotel was far beyond his means.
"I can't afford to pay $1,300 for a week [in Riyadh] because I am a manual labourer in Riyadh and my salary is around $580 a month," he said.
Some 96% of Pakistani migrant workers work in Gulf countries, with Saudi Arabia and the United Arab Emirates hosting the majority, according to statistics compiled by the International Labour Organisation.
Meanwhile, the Saudi government is insisting that foreign Hajj pilgrims must receive an approved COVID-19 vaccine before coming to the kingdom, media reported Wednesday.
Saudi Arabia's refusal to authorise Chinese-made vaccines has worried Pakistanis who are hoping to perform the Hajj in July.
"It seems that China has tested its vaccines in Pakistan, and that is the reason Saudi Arabia and other friendly countries are not accepting it," said Shaikh Riaz, a Peshawar-based trader who is planning to attend the Hajj this year.
Chinese vaccine deficiencies
The development of COVID-19 vaccines has been one of the ways Beijing has tried to mask its dubious handling of the COVID-19 outbreak and subsequent disinformation campaigns aimed at deflecting blame for and spreading lies about the pandemic's origins.
But China's leading disease control official has publicly acknowledged concerns over the effectiveness of Chinese-made jabs amid a potential plan to boost the efficacy of the nation's coronavirus vaccines.
The Chinese Centre for Disease Control and Prevention was "considering how to solve the problem that the efficacy of existing vaccines is not high", Gao Fu, director of the agency, told a conference in Chengdu April 10, local media reported.
The current Chinese vaccines, including doses from Sinovac and Sinopharm, "don't have very high rates of protection", he said, according to the BBC.
Medics want better vaccines
Healthcare workers in Pakistan have been reluctant to take the coronavirus vaccines donated by China because they doubt the drug's efficacy, officials and the paramedics' association said.
There are 1.2 million healthcare workers serving in the public and private sectors in the country, according to government statistics. However, only 224,000 doctors, nurses, and paramedics had received both doses of the Chinese Sinopharm vaccine as of late April.
"In Pakistan, generally, Chinese products are perceived as of low quality," said Javed Hussain, a leader of the Nurses Association in Karachi, in April. "How can healthcare workers trust Chinese vaccines for COVID-19?"
A significant number of healthcare workers have not registered to receive the vaccine, he confirmed.
"There is no hesitancy among the healthcare workers for getting a COVID vaccine," Hussain said. "Any hesitation is due to the efficacy and safety of the Chinese-made vaccine."
Most healthcare workers have been waiting for the arrival of the AstraZeneca or Pfizer vaccine, he said.