ISLAMABAD -- Doubts over the efficacy and safety of vaccines donated by China have sparked protests, with demonstrators demanding Western-developed coronavirus jabs in Pakistan.
Pakistan has been administering mostly Chinese vaccines -- Sinopharm, Sinovac and CanSinoBio -- to its citizens as part of a government-run immunisation campaign that began in February.
However, Pakistanis, including government employees and healthcare personnel, are reluctant to take the Chinese vaccines because they doubt their efficacy.
As of Sunday (July 4), Pakistan had vaccinated more than 3.2 million of its population of 220 million since the vaccination drive started on Feb 3, according to the National Command and Operation Centre (NCOC), a government body that oversees the coronavirus response.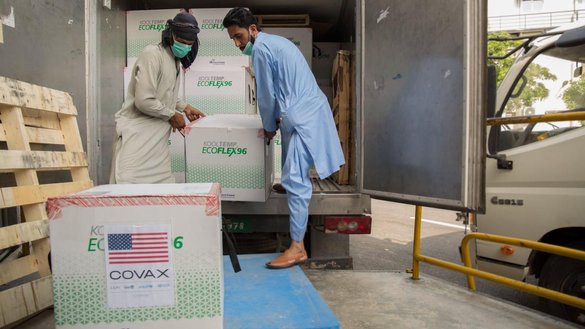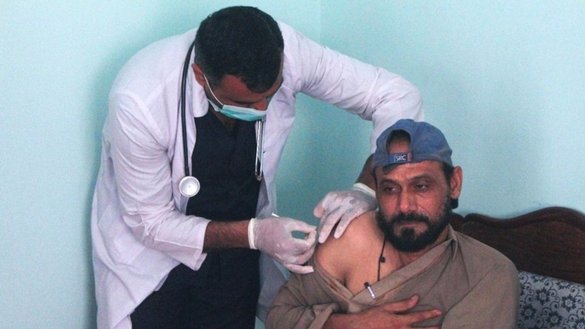 "The statistics show extremely low coverage of vaccines in Pakistan to fight the pandemic against the global average of 23.8%," said an NCOC official in Islamabad on the condition of anonymity, referring to the percentage of the world population that has received at least one shot of COVID-19 vaccine.
"It is mainly because Pakistanis are sceptical about the effectiveness and safety of the Chinese-made vaccine," the official added.
The availability of Chinese vaccines, to the exclusion of any other option, has aroused the ire of Pakistanis, especially migrant workers.
Hundreds of Pakistanis seeking to travel to Saudi Arabia on June 28 organised a protest at the main vaccination centre in Islamabad, demanding that authorities administer only the required European or US-made vaccinations, such as AstraZeneca or Pfizer, so that they could resume working abroad.
Saudi authorities have yet to approve any Chinese-manufactured vaccine over concerns of their reliability, making it difficult for thousands of Pakistani workers and pilgrims to enter the country.
"All developed countries, including Saudi Arabia, do not accept China-manufactured vaccines because of concerns over efficacy and safety," said Najam Wali, an overseas worker who attended the protest.
However, Pakistan has continuously been receiving Chinese-made vaccines, which is tantamount to playing with its people's lives, he said.
The NCOC relented slightly July 3, announcing that medics would administer the US-made Moderna coronavirus vaccine to individuals who require it for travel.
The vaccine will be available for "overseas workers who have a mandatory need to travel for employment overseas with valid work visas/iqama [residence permits] in a country where Chinese vaccines are not accepted at present", the NCOC said in a statement.
Vaccine diplomacy
The development and donation of COVID-19 vaccines have been one of the ways Beijing has tried to mask its dubious handling of the COVID-19 outbreak and subsequent disinformation campaigns aimed at deflecting blame for and spreading lies about the pandemic's origins.
But China's leading disease control official has publicly acknowledged concerns over the effectiveness of Chinese-made jabs amid a potential plan to boost the efficacy of the nation's coronavirus vaccines.
The Chinese Centre for Disease Control and Prevention was "considering how to solve the problem that the efficacy of existing vaccines is not high", Gao Fu, director of the agency, told a conference in Chengdu April 10.
The current Chinese vaccines, including doses from Sinovac and Sinopharm, "don't have very high rates of protection", he said, according to the BBC.
An examination of data from several countries that put their faith in Chinese-made vaccines confirms those concerns, The New York Times reported June 22.
For example, in the Seychelles, Chile, Bahrain and Mongolia, 50 to 68% of the populations have been fully inoculated, according to Our World in Data, a data-tracking project.
However, all four ranked among the top 10 countries with the worst COVID-19 outbreaks as of mid-June, according to the newspaper's research.
"If the vaccines are sufficiently good, we should not see this pattern," said Jin Dongyan, a virologist at the University of Hong Kong. "The Chinese have a responsibility to remedy this."
The Sinopharm vaccine, developed with the Beijing Institute of Biological Products, has an efficacy rate of 78.1%, while the Sinovac jabs have an efficacy of 51%.
In comparison, American-German Pfizer-BioNTech and US-made Moderna vaccines have efficacy rates of 95% and 94%, respectively.
US support
The United States on July 2 donated 2.5 million doses of Moderna vaccine to Pakistan in partnership with the United Nations-backed COVAX global initiative, the US Embassy in Islamabad said in a statement.
"These vaccines will save lives and help Pakistan emerge from this crisis, which has devastated so many families and communities in both our countries," said US Chargé d'Affaires Angela Aggeler.
"A vaccinated public will also help bring back the economic and social interactions we all welcome," she said.
"These vaccines will give boost to ongoing vaccination drive in Pakistan," Foreign Ministry spokesman Zahid Hafeez Chaudhri said on Twitter on July 2.
"Deeply appreciate continued support by the US in our fight against the pandemic," he added.