KARACHI -- Healthcare workers in Pakistan are reluctant to take the coronavirus vaccines donated by China over doubts about their efficacy and safety, officials and health professionals say.
In February, the government opened up vaccinations for hundreds of thousands of front-line healthcare workers across the country after the arrival of more than 500,000 doses of the Chinese-made Sinopharm vaccine from Beijing.
There are 1.2 million healthcare workers serving in the public and private sectors in the country, according to government statistics.
However, only 224,000 doctors, nurses and paramedics have so far received the required two doses of the Sinopharm jab.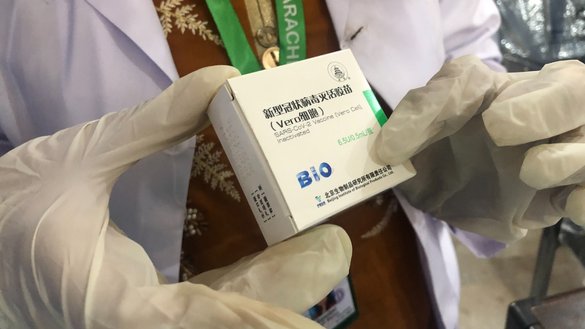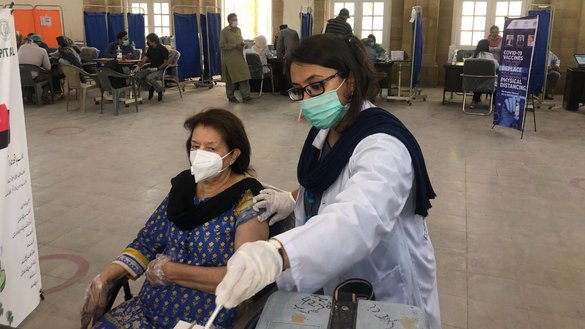 Citing low registration numbers, the Pakistani government silently suspended the campaign before extending it until April 30.
"To give opportunity to all remaining healthcare workers to get vaccinated, registration portal (http://Covid.gov.pk/vaccine) has been re-opened till 30 April," Dr. Faisal Sultan, special assistant to the prime minister on health, tweeted on April 21.
Scepticism abounds
A significant number of healthcare workers say they are sceptical the Chinese-made vaccine is effective and safe.
"In Pakistan, generally, Chinese products are perceived as of low quality," said Javed Hussain, a leader of the Nurses Association in Karachi. "How can healthcare workers trust Chinese vaccines for COVID-19?"
A significant number of healthcare workers have not registered to receive the vaccine, he confirmed.
"There is no hesitancy among the healthcare workers for getting a COVID vaccine," Hussain said. "Any hesitation is due to the efficacy and safety of the Chinese-made vaccine."
Most healthcare workers have been waiting for the arrival of the AstraZeneca or Pfizer vaccine, he said.
Pfizer is a US-based company, while AstraZeneca is British-Swedish.
Half of all health workers across the country had concerns over the Sinopharm vaccine and would rather be offered jabs from AstraZeneca or Pfizer, a survey conducted last month by Gallup Pakistan and the Pakistan Islamic Medical Association, a doctors' rights body, confirmed.
Eighty-one percent of healthcare workers are willing to get a vaccine, the survey also showed.
Salman Afridi, a nurse in Peshawar, said that he and his colleagues are concerned about possible side effects or reactions to the Chinese-made vaccine.
"There is a common perception among Pakistan healthcare workers that China has been testing low-quality COVID vaccines on them after donating them to the Pakistani government," he said.
Pakistan's vaccine programme suffers from widespread distrust, according to Raja Khalid Shabbir, an Islamabad-based doctor.
"The Chinese vaccine which we are using is facing the same level of distrust, as it was China where the deadly coronavirus first emerged and it was China where suddenly the virus disappeared while the rest of the world kept on losing lives," he wrote in the Express Tribune last month.
"Just recently a new theory has surfaced, especially among the doctor community, that the Chinese vaccine is still under trials and those being administered are part of a larger study experiment," he said.
"In light of this, the vaccine's label 'made in China' has started to make us all feel a little too edgy," he said.
Many Chinese manufacturers, recognising this stigma, have started changing their labels to "made in PRC", as most buyers are unaware that PRC stands for People's Republic of China, Shabbir wrote.
Growing concerns
The development of COVID-19 vaccines has been one of the ways Beijing has tried to mask its irresponsible handling of the COVID-19 outbreak and subsequent disinformation campaigns aimed at deflecting blame for and spreading lies about the pandemic's origins.
But China's leading disease control official, Gao Fu, on April 10 publicly acknowledged the regime's concerns over the effectiveness of Chinese-made jabs, admitting, "The efficacy of existing vaccines is not high."
He said the current vaccines, including doses from Sinovac and Sinopharm, "don't have very high rates of protection", the BBC reported.
Despite those concerns, China is forging ahead in its mass vaccination campaign and in its push to export its jabs around the world as part of the regime's "vaccine diplomacy" strategy.
Beijing's exports of faulty COVID-19 test kits, shoddy ventilators and phony masks and other personal protective equipment (PPE) serve as another warning.
During the peak of the pandemic last year, Pakistani hospitals shunned PPE made in China after a series of infections and deaths of health workers treating COVID-19 patients.
"More than 1,000 doctors, paramedics and nurses engaged in the management of COVID-19 have tested positive for the virus because of bad PPE imported from China," Dr. Umar Jawad, secretary of the Pakistan Medical Association, said last April.
"We all know that China is notorious for smuggling and trading in low-quality goods, and now it has been making money by supplying substandard masks, gowns and shoes in the name of protecting the public," Dr. Jawad Khan, secretary of the Khyber Pakhtunkhwa province chapter of the Pakistan Medical Association, said at the time.
"But it was proven that these items didn't safeguard healthcare providers against COVID-19."