BEIJING -- Intent on reclaiming its status on the global stage, the Chinese regime is going full steam ahead on its coronavirus vaccination campaign -- giving unproven drugs to tens of thousands of Chinese outside the traditional testing process.
In the race to be the first country to develop a proven vaccine for COVID-19, Beijing has been enticing -- or strong-arming -- its citizens to receive the shot.
Three test vaccines are being injected into employees of state-owned companies, workers whom the government considers essential and employees of the pharmaceutical companies themselves, The New York Times reported on September 26.
Medical workers, teachers, supermarket workers, border inspectors, aviation industry employees and individuals travelling to "medium- to high-risk areas" also have been offered the vaccine.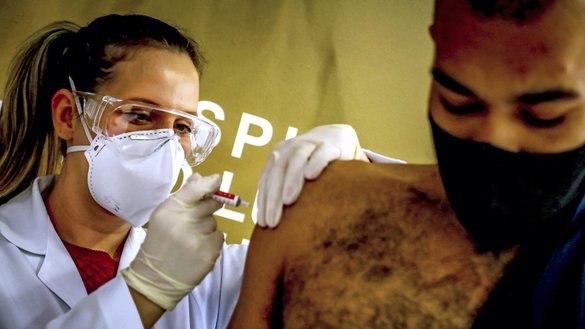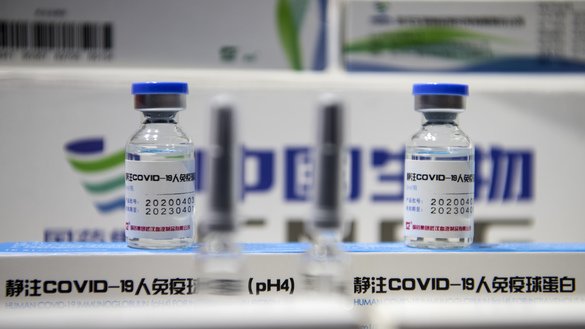 In July, Beijing approved the emergency use of the vaccines undergoing testing for specific groups deemed to be at high risk of exposure.
The employees at state-owned oil giant PetroChina received a compelling offer: they could use one of two vaccines to protect themselves when working overseas, according to a notice reviewed by The New York Times.
Clinical trials -- still in the early stages -- showed that the shots were safe, emphasised the government. It did not mention potential side effects or warn against other risks from taking a vaccine that regulators had not approved.
The employees "would effectively be guinea pigs for testing the unproven vaccines outside the official clinical trials", the newspaper reported.
China's "domestic emergency use authorisation" is not subject to World Health Organisation approval, a spokesperson for the global body said September 26.
Unorthodox vaccine trials
Chinese officials are laying out plans to give even more shots in unofficial trials running parallel to the clinical testing of possible vaccines, which mostly are taking place outside China.
The participants of clinical Phase 3 trials are closely tracked and monitored, but it is not clear if Chinese officials are taking the same measures for everyone rolling up his or her sleeve inside the country.
Employees of Chinese vaccine makers and state-owned companies may feel pressure to take the vaccine, observers warn.
"My worry for the employees of the companies is it may be difficult for them to refuse," Dr. Kim Mulholland, a paediatrician at the Murdoch Children's Research Institute in Melbourne, Australia, who has been involved in the oversight of many vaccine trials, including those for a COVID-19 vaccine, told The New York Times.
It is not clear exactly how many Chinese have participated in these unorthodox trials.
The companies have asked recipients of the vaccines to sign a nondisclosure agreement preventing them from talking about it to the news media.
Sinopharm, a Chinese state-owned company that made the test vaccines offered to PetroChina employees, said hundreds of thousands of individuals have received its shots.
Beijing-based Sinovac Biotech said more than 10,000 subjects in Beijing had been injected with its vaccine under the country's emergency use scheme. Separately, it said on September 6 that almost all of its employees -- about 3,000 in total -- and their families had taken it.
Zhang Yinan, deputy general marketing manager at China National Biotec Group (CNBG), also said that she had been given her company's vaccine, the South China Morning Post reported September 6.
"There are 150 employees like me who have been inoculated," she said at the China International Fair for Trade in Services in Beijing.
'Muddying the waters'
Both Sinovac and CNBG are carrying out large-scale clinical trials abroad.
CNBG's Phase 3 trials are expected to involve 50,000 volunteers in about 10 countries, according to the company's vice president, Zhang Yuntao.
Trials are under way in Argentina, Bahrain, Jordan, Morocco, Peru and the United Arab Emirates (UAE), Reuters reported September 5.
Pakistan and Serbia also agreed to participate in the Phase 3 trials of CNBG's vaccine candidates.
The Phase 3 clinical trial in the UAE, which has given the vaccine to more than 35,000 recipients, is expected to end in November, according to the South China Morning Post.
Meanwhile, Sinovac is conducting Phase 3 trials in Turkey, Bangladesh, Brazil and Indonesia.
Raina MacIntyre, who heads the biosecurity programme at the Kirby Institute of the University of New South Wales in Sydney, Australia, recommended against the emergency use of vaccines before the conclusion of Phase 3 trials.
"It may be three to six months before we get Phase 3 trial results -- it's not that long to wait," she told The New York Times.
"You are potentially muddying the waters for the time when we do have Phase 3 trial data for the best possible vaccine."
Jerome Kim, head of the International Vaccine Institute in Seoul, said he worries that those who believe they are protected by a vaccine of unknown efficacy might engage in risky behaviour.
"That has all sorts of negative consequences," he told the Times. "They could be infected and not know it, or they could be spreading the infection because they are relatively asymptomatic if the vaccine partially works."
Trying to rewrite history
Beijing has come under rebuke for its irresponsible handling of the COVID-19 outbreak and subsequent disinformation campaigns aimed at deflecting blame and spreading lies.
If the regime had been transparent about how dangerous COVID-19 was at the beginning, the world would have had time to react, saving thousands of lives and avoiding much of the ensuing chaos, analysts and observers say.
Chinese authorities, knowing a deadly outbreak was afoot, said nothing for almost a week, from January 14-19, allowing the virus to take hold in Wuhan and spread across the world, the Associated Press (AP) reported in April.
At least 3,000 people were infected during those calamitous six days of silence, according to internal documents obtained by the AP and specialist estimates.
Medics worldwide have registered nearly 40 million cases of COVID-19 and over a million deaths as of early October.
Facing backlash from around the globe, Beijing has been pushing the narrative of its "heroic deeds" in the fight against the COVID-19 pandemic.
Meanwhile, Chinese companies are taking advantage of the pandemic to turn a profit.
The Chinese regime launched a huge effort to produce personal protection equipment (PPE) to meet shortages amid the outbreak.
More than 73,000 companies registered as mask makers in the first half of the year -- including over 36,000 new companies in April alone -- as prices and demand soared.
Between March and May, the Chinese regime exported more than 50 billion face masks -- a 10-fold increase from total production last year, according to analysts.
As part of this effort, Chinese authorities are forcing Muslim minorities in the Xinjiang region to work in PPE factories, according to a report by The New York Times, which cited evidence found in hundreds of videos, photographs and government documents.
The programme is part of an effort by Beijing that over the past few years has sent more than a million Muslims, including ethnic Kazakhs and Kyrgyz, into indoctrination camps.