PESHAWAR -- Iran and China are reaping massive profits from counterfeit pharmaceuticals sold in Pakistan at a time when the country continues to deal with the deadly coronavirus pandemic.
"Many patients have been complaining that the drugs prescribed to them weren't effective, which prompted us to check the drugs they were buying and discover that the medicines were of either Chinese or Iranian origin," said Dr. Muhammad Ali, a physician at Khyber Teaching Hospital.
Doctors prescribed antibiotics, painkillers and vitamins to patients, but some pharmacies gave them Chinese or Iranian drugs for more profit, he said.
"The smuggled and unregistered drugs from Iran and China fetch 10 times more profit for pharmacies than do the genuine ones," Ali said.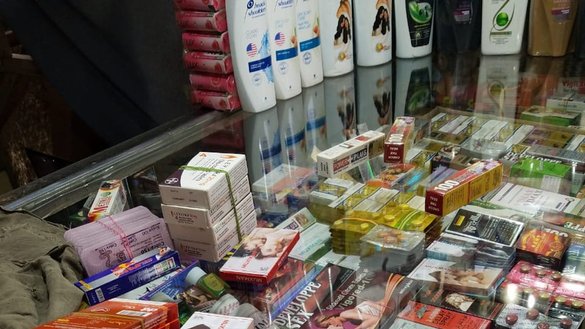 The smuggled drugs do not contain the ingredients listed on their labels, which is the most dangerous crime, said Muhammad Akram, an analyst at Drug Testing Laboratory Peshawar.
"The bulk of the smuggled medicines are [phony] antibiotics, but we have found that these contained simple powder often injurious to health. But the labels are changed by local dealers to deceive the buyers," he said.
The smuggled medicines are harmful in two ways, according to Umair Rana, secretary of the Pakistan Pharmaceuticals Association.
The dealers of smuggled drugs "don't pay taxes to the government and cause harm to public health. There are about 759 pharmaceutical companies including 25 multinational ones, which pay about $500 million [Rs. 84.1 billion] in taxes to the government annually," he said.
The smuggled drugs have caused a decline of 40% in sales of legitimate medicines compared to the previous year, which is affecting Pakistan monetarily, Rana said, adding that the federal government should put the brakes on the unlawful sale of drugs.
"The government should ask the authorities in China and Iran to take pity on the people of Pakistan and stop the smuggling of spurious drugs to Pakistan. There are reports that patients have been using antibiotics for months instead of weeks, but still their infections continue to haunt them," he said.
The same is true for other illnesses, like epilepsy, diabetes and depression, among others, and as customers opt for cheap drugs, they face more health issues as a result, he added.
This story comes after revelations that China has been making huge profits from selling faulty COVID-19 personal protection equipment (PPE) to Pakistani health institutions.
Regimes to blame
Huge profits are being made, especially in rural areas, from the sale of all sorts of medicines smuggled from Iran and China, according to Aziz Siddiqui, the director of operations at the Drug Regulatory Authority of Pakistan.
"We are seizing a large quantity of antibiotics, analgesics, sedatives, tranquilisers, hormones, anti-hypertensives and contraceptives smuggled from both countries [Iran and China]," he said.
Low-priced medicines have great popularity, especially when customers have seen the pandemic slash their incomes.
"We are issuing directives to all the provinces from time to time to strictly check the sale of illegal pharmaceutical preparations to safeguard the public because it is a matter of [life or death]," Siddiqui said.
The country has been facing a shortage of drug inspectors who can deal with the smuggled drugs effectively, according to Siddiqui.
"There are about 5,000 drug inspectors who are required to check about 400,000 pharmacies in the country, which is a difficult task," he said.
Muhammad Shaukat, president of Chemists Association Khyber Pakhtunkhwa, painted a grim picture regarding smuggled drugs in the province.
"The province has 70 drug inspectors, who cannot inspect about 15,000 chemist shops. Wholesalers at the Namak Mandi market in Peshawar deal in fake, substandard and unregistered drugs, the bulk of which come from China and Iran," he said.
The governments of both Iran and China are responsible for allowing the smugglers to supply the dubious medicines to Pakistani markets, said Shaukat.
"Both China and Iran collect a handsome amount of taxes from the drug business," he said.
Efforts continue
The business of smuggled drugs has become sophisticated, and it is not easy to trace them, said Abdul Ghafoor of Peshawar, a drug inspector.
"In the past three months, we have seized drugs worth $1 million [Rs. 168.2 million] and sent 30 people to prison for three to six months," he said, meaning nationwide.
Since March, officials have examined 8,865 drug samples and found 1,013 fakes nationwide, he said, adding that the bogus drugs all arrived either from Iran or China.
"The [federal] government is considering amending the Drug Act, 1976, to enhance the penalties for those involved in sale of fake drugs. The bill is likely to be tabled in the National Assembly within a month," he said.
Authorities close outlets that sell smuggled drugs, but they often re-open in a month, he said. If the new amendment becomes law, the shops face permanent closure.
Sex drugs smuggled from China are in especially high demand and customers seek them on the black market, said Muhmmad Shafiq of Peshawar, a drug inspector.
"The Karkhano market in Peshawar is the hub of smuggled drugs. The stuff is re-packed by illegal dealers, who supply it to the entire country," he said, adding that smugglers ship fake shampoo, soap and cosmetics to markets as well.
"In the last year, we seized smuggled Iranian and Chinese drugs worth $10 million [Rs. 1.7 billion], which we burned. We are continually conducting raids to stop this menace and save the public from being harmed," Shafiq said.