KARACHI -- Sindh Province authorities say they are bolstering efforts to crack down on illegal-drug sales -- especially to students -- as proceeds of which often help fund the violence activities of militant groups and terrorists.
Pakistan's Anti Narcotics Force (ANF) said in a statement on January 10 it seized about 928kg of illegal narcotics valued at Rs. 168 million ($1.1 million) over the previous week. It also arrested 10 suspects and impounded two vehicles while conducting 11 counter-narcotic strikes across the country including Karachi.
A large number of drug smugglers and dealers in areas of Sindh Province including Karachi have been arrested, according to officials.
On January 5, for instance, police in Karachi arrested a suspected drug peddler near a college in the the Liaquatabad neighbourhood and recovered 1kg of narcotics in his possession.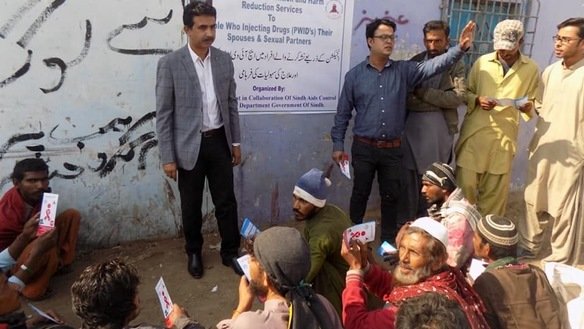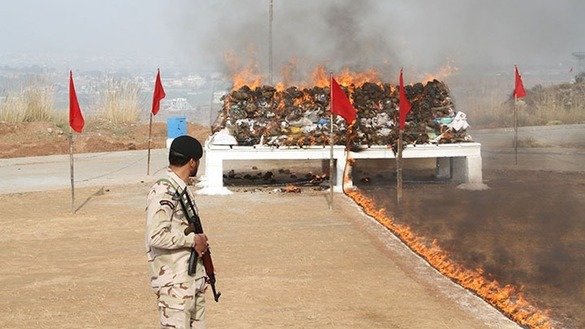 Sindh Chief Minister Syed Murad Ali Shah in a meeting on November 25 in Karachi formed a task force known as the "Chief Minister's Task Force on Narcotics" to control the penetration of narcotics into cities, particularly in educational institutions.
The task force comprises provincial chiefs of police, paramilitary Rangers and national intelligence agencies, in addition to ministers and secretaries of the Health and Excise departments and the regional director of the ANF.
In a meeting attended by directors of law enforcement agencies and government officials, Shah learned that traffickers were smuggling in heroin and cannabis from Afghanistan and cocaine from South Africa.
At the same time, synthetic drugs and "ice" (crystal meth) were entering the country from China, according to a government handout.
The meeting participants also discussed how to curb the smuggling of narcotics into the province by monitoring drug-peddling groups and strengthening the prosecution of drug-related cases.
As part of the task force, Paramilitary Rangers Sindh Chief Maj. Gen. Omer Ahmed Bukhari will chair a committee to oversee surveillance of inter-provincial borders.
Sindh Police Chief Dr. Kaleem Imam will lead a committee formed to monitor and conduct operations -- with the support of Rangers and other agencies -- against drug traffickers in the province.
That committee received orders to co-ordinate with the administrations of educational institutions and with children's parents to develop a mechanism to curb the use of narcotics at schools.
Meanwhile, Murtaza Wahab Siddiqui, law adviser to the Sindh chief minister, became chair of another committee formed to strengthen the prosecution of narcotics-related cases in the courts.
In addition, the Sindh office of the ANF has been tasked with co-ordinating with its counterparts in Khyber Pakhtunkhwa (KP) and Balochistan to curb the smuggling of narcotics.
Police in KP have already accelerated efforts to crack down on drug traffickers after discovering that gangs in the southern districts of the province are funneling income from narcotic sales to militant outfits.
This month, the task force drafted the Sindh Control of Narcotics Substances Bill 2019 aimed at punishing those who are found to be involved in the sale of ice and other drugs.
The bill proposes heavy jail sentences and fines for the sale, purchase, delivery and distribution of crystal meth, a long-standing request of law enforcement officials due to the increasing use of the drug, said Mukesh Kumar Chawla, provincial minister for Narcotics Control.
"The new legislation will help in curbing the menace of drugs," Chawla said.
To help clear a backlog of thousands of drug trials in the courts, 167 model courts have been set up across the country, Dawn reported, citing official statistics from last August 30.
Curbing narcotics at education institutions
The use of drugs by students has drawn the concern of the government and law enforcement authorities, who are taking steps to curb drug dealers' efforts to target vulnerable youth.
In December 2018, the Supreme Court ordered a crackdown and an awareness campaign against the illegal use of drugs among students. The apex court also sought reports from provincial governments over the consumption of illegal drugs in educational institutions.
Schools, colleges and universities have become the favourite haunts of drug peddlers because they have a concentrated number of young customers to target, activists said.
The Sindh government's decision to form a task force was welcome news for the province's residents and activists.
"The setting up of the task force and the crackdown on the drug peddlers will help youth stay away from social evils," said Haseeb Ali, an activist who runs awareness campaigns against narcotic use in the Lyari neighbourhood of Karachi.
Law enforcement agencies have brought peace in Karachi, particularly in Lyari, an area once known for gang violence, he said.
"But now it is good to know that authorities have focused on the menace of the narcotics trade," he said.
Criminal gangs and militant outfits often have recruited and preyed on vulnerable youth who are addicted to drugs, he said.