ISLAMABAD -- Concerns are mounting over the safety and health of Pakistani prisoners in Iran because of the regime's failure to deliver accurate information about its uncontrolled coronavirus outbreak, human rights organisations say.
The Justice Project Pakistan (JPP), a Lahore-based human rights group, in a statement on June 22 expressed serious concerns over the safety of "little-known Pakistani prisoners" in Iranian jails and urged the government to immediately repatriate them.
Citing leaked reports from Iran, the JPP said that more than 335 inmates in Iranian jails have tested positive for COVID-19 with at least 18 deaths.
Iranian authorities claim to have 134 Pakistani prisoners in their jails, Pakistani Foreign Ministry spokesperson Aisha Farooqui told media last week.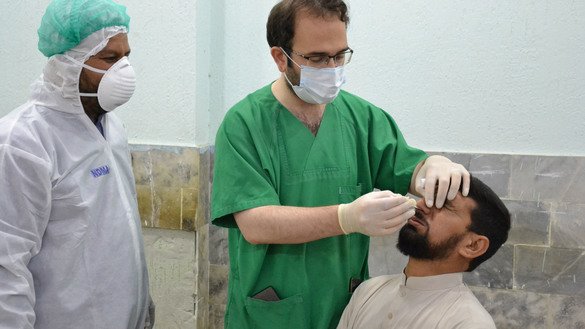 The correct number is 189, contended the JPP in a June 22 statement.
Pakistani authorities have initiated efforts to convince the Iranian government to send Pakistani inmates back to their country, Farooqui said, adding that the Pakistani embassy in Tehran is in constant contact with relevant authorities there to ensure the safety of these inmates.
According to information provided by the Iranian authorities, no Pakistani prisoner has tested positive for COVID-19, Farooqui said.
However, independent rights groups and sources within Pakistan's Foreign Ministry said that the Iranian regime provides very little information about Pakistani inmates and that their number might be higher than known.
"There is little information about the health and safety of 189 Pakistani prisoners languishing in Iranian jails amid the COVID-19 pandemic," the JPP said.
Withholding information
It is difficult to have an accurate picture of the health situation in Iranian jails because Tehran is reluctant to provide information, agreed a senior Pakistani Foreign Ministry official.
There could be more than 1,000 Pakistani prisoners in Iranian jails "because Iran withholds information about prisoners, categorising it as 'sensitive' information", said the official on the condition of anonymity.
Pakistani human rights groups are skeptical as Tehran's lack of transparency about its coronavirus outbreak already has resulted in a catastrophic public health risk to Pakistan.
Iranian authorities ignored doctors' warnings in late December and in January of an increasing number of patients with high fevers and lung infections in Qom, where many Pakistanis had travelled, Reuters reported in April, citing health officials and doctors from Iran.
The Iranian regime did not deliver accurate information to thousands of pilgrims regarding the outbreak of the coronavirus within the country either.
Iranian authorities then forcibly deported thousands of those pilgrims from Qom, as well as refugees infected with the deadly coronavirus, to Pakistan.
About 80% of Pakistani's coronavirus infections originated from Iran, Dr. Zafar Mirza, Prime Minister Imran Khan's special assistant on health, said in late March.
In addition to possible COVID-19 infections, Pakistani inmates in Iranian jails may be struggling to cope with their situation, making them more vulnerable to mental and physical health issues, the Foreign Ministry official said.
Reports of inmate killings
For its part, the Iranian regime on June 19 said it was ready to swap prisoners with other countries including Pakistan.
Khan raised the issue of Pakistani prisoners during his visit to Iran in April 2019, creating some hope for their early return, the JPP said.
However, Iran did not release even a single prisoner on Khan's request, noted the Foreign Ministry official.
Reports about riots in Iranian jails hit hard by the virus have rights group concerned about the safety of Pakistani inmates.
At least 36 prisoners are feared to have been killed by Iranian security forces during protests over coronavirus safety concerns, Amnesty International (AI) said in a statement April 19 on its website.
"It is abhorrent that instead of responding to prisoners' legitimate demands to be protected from COVID-19, Iranian authorities have yet again resorted to killing people to silence their concerns," Diana Eltahawy, an AI deputy regional director, said in the statement.
The United Nations in April voiced outrage over the death of a juvenile offender in Iran following reported beatings by guards after prisoners protested to seek their release due to the coronavirus pandemic.
The reports on inmates' health are worrying and the Pakistani government should press the Iranian regime to send prisoners back, said Shafaq Ali of Karachi, a human rights lawyer.
"Prisons and contagious diseases are a deadly combination, and prisoners become badly affected easily in many countries, including Iran, because of unhygienic and overcrowded situations," Ali said.
Most of the foreign prisoners languishing in Iranian jails do not have access to lawyers, translators or consular assistance from their countries' diplomatic missions, he said.