PESHAWAR -- Khyber Pakhtunkhwa (KP) Police officers have fought for decades to suppress terrorism. Now, they are combatting a new and invisible enemy: the coronavirus.
Apart from their regular patrols, KP Police now are engaged in duties ranging from surveillance to enforcing quarantines in a bid to stem the pandemic in the region.
Their dedication to protecting local citizens from COVID-19 is unwavering and their years of experience on the front lines of the war against terrorism will pay off in the fight against the spread of the virus, say police officials.
Superintendent KP Police Mardan Waqar Azeem exemplifies this dedication.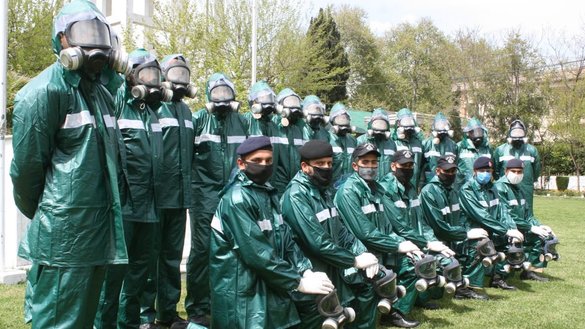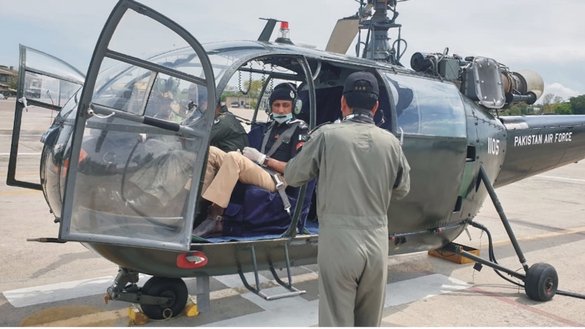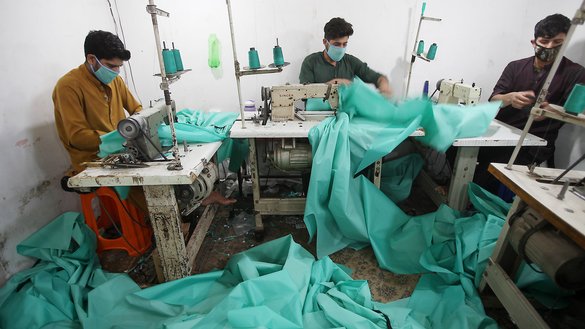 Waqar himself was infected after attempting to calm a group of locals who became angry when more than 79 residents tested positive for the disease in a village.
After overcoming the virus, Azeem is back on duty.
"I had no choice but to go out and protect other people from the virus, so there is no fear," he said. "My men and I are out fighting against COVID-19, but our fight needs the people's support. They need to stay home and keep practicing social distancing."
Murad Khan, a police officer deployed at a quarantine facility in the Hayatabad area of Peshawar, expressed confidence that his and his colleagues' experience in battling terrorists means they are prepared to win the war against the virus.
"The KP Police fought and defeated the terrorists, and we are ready to handle this virus too. We are not afraid at all," he said.
'Our mission is only to win'
"In the past, we won with the support of the masses, and again we need their co-operation to defeat [the virus]," Khan said. "We are on roads, in front of it, enforcing the quarantine of patients with COVID-19. But there is no fear."
This war is no different from the war on terror, said Siddique Khan, another police official posted at a checkpoint near the Qayyum Sports Complex in the Cantt area of Peshawar.
For example, he said, police never knew which car may have had a potential suicide bomber. Now, they cannot know for sure which car has a potential COVID-19 carrier.
"I will not let this virus travel, so my responsibility is to stop it and to save humanity," he said. "Our mission is only to win. Losing this war is not an option."
To help in the battle, KP Police are enlisting specialised equipment.
The department is tapping modern technology and equipment to help in surveillance and communication, said Sanaullah Abbasi, the KP Police chief.
"This is a different war. We are using surveillance chips, drone cameras and the best available modern devices to first ensure the force's safety and then for the safety and security of different quarantine centres," he said.
"The enemy is not visible. We must not only maintain general law and order, but we have to handle the sensitive COVID-19 patients who are ill and frustrated in the wake of the hype associated with the pandemic," he added.
Protecting officers
To tackle a shortage of personal protective equipment, local police commanders initiated their own plans to protect their officers by using locally manufactured equipment instead of waiting for gear to arrive.
Police officers in Buner, Shangla and Abbottabad districts are manning checkpoints in blue and green uniforms with protective masks and other gear, which have enhanced their morale in the fight against COVID-19.
"We have prepared 100 suits with masks and other gear and distributed them among the officers, who will be deployed at checkpoints and while guarding isolation centres," said District Police Officer Buner Sohail Khalid.
More protective uniforms are being prepared and the entire force eventually will have the appropriate equipment, he said.
Special protective equipment has gone to the police force in Abbottabad, Shangla and other districts and more is on the way, Khalid said.
The provincial government has announced special payment and benefit packages for health workers, police and rescue workers who are on the front lines against the pandemic, said Ajmal Wazir, spokesman for the KP chief minister.
Besides martyr packages for staff who perish on the front line, all officers will gain a bonus of one month's salary for their efforts in combatting the spread of the virus, he said.