PESHAWAR -- Malls, restaurants and public places remain closed in parts of Pakistan as efforts continue to prevent the spread of the COVID-19 virus.
In a response to the pandemic, the Interior Ministry Monday (March 23) approved the deployment of armed forces in all four provinces, Gilgit-Baltistan and Pakistani-ruled Kashmir.
The Sindh government on Sunday (March 22) announced a 15-day lockdown set to begin March 23.
The Punjab government Monday also declared a 14-day closure of non-essential services and shops starting Tuesday (March 24).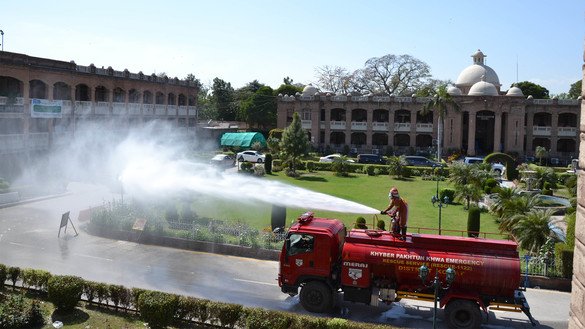 The number of coronavirus cases in the country increased to 803 on Monday, mostly in Sindh Province, with a total of six deaths.
"Staying at home is the only solution to fight this virus," Punjab Chief Minister Sardar Usman Buzdar said in Lahore, adding that the decision to close malls and public places was made to prevent unnecessary gatherings.
Meanwhile, health workers in Khyber Pakhtunkhwa (KP) have started the chlorination of streets and public places to disinfect parts of the province.
Rescue workers have received chlorine and other chemicals to disinfect public places in their respective districts, said Abid Majeed, secretary of the KP Relief, Rehabilitation and Settlement Department.
Rescue 1122 trucks could be seen spraying chlorine solution in inner Peshawar city and other parts of the province on Monday.
"The number of positive cases from KP is 31, while over 200 patients are being examined," said Ajmal Wazir, a spokesman for the KP government.
A quarantine centre has been set up on the outskirts of Peshawar where 132 Pakistanis returning from Iran will undergo quarantine, he added.
"We have deployed policemen in and around the quarantine centres to look after the returnees from Iran," said Capital City Police Officer Mohammad Ali Gandapur, adding that the returnees will have permission to leave only when they are fine.
KP has also suspended inter-district transportation and closed all its markets.
A Pakistani model
Facebook on Monday began enlisting outside developers to create ways its Messenger service can help health organisations battling the novel coronavirus, a step that Pakistan has already taken.
UNICEF and Pakistan's Ministry of National Health already use Messenger to keep the public posted about COVID-19, according to the Facebook-owned messaging platform.
The social network invited software savants to take part in an online "hackathon" aimed at creating ways to use Messenger to ease social distancing and deliver accurate information about the pandemic, according to Messenger Vice President Stan Chudnovsky in a blog post.
He unveiled a global programme intended to connect government health organisations and agencies of the United Nations with developers who can create ways to use Messenger to share accurate information and speed up responses to questions from users.
Software makers, for example, could help agencies automate answering common questions, which would allow staff to tackle more-challenging tasks.
[Javed Khan contributed to this report from Peshawar.]