HERAT -- Iran's forced deportation of thousands of pilgrims and refugees infected with the deadly coronavirus to Pakistan and Afghanistan is exponentially increasing the risk of a major outbreak in the region.
About 70,000 Afghans -- many of whom are infected with COVID-19 -- have been deported from virus-plagued Iran in the past 20 days, overwhelming health workers at border crossings, AFP reported this week, citing the International Organisation for Migration.
Meanwhile, roughly half of the Pakistani returnees from Iran at the Taftan border crossing have tested positive for COVID-19.
"Out of the 303 samples collected from the travelers from Taftan, 290 have been processed and 143 (49%) have been found positive for COVID-19," said a Wolrd Health Organisation (WHO) report Thursday (March 19).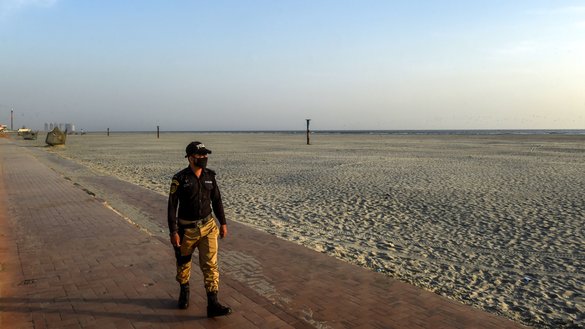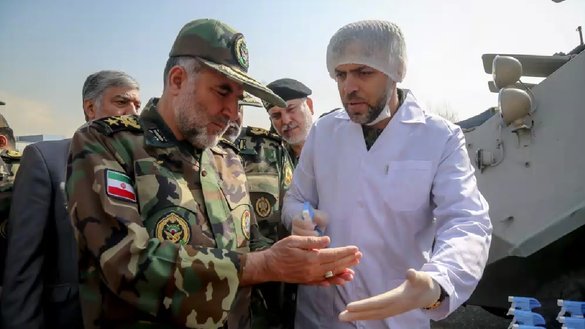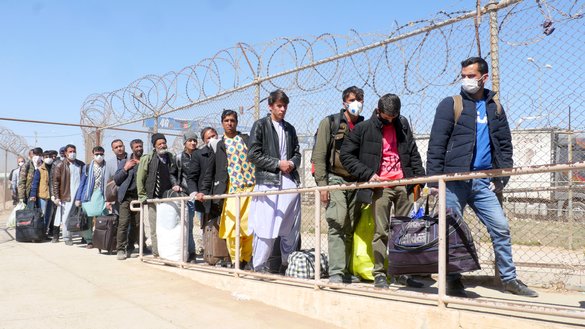 Some WHO officials fear thousands more Pakistanis infected with the virus will cross the border with Iran.
Many of those at the Taftan border crossing and the Dera Ismail (DI) Khan quarantine centre were arrested in Iran and were forcibly deported back to Pakistan.
"We went to Mashhad, Iran, for a pilgrimage, but the authorities there arrested us and bundled to buses that brought us to the Taftan border. There were no medical arrangements whatsoever," said Muhamad Hussain, 56, a resident of Hangu District in Khyber Pakhtunkhwa.
Iranian authorities were blaming pilgrims like him for the outbreak, suggesting they had imported the virus, and also refused pilgrims and refugees proper access to health care, said Hussain.
Hussain is among 19 Pakistani travellers to Iran quarantined in DI Khan. Fifteen of them have been diagnosed with the deadly virus.
"Iran is responsible for spread of COVID-19 in Pakistan as most of the people have gone to their homes unscreened," said Dr. Raees Khan, who is looking after the quarantined pilgrims in DI Khan.
Responsibility for the death and suffering of Pakistani pilgrims lies squarely with the "incompetent and dishonest" Iranian government, said another returnee, Nadeem Ali, 52, who is now in quarantine in DI Khan.
Deporting infected Afghans
Returning Afghans have their own experiences with Iranian abuse to recount.
Ahmad Ahmadi, an Afghan refugee who worked in Tehran, said that the Iranian military arrested him and his nine-year-old son and then deported them to Afghanistan through the Islam Qala border crossing.
"They deport those who appear to have signs of the disease to Afghanistan but arrest those who have the coronavirus and are in serious condition and place them in quarantine," he said.
"The Iranian forces arrested me along with my nine-year-old son and told me that I had the ... disease, and [then] they deported me," he added.
Another refugee accused Tehran of simply deporting every Afghan in sight.
Iranian security forces deport every Afghan they come across on the pretext of having the coronavirus, said Nazir Ahmad, 65, who was recently deported from Iran and now lives at a United Nations refugee camp in Herat city.
"The Iranian police arrested me and a few others, and they told us that we had the coronavirus and that we had to return to our country," he said.
"We worked in Tehran and shared an apartment," he added. "They dragged us out of our rooms, put us in vehicles and took us to the Afghan border. They told us that we Afghans had the coronavirus that infects Iranians."
The number of Afghans being deported from Iran has surged compared with previous months, confirmed Ahmad Jawid Nadem, director of the Herat Province Department of Refugees and Repatriations.
"Every day, dozens of Afghans deported by the Iranian government enter Herat Province through Islam Qala," he said. "As the coronavirus spreads in many cities of Iran, there has been a multi-fold increase in Afghans deported from Iran."
Transmission of coronavirus
In the past 24 hours coronavirus has killed 149 more people in Iran and 1,237 more cases have been confirmed, bringing the death toll in that country to 1,433 and total known infected to 19,644, Tehran said Friday (March 20).
However there has been continuing international concern over the Iranian regime's lack of transparency in delivering accurate information to the public about the virus outbreak.
Pakistan March 20 had 448 confirmed cases of COVID-19 and three deaths, according to Dawn.
Afghanistan had 24 confirmed cases as of March 20, according to its Health Ministry.
Given the explosive outbreak of the coronavirus across Iran, the increase in the deportation of refugees from Iran is a matter of great concern, said Dr. Muhammad Asef Kabir, deputy director of the Herat Department of Public Health in Afghanistan.
"The deportation of a very large number of refugees poses a serious threat to public health," he said. "All those who have the coronavirus in Afghanistan recently returned from Iran."
"The government of Iran must not bring those with signs of the coronavirus to the Afghan borders [to deport them] because these individuals can cause an outbreak of the virus in the community," added Kabir.
"The origin of the coronavirus in Afghanistan is Iran," Herat Governor Abdul Qayum Rahimi said at a press conference in his office on March 14. "All the patients who've been tested positive for the coronavirus and hospitalised have returned from Iran. If the deportation or return of Afghan refugees from Iran continues, it will create a big threat for Afghans."
Afghanistan needs to act quickly to avoid a spiraling crisis, said Rahimi.
"With the number of arrivals coming in from Iran [and] entering Afghanistan from several entry points, if we don't take any measures now and don't work together... we will witness an even worse situation than Iran has," he said.
"I am afraid... [that] a day will come that we won't be able to count the dead bodies," he said.
[Ashfaq Yusufzai from Peshawar contributed to this report.]