PESHAWAR -- Pakistan is ramping up measures to stop the spread of coronavirus after 15 patients tested positive in Khyber Pakhtunkhwa (KP) after returning from Iran, according to a Monday (March 16) statement.
Those infected were quarantined in Dera Ismail Khan after returning from Taftan, Iran, and are the first patients with COVID-19 in KP, say officials. All the patients are Pakistanis.
"As many as 15 of 19 who returned from Iran to KP have tested positive," Taimur Jhagra, the provincial finance minister, said in a statement March 16.
No more returnees will be coming from Iran overland, at least legally, anytime soon. Pakistan March 16 closed its borders with Iran and Afghanistan for two weeks, according to AFP. International flights are still operating.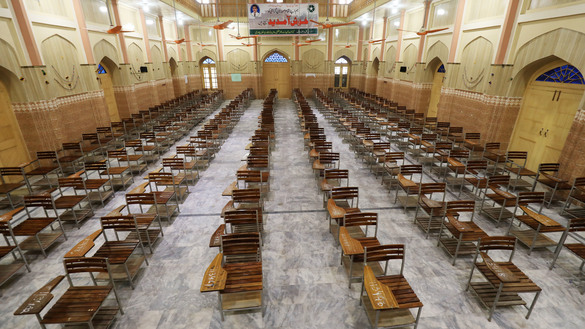 Surging numbers
The coronavirus numbers are climbing.
As of Tuesday (March 17), Pakistan has reported 187 COVID-19 patients, with more than 150 in Sindh Province.
The vast majority are Pakistanis returning from trips to Iran.
KP March 17 is planning to test 225 Pakistani returnees, said KP government spokesman Ajmal Wazir.
"All those who tested positive [in Sindh] are being taken care of at different hospitals, while some have been isolated in their homes," Sindh Chief Minister Syed Murad Ali Shah said March 16.
All of the patients were doing fine, he said, adding that the Sindh government has arranged for as many as 10,000 test kits and can obtain more if needed.
Precautionary measures
The Pakistani government has asked the public to take precautionary measures and not to panic.
"I want to inform the nation I am personally overseeing measures to deal with COVID 19 & will address the nation soon. I would advise people to follow safety instructions issued by our govt. While there is a need for caution there is no need for panic," Prime Minister Imran Khan tweeted on March 14.
Khan is scheduled to address the nation about the pandemic Tuesday (March 17).
International flights from March 15 to March 31 may use only three airports: Islamabad, Lahore and Karachi. Workers are conducting special screenings at those airports to prevent the spread of the virus.
Schools, colleges, universities, hospital outpatient departments, public places, wedding halls and other facilities have closed down.
In some cases, weddings were cancelled on short notice.
"Our wedding was scheduled for Sunday [March 15], but the management told us the government has imposed a ban," said Naeem Ahmad, a Peshawar resident who had booked a wedding hall for the wedding of his cousin.
"As many as 90 facilities including wedding halls, hostels, colleges and schools, cinemas and other facilities that were still open were closed in Peshawar during the weekend," said Secretary Relief, Rehabilitation and Settlement Department KP Abid Majeed.
He asked members of the public to avoid gatherings, to wash their hands often with soap and not to touch their faces.
In a fatwa, the Pakistan Ulema Council urged the public to avoid handshakes and hugs and to limit its greetings to a spoken "Assalum-o-Alaikum", Radio Pakistan reported March 17.
Rescue 1122 has "been provided special kits and gadgets to test any suspected person and to shift them to the hospital", said Bilal Ahmad Faizi, a spokesman for the service.
Special teams have received training on how to test and shift any patient, he added.
Deaths mounting in Iran
Pakistan's measures come as the situation becomes increasingly dire in neighbouring Iran.
Iranian officials Tuesday (March 17) reported another record high single-day death toll.
The latest 135 deaths brought the overall toll to 988 fatalities among the over 16,000 infections since February 19, when the government announced Iran's first cases of COVID-19.
The disease has now killed at least 12 Iranian politicians and officials, both sitting and former, and infected 13 more who have undergone quarantine or treatment.
International concern has grown over the Iranian regime's failure to deliver accurate information to the public as the uncontrolled coronavirus outbreak in the country threatens neighbouring countries and beyond.
US Secretary of State Mike Pompeo on February 25 demanded that the Iranian regime "tell the truth" about a coronavirus outbreak, voicing alarm at allegations of a cover-up.
Meanwhile, China is actively attempting to deflect criticism of its role in the coronavirus pandemic spreading across the world by promoting conspiracy theories about the origin of the virus.
And last month, Russian state media started pushing conspiracy theories about the cause of the virus, then operators of thousands of social media accounts linked to the Kremlin began to spread the message the following day.