ISLAMABAD -- The Hindu community in Pakistan celebrated Holi, the festival of colours, on March 9 (Monday).
The festival is considered to be one of the most revered and celebrated festivals in Hinduism and signifies the triumph of good over evil.
Temples across the country, including Peshawar, were full of colours, music, gaiety and foods.
"Special prayers were offered ... religious leaders in their sermons highlighted the importance of Holi and urged people to adopt the path of goodness and tolerance and to play their role in maintaining peace," said Ramesh Kumar Vankwani, chairman of the Pakistan Hindu Council, a non-government body representing Hindus in the country, and a member of parliament.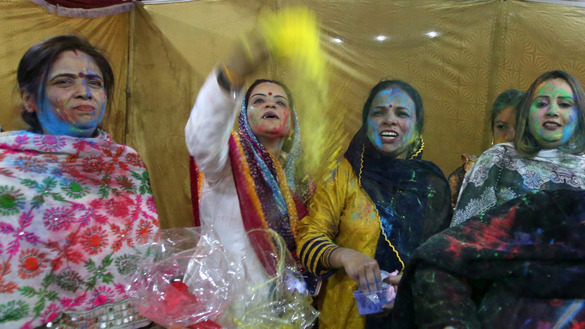 With the establishment of peace across the country, religious events such as Holi have been promoting a soft image of Pakistan to the rest of the world, he said.
In temples across the country, Pakistani Hindus, especially children, threw colours on each other. Outside, contingents of police provided security.
A large number of members of other faiths, including Muslims, visited the temples to promote inter-faith harmony.
Prime Minister Imran Khan on Twitter wished for a happy Holi for Pakistan and hoped, "This festival will be a source of comfort and security to our Hindu community."
A message of peace
Over the past several years, Pakistan's Hindu community has been celebrating Holi as a symbol of peace, said Hameer Singh, a development sector professional in Islamabad.
Pakistan's religious minorities have faced attacks from terrorist groups such as the Tehreek-e-Taliban Pakistan (TTP) and the "Islamic State of Iraq and Syria" (ISIS).
For example, in September 2013, twin suicide bombings targeting the Christian community at the All Saints Church in Peshawar killed 104 people and wounded another 142.
However, the Pakistani government in December 2014 launched the National Action Plan (NAP), a counter-terrorism strategy that also sought to eliminate militancy and protect minorities.
The Interior Ministry asked provincial governments to note the places of worship and properties of minorities and to devise a security plan to protect them.
"After law enforcement agencies' successful operation against the militants and implementation of the NAP, a significant decrease has been seen in the attacks on non-Muslims in Pakistan," said Singh.
Despite the weakening of militant outfits, new challenges have emerged, including violence related to unfounded accusations of "blasphemy" and the forced conversions of minority girls to Islam.