PESHAWAR -- A Muslim family in Abbottabad District, Khyber Pakhtunkhwa, has served as custodian of a Christian church for almost a century, reflecting the interfaith harmony, tolerance and religious respect among Pakistanis of diverse beliefs.
Waheed Murad, in his late 40s or early 50s, is the third generation of his family to serve and care for St. Matthew's Church in the mountainous Nathiagali region of Abbottabad District.
The historic church is an attraction for tourists visiting the area because of its majestic design and artistic woodwork.
"In 1914, St. Matthew's Church was established, and after a few years my late grandfather, Muhammad Hussain, began taking care of the worship place," Murad told Pakistan Forward on March 31.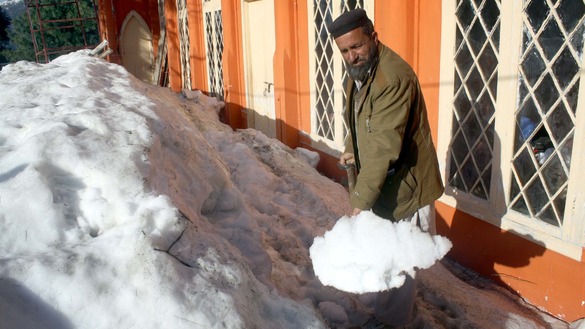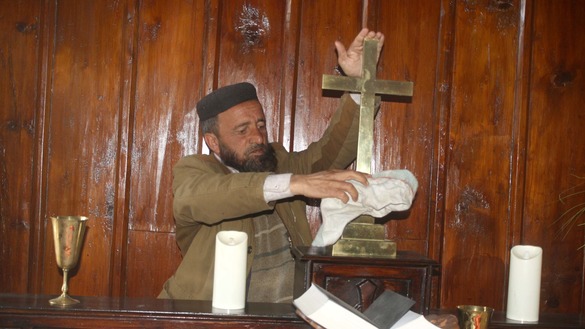 "My grandfather had the option of working at a guesthouse, but he opted for the church," he said.
His grandfather served the church for 35 years, and after his death, Murad's father, Shakro Khan, assumed those duties.
"My father served this historic church for 45 years, and I have served as his substitute for the last 17 years," Murad said. "The whole service of our family accounts for about 97 years."
Murad said his home in the village of Milaach is about 6km away, but he walks to the church regularly to clean, dust, deliver flowers and even ring the bell.
"There are no local Christians in Nathiagali, but I regularly visit the church to keep it open for worshipers," he said.
Most visitors to the church are tourists -- both Christian and Muslims -- who throng Nathiagali during the summer.
While the pastor of St. Matthew's Church stays there for three months in the summer, the facility is looked after by its Muslim custodian the remainder of the year.
Muslim and Christian harmony
Murad said he is proud to serve the church because he considers that every place of worship should be as revered as a mosque, and will encourage his children to keep taking care of the church after his death.
Locals and religious leaders credit Murad and his ancestors for the building's sparkling upkeep even amid the harsh climate of the hilly region.
It is amazing "to see a Muslim serving as custodian of a church, and it reflects a true picture of our religion, which provides us with teachings of tolerance and respect for those of other faiths", Muhammad Imran, a resident of Nathiagali, told Pakistan Forward.
Anjum Tasleem, secretary of the Church Properties Diocese of Peshawar, also praised the devotion shown to the church by the Murad family.
"This Muslim family has extended a very valuable service to Christians, which we acknowledge and appreciate," he told Pakistan Forward.
Other examples of "mutual co-existence of Muslims and Christians" exist, he said. A Muslim family in Thandiani, another hilly resort in Abbottabad District, performs similar services for a church there, according to Tasleem.
Tolerance in Pakistan
Such solicitude for churches by Muslim families illustrates the respect Pakistanis hold for all religions, agreed Dr. Abdul Ghafoor, a former khatib from Peshawar District and a core member of the Peshawar-based Pakistan Council of World Religions.
"This is a real picture of Pakistan's society, where members of different faiths are living in mutual co-existence and tolerance," he told Pakistan Forward.
The caretaker families' attitude contrast sharply to that of extremists who have targeted Christians and their churches in Pakistan. For example, more than 120 worshipers at All Saints Church in Peshawar were killed in twin suicide bombings in 2013.
Past violence should not taint the harmony that exists among those practising different religious beliefs in the country, said Haroon Sarab Dayal, a representative of the Peshawar Hindu community and founding member of the Pakistan Council of World Religions.
That harmony represents "the strong values and the lifestyles of Pakistan's citizens, whose identity has been tarnished by the wrongdoing of a handful of elements", he told Pakistan Forward.
Rich tourism potential
Pakistan has great potential for spiritual tourism because the country is home to highly revered sites of not only Islam but of all religions, he said, adding that a Hindu shrine -- Baba Shati Ram Kaval -- in Dera Ismail Khan is another example of a religious establishment that Muslims have tended for centuries.
In addition, a Sikh gurdwara and a mosque share the same boundary wall in Abbottabad District, while a Hindu temple and church also lie near them, he said.
In the morning, residents of the Gurdwara Gali area of Abbottabad District awaken to the calls of azan from a mosque, the toll of the bell from the church and bhajans (religous songs) emanating from the temple, reflecting the sturdy harmony and diversity shared by denizens of the region, according to Sarab Dayal.