KARACHI -- Pakistan's Hindu community on Wednesday (March 20) celebrated Holi, the festival of colors, with prayers, bhajans (religious songs), dancing and throwing of colourful powder on each other.
Holi is considered one of the most revered and celebrated festivals in Hinduism. It marks the triumph of good over evil and is related to many mythological tales.
In Karachi, temples were full of colour, music, gaiety and foods. Clerics offered special prayers, highlighting in their sermons the importance of Holi and urging followers to adopt the path of goodness and tolerance.
A large number of people from other faiths, especially Muslims, also visited temples to promote inter-faith harmony. Police provided security outside.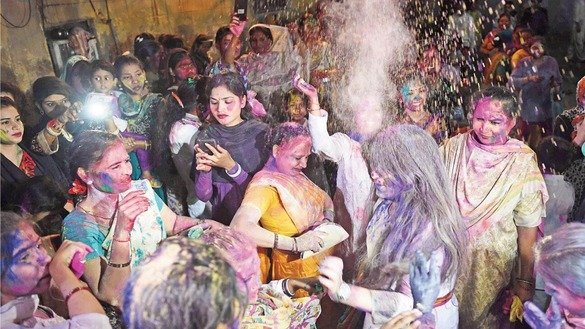 At the Shri Panchumukhi Hanuman Temple in the Soldier Bazaar neighborhood of Karachi, many attendees -- especially children -- could be seen throwing colourful powder on each other.
This year, leaders of the Hindu community announced Holi celebrations would commemorate the March 15 terrorist attack on two mosques in New Zealand, which left 50 dead.
Every year the Holi festival serves as a reminder of the victory of the good over evil, said Dr. Ramesh Kumar Vankwani, chairman of the Pakistan Hindu Council, a non-government body representing Hindus in the country.
"I appeal everyone to actively participate in Holi celebrations, emphasising that their presence will deliver a positive message of solidarity with non-Muslim minorities, promote inter-faith harmony and religious tolerance, strengthen patriotic zeal and represent a diverse Pakistani society according to the vision of the country's founder, Muhammad Ali Jinnah," Vankwani told Pakistan Forward.
Prime Minister Imran Khan on Twitter wished "a very happy and peaceful Holi, the festival of colors" to the Hindu community.
His words came amid efforts to protect the rights of non-Muslims in Pakistan, including the firing of Punjab Information Minister Fayyazul Choan for hate speech targeting Hindus.
Meanwhile, on March 11, the Sindh Rangers ahead of Holi carried out renovations at the Kali Mata Mandir, a Hindu temple in the New Karachi area.