KARACHI -- Women on Wheels (WoW), a campaign aimed at teaching women how to ride motorcycles and scooters, officially kicked off November 24 in Karachi.
Hundreds of women attended the inaugural ceremony of the campaign held at Frere Hall Park.
Progress in security and in women's empowerment
The campaign illustrates the dramatic progress in security in Karachi since September 2013. From 2007 to 2013, thousands of residents were killed in violent crimes, including terrorism, targeted killings and sectarian attacks, according to Karachi Police.
In September 2013, security forces in Karachi began a crackdown on various criminal groups, local gangs and proscribed militant outfits. The crackdown continues today.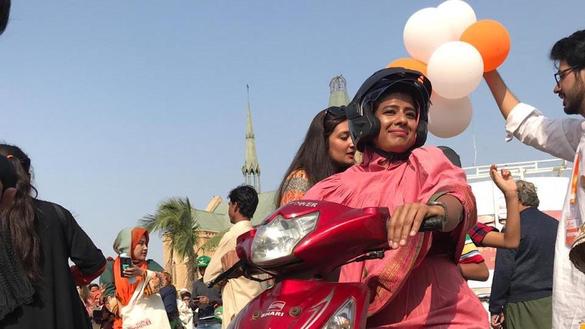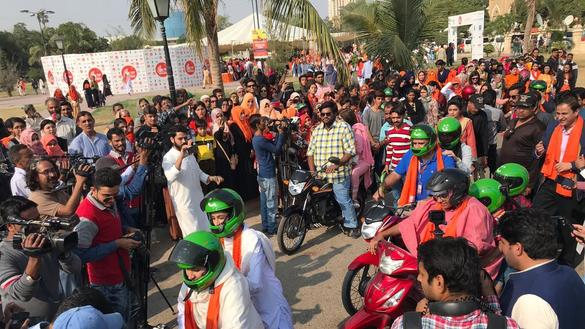 WoW also seeks to empower women in a socially conservative country.
The goal of WoW is to teach at least 10,000 women from Sindh Province how to ride motorbikes by International Women's Day, next March 8. A first batch of women began receiving training on November 25 at the University of Karachi.
More than 7,500 women have registered to learn how to ride motorcycles, tweeted Bilawal Bhutto Zardari, leader of the Pakistan Peoples Party, the ruling party in Sindh Province.
Women often do not ride motorcycles and scooters in Pakistan because of social and cultural restraints.
However, campaigns such as WoW provide a means to break free of those societal norms, say women's rights activists.
The latest campaign comes after a similar one in 2016 held in Punjab that covered the province's five major cities, including Lahore, Multan, Sargodha, Rawalpindi and Faisalabad, according to Salman Sufi, the founder of the campaign and the head of the Sufi Foundation.
Some 5,000 women from lower- and middle-class families in Punjab learned to ride motorcycles, he said.
'Encourage woman travellers'
Now, in collaboration with the Sindh government and supported by the United Nations Entity for Gender Equality and the Empowerment of Women (UN Women) and the UN Development Programme, the Sufi Foundation has expanded the project to Sindh Province, said Sufi.
Karachi was selected to be covered in the first phase. In the upcoming month, the campaign will spread to other cities in Sindh, including Hyderabad, Sukkur and Nawabshah, he said.
"Keeping in view the suffering of women commuting by public transport in big cities, such as Karachi, the WoW campaign will facilitate and encourage woman travellers to ride their own bikes," said Sufi, referring to harassment that the commuters encounter.
"It is indeed an immense day for Sindh women," said Sindh Women Development Minister Syeda Shehla Raza, who attended the ceremony and registered for the training.
"Economic empowerment is dependent on mobility, and this was the cheapest way we could give women mobility," she said.
All women who complete the training will receive free licences afterward, said Murtaza Wahab Siddiqui, an adviser to the Sindh chief minister who attended the event.
The provincial government will open facilitation centres at all driver's licence centres so women can easily obtain licences, he said.
The campaign will also provide women access to an anti-harassment app and help them challenge patriarchal norms through a widespread communication campaign, said Siddiqui.
Expanding to KP
The campaign will reach Khyber Pakhtunkhwa (KP) by the summer of 2020, he added. Authorities cancelled a similar rally scheduled for Peshawar in January after various religious outfits threatened to protest the event.
Zama Jawandoon, a Peshawar women's rights group, was the organiser of that cancelled rally.
Laka Rukh, a university student who registered for training with WoW, said that her new skills will allow her to do "everything that I want".
"It will end our dependence on male members of our families and accelerate our mobility," Rukh said.