PESHAWAR -- The Pink Taxi service in Pakistan is empowering women by offering employment opportunities and safe rides to and from work or school.
The all-female taxi service, also known as "Paxi", began operating in Peshawar in January. Women can hail a Pink Taxi by phone or mobile app or by flagging one down in the street.
Tamana Khan, the first Pink Taxi driver from Khyber Pakhtunkhwa, said she feels proud to support her family through a job that men often dominate in Pakistan.
"Women have to face many issues when they go out in our society and earn a living, so this Pink Taxi is an excellent platform for women like me to work with dignity," she told Pakistan Forward on March 18.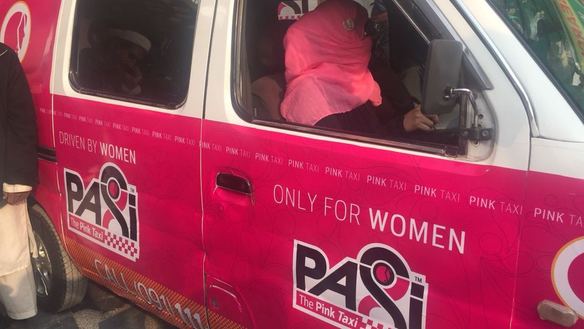 "Social taboos and norms are the main hurdles women must overcome to pursue careers in such male-dominated fields," she said. "But as the Pink Taxi customers and drivers are all female, women like me won't have difficulties in coming forward to earn a living."
Empowering women to succeed
"We started Pink Taxi in Karachi in last March, and now we have kicked it off in Peshawar," said Fiza Khan, marketing and media manager for Pink Taxi. "Gradually we will extend it to all over the province."
"The aim of the initiative is basically women's empowerment and to provide them jobs so they can support their families," she told Pakistan Forward.
"It not only [provides] employment but is a good platform to help skilled women to excel," she said, adding that she hopes it will enhance "a positive image that Pakistani women are equally capable and talented and can perform in any field".
"Many women in our society are reluctant to travel with male drivers, especially when they are alone, so Pink Taxi can be a great source of relief and comfort for them," Kajal Majeed, a teacher at the Rehana Jamal Mujahida Academy in Peshawar, told Pakistan Forward.
"[Pink Taxi] is not only a source of women's empowerment by encouraging other women [to drive], but will help address problems that woman commuters face as well, especially for ... working women and students," said Afsheen Zaman, a lecturer in art and design at the Shaheed Benazir Bhutto Women University in Peshawar.
Providing safe rides for women
Students and women working in various fields have welcomed the service and ease of riding with Pink Taxi.
The women-only taxi service is "a good initiative", said Nadia Sarwar, a student at the Shaheed Benazir Bhutto Women University in Peshawar.
"The apps for Pink Taxi will be helpful for women to gain access to the taxi in one click," she told Pakistan Forward, adding that it is "fun" and more "comfortable" to ride with a woman driver.
"Pink Taxi ... will give us a sense of security," said Misha Kalsoom, a student of CECOS University of Information Technology and Emerging Sciences in Peshawar.
"It will be safer and easier for woman students to travel with a woman driver than with a male," she told Pakistan Forward.
The women-only taxi service will help "curb harassment [by] male drivers and will eliminate the staring and sarcastic remarks that women often face while travelling with male cab drivers", said Kianat Ishfaq, an employee of a cell phone company in Peshawar.
"The message will be very loud and clear that women in a conservative society like ours are empowered and that they can go beyond stereotypical jobs to compete [in the workforce] with male members of society," she told Pakistan Forward.
"It will surely encourage young women to try their luck as skilled drivers," Zaman told Pakistan Forward.