PESHAWAR -- Khyber Pakhtunkhwa (KP) Province, with support from Japan and the United Nations (UN), is set to inaugurate a woman-only bus service in Mardan and Abbottabad districts.
The Pink Bus Service will allow women to travel alone, in a step away from social norms that expect male family members to accompany women in public. They also protect women from aggressive male passengers on conventional buses.
The brightly coloured buses will not only provide women a more secure and comfortable mode of transportation but give them a family-like and affordable traveling experience.
The service is expected to spread gradually throughout KP.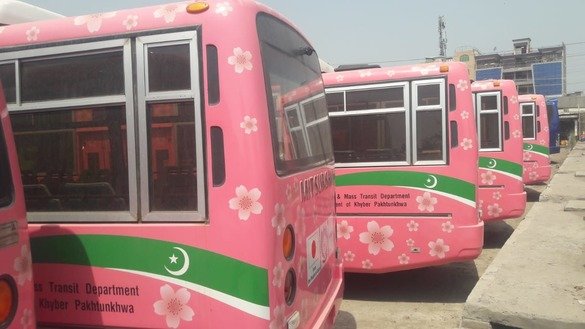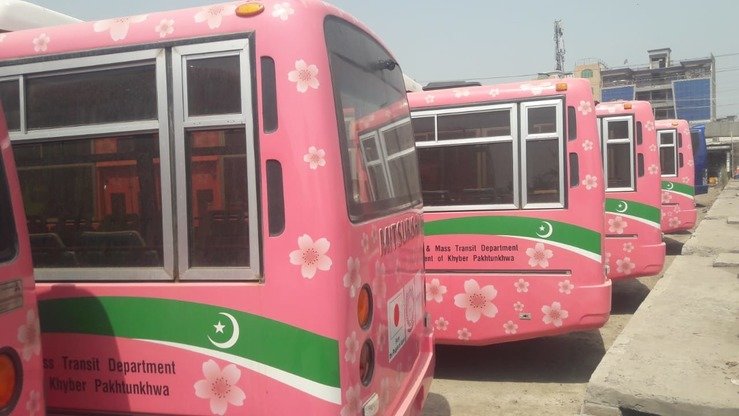 Japan donated 14 buses worth Rs. 100 million ($815,000) as part of its general assistance to the UN Office for Project Services (UNOPS) for the pilot phase of the project in Mardan and Abbottabad.
Pakistani officials formally accepted the vehicles May 11. They will begin operating by the end of August or early September. They have comfortable seats, air conditioning and automatic doors.
In addition to the buses, UNOPS is facilitating the construction of 15 bus stops equipped with solar panels and lights in each district.
The service is part of an agreement inked between Japan and UNOPS and the KP Transport Department in 2016. Children, including boys below 12 years of age, may ride in the buses.
TransPeshawar, which was set up to operate the Peshawar Bus Rapid Transit (BRT) service, will operate the pink buses. Test runs have already taken place in Peshawar.
A move backed by women
Pakistani women, especially those living in KP, are praising the government's new initiative.
"I think it is a great idea to have buses for ladies -- they will feel secure and can travel without fear of being molested," Rabia Khan, a bank employee who commutes daily between her office and home in Abbottabad, told Pakistan Forward.
"[The service is] a good start to allow women to feel safe, no matter where they are or what they are doing. But it must be extended to other cities, including all of KP and its rural areas," she said.
It was a pleasant surprise to see something good happening for women in KP and the provincial government deserves praise, Hira Shah, a Peshawar-based journalist with SAMAA TV, told Pakistan Forward.
"Women face harassment on public transport, so this is a very good step to make transportation easier and more secure for women," she said.
The Pink Bus Service for ladies is a good move by the government, agreed Peshawar housewife Begum Asif.
"Earlier we travelled in local buses with men, and most of the time males would occupy the seats reserved for females," she told Pakistan Forward. "The separate bus service for the female is a very good initiative -- we will be able to travel without any fear or reservations."
A step forward for women's rights
The Pink Buses are a great initiative and will protect working women and female students who often endure sexual harassment on buses, said Gulalai Khan, a human rights and social activist working with the Peshawar-based Khwendo Kor (Sister's Home) women's rights group.
The service also will generate economic activity and will empower women, as women will feel at home while travelling with their friends and colleagues, she said.
Once built, the transportation facilities will help many young women reach schools or workplaces that were previously unreachable because of safety concerns, according to Khan.
"Any local initiative that empowers women... is welcome, and the woman-only bus service, if implemented successfully, will be a source of empowerment for the working female as well as her parents," Nighat Orakzai, a lawmaker in the KP Assembly and women's rights activist, told Pakistan Forward.
Pakistan's rapidly growing population -- estimated to exceed 207 million -- has already exacerbated commuting problems for working women. The Pink Bus Service will help ease transportation for women, overcome their fear of harassment in public transportation, and prove economical compared to taxis and other modes of transit, she said.