PESHAWAR -- A top Buddhist monk from Thailand recently travelled to Pakistan to ring the Peshawar Museum's Peace Bell, spreading a message of peace to the world.
The chief Buddhist monk of the Sangha Supreme Council of Thailand, Most Venerable Arayawangso, rang the bell on October 30.
The top monk was accompanied by a delegation from Thailand to visit Buddhist sites in Pakistan, many of which are situated in Khyber Pakhtunkhwa (KP) and are estimated to be 1,600 years old. They were all part of the Gandhara civilisation.
"The Peace Bell is a sign of peace and goodwill," said Syeda Meher Taban, an archaeology lecturer at Abdul Wali Khan University in Mardan.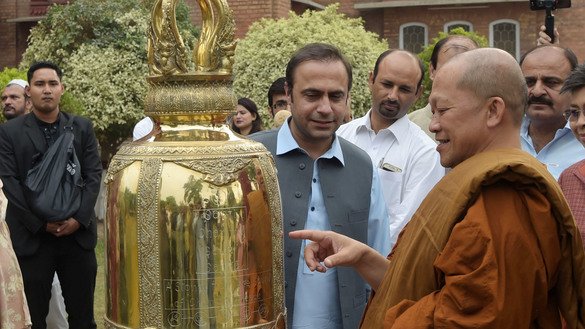 Takht-i-Bahi in Mardan contains the ruins of one of South Asia's most ancient Buddhist universities, which dates back to the 3rd century BCE, she added, referring to a UNESCO site.
"This region has been a source of spreading peace through education even hundreds of years back," Taban said.
She welcomed the visit of the Buddhist monks to Pakistan, saying it will bring more tourism, including religious tourism, to the country.
"This will also convey a message to the world that Pakistan is a safe country for tourists from all over the world," she said.
In past years, KP suffered from widespread terrorism that discouraged visitors from coming, but a series of army offensives starting in 2014 have made it safe again for tourists.
Security attracts foreign pilgrims
Pakistan is a peaceful country, Arayawngso told the world.
"I am confident that Buddhists from across the world will visit Pakistan as it is safe for foreign tourists," he told gatherings in Peshawar and Taxila. The delegation visited and offered services at the Peshawar Museum as well as religious sites in Takht Bhai, Haripur and Taxila.
"Peace-loving people from all over the world should do their best for the promotion of peace and tolerance and making the world a better place to live," he said.
The Bhamala Stupa in Haripur is significant in Gandhara civilisation, Dr. Abdul Samad, director of KP Archaeology and Museums, said during his briefing to the visitors.
"The government has developed a comprehensive policy to preserve the archeological sites of Buddha and other civilisations as well as to find more treasures through excavation," said Samad.
"A visit by foreigners -- whether they are religious leaders or tourists -- to different areas of Khyber Pakhtunkhwa and Pakistan is encouraging," said Mohammad Haneef, a private-school student visiting the Peace Bell at the Peshawar Museum.
Peace has returned to Pakistan to a great extent and this will encourage more tourism in the country from around the world, he said.