PESHAWAR -- The discovery of the world's oldest Buddha statue in Khyber Pakhtunkhwa (KP) has raised hopes for the promotion of religious tourism -- and the associated economic benefits -- in the region.
The KP Directorate of Archaeology and Museums and the Archaeology Department of Hazara University recently came upon the ruins of a 14-metre-long Reclining Buddha at Bhamala village in Haripur District. Such statues, also known as Sleeping Buddha or the death scene of Buddha, represent his last illness before his death.
Officials announced the discovery of the roughly 1,700-year-old statue, carved from Kanjur stone, November 15.
"This [statue] is from the 3rd century CE, making it the world's oldest Sleeping Buddha remains," said KP Director of Archaeology and Museums Abdul Samad.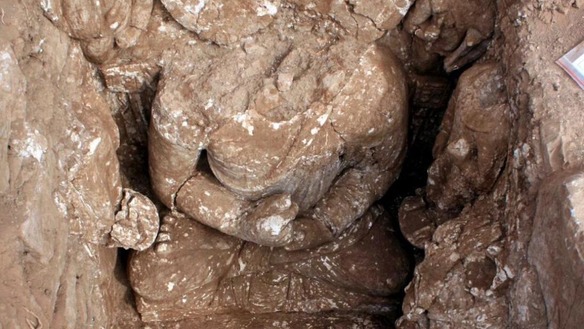 "Apart from finding ... the Sleeping Buddha, we have discovered more than 500 Buddha objects from the site," he told Pakistan Forward.
The stupa at Bhamala village is an archaeological site also known as the Bhamala Buddhist Complex.
Archaeologists found the site in 1929. Excavations resumed after about 88 years, leading to the recent discovery.
A hub of multiculturalism
"This is the largest statue of Buddha excavated so far," Nawaz-ud-din, research officer and focal person at the KP Directorate of Archaeology and Museums, told Pakistan Forward.
This statue will highlight the archaeological importance of KP and attract the attention of international tourists, especially Buddhists, he said.
"KP has remained a hub of multiculturalism because of the existence of numerous archaeological and sacred sites related to Buddhism and Hinduism," he said.
"The province has great potential for religious tourism due to the rich archaeological sites," Nawaz-ud-din said.
The Peshawar Museum is also unique for displaying antiques and sculptures that represent stories of the life of Buddha from his birth to death, he said.
Thanks to improved law and order and the decline of militancy, the number of tourists to KP are increasing, Nawaz-ud-Din said, adding that better promotion of the tourism sector is needed.
"For the past couple of years, delegations of monks from Sri Lanka have been regularly visiting the Takht-i-Bahi Buddhist ruins in Mardan in May to offer religious rituals for observance of their annual Vesak festival [marking the Buddha's birth]," he said.
Attracting tourists
Peace has been restored and international tourists are encouraged to visit Pakistan's scenic places and archaeological sites, Imran Khan, chairman of the Pakistan Tehreek-e-Insaf (PTI) party, said during a news conference November 15 in Bhamala.
"Rehabilitation and renovation of archaeological and heritage sites can help promote tourism and attract foreign tourists," he said.
"Tourism has been developed owing to the restoration of peace, as more and more foreign tourists are coming to Pakistan, especially KP, to visit serene places and heritage sites," Khan said.
The KP government has taken tangible steps to protect and preserve archaeological sites in the province, KP Chief Secretary Mohammad Azam Khan said while briefing guests at Haripur November 15. Envoys from Sri Lanka, Australia, South Korea and Mauritania were in attendance.
Excavation work is in progress in various districts, including Swabi, Mardan, Bannu and Peshawar, to develop archaeological tourism and attract tourists, Khan said.