PESHAWAR -- Khyber Pakhtunkhwa's (KP) religious artefacts -- along with improved security -- are helping to draw more foreign visitors to the region, including Buddhist pilgrims from South Korea.
A four-day visit by a team of South Koreans comprised of Buddhist pilgrims, researchers and diplomats as part of a heritage tour highlighted the rich potential of religious tourism of the area, which contains about 6,000 archeological sites, officials say.
The visit by the South Koreans from Sunday through Wednesday (August 25-28) shows that "Pakistan is a preferred destination for tourists around the world," said KP Minister for Tourism Atif Khan, who received the group on Monday (August 26) at the Peshawar Museum.
It also reflects the restoration of confidence of international tourists in visiting the region as security has improved, he added.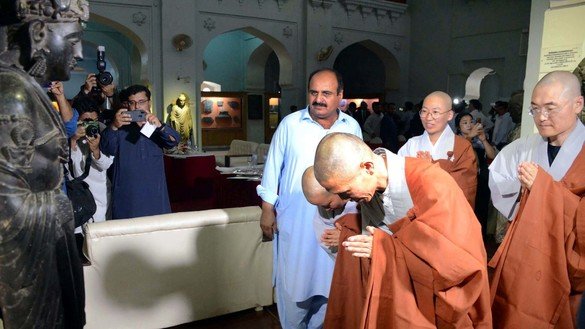 Such areas in KP were once under the influence of Tehreek-e-Taliban Pakistan (TTP), preventing tourists from visiting and forcing out tens of thousands of locals.
Military operations coupled with a number of steps made by the government helped return peace to the province.
The expedition was led by South Korean Ambassador to Pakistan Kwak Sung-Kyu. Other members included monks, researchers and professors from Dongguk University in Seoul.
The team visited different historical sites of Gandhara, the Buddhist civilisation (1500 BCE to 535 BCE) in modern-day KP, and the Taxila archaeological site in Punjab Province.
Gandhara relics
Members of the Korean expedition expressed excitement after visiting statues of Buddha at the Peshawar Museum. Some of them performed ritual worship.
The Peshawar Museum has the most important and largest collection of Gandhara art in the world. It includes Buddhist stone sculptures and panels as well as architectural elements.
"We are very happy to see relics of Buddhism in the Peshawar Museum, which are a great source of reverence for us," said Lim In Young, one of the visiting monks.
"It's like a dream come true for me to be present amid the countless archaological properties of Buddhism," Lim added.
"We were not expecting KP to be so rich in the preservation of relics of Buddhism, which can attract a large number of followers of the religion to the region," said Kim Cheong Jin, another member of the delegation.
"Pakistan will be an appealing destination for Korean Buddhist pilgrimages and tourism owing to its unique world heritage, especially the Gandhara civilization as a main source of attraction," said Kwak, the ambassador.
Joint efforts to promote cultural ties between Pakistan and Korea can be successful, he said.
"Pakistan and Korea are deeply embedded in history through the common heritage of Buddhism," he told reporters at the museum visit.
The Jogye Order, South Korea's largest Buddhist sect, will send a delegation to visit historical sites in Pakistan, including in KP, in November, he added.
"Khyber Pakhtunkhwa authorities want to promote religious tourism as the province has 6,000 archeological sites including monasteries, holy sites and a collection of status of Buddha," said Khan, the tourism minister.
He also highlighted the ancient link of KP to South Korea, saying that a monk, Maralanda (Maranatha), from Chota Lahore village in Swabi District, had gone to Korea via China in the 4th century CE and spread Buddhism there.
A Korean monk, Hyecho, also travelled to Gandhara via an ancient route and studied Buddhism there, added the minister.
KP is a holy place for Buddhists and they can visit and worship anytime without fear, he said.
Highlighting measures taken to promote tourism and inform the international community of the rich religious potential of KP, Dr. Abdul Samad, KP's director of archaeology and museums, said that the KP government had sent 42 artefacts from the Peshawar Museum to South Korea.
"Khyber Pakhtunkhwa and South Korea have about a 1,600-year-old religious link that needs to be redeveloped," he said.