PESHAWAR -- Peshawar's Central Prison, which was first built in 1884 and holds many high-profile criminals including convicted terrorists, opened a new facility this month that will allow it to house more prisoners with tighter security.
Khyber Pakhtunkhwa (KP) Chief Minister Mahmood Khan inaugurated a block of the new prison on October 23, marking the completion of one of four stages of construction.
The new facilities will cost about Rs. 16.5 billion ($105.5 million). The original Central Prison was erected in 1884 during British times with a capacity of 450 prisoners. Recently it has housed more than 2,000.
"The new building will accommodate more people as the prison was overcrowded," Khan said at the ceremony. Congestion in the prison not only affected inmates' health but caused security problems too, he said.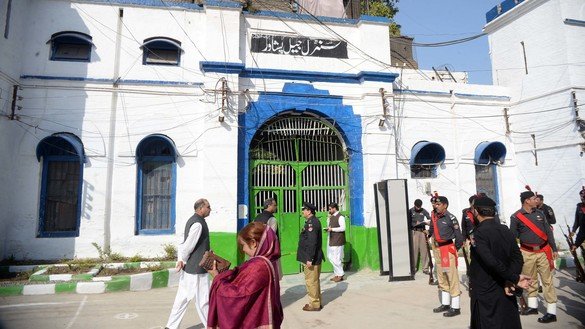 The Peshawar Central Prison, along with other jails in the province, has held criminals including members of the Tehreek-e-Taliban Pakistan (TTP), Lashkar-e-Islam and other insurgent groups.
At the inauguration ceremony, Khan announced a two-month relaxation in the sentencing of convicts throughout KP, though it will not include prisoners involved in terrorist activities.
The chief minister also announced various new posts in the prison department, including the position of assistant superintendent of jails and chief warder.
The new Central Prison facility will set up small industries to provide technical skills and livelihood opportunities to prisoners, said Masood ur Rehman, the inspector general of the KP prison department, at the ceremony.
Hospital, mosque addition
The update of Central Prison "has a total of four phases, the first of which was completed", said an official of the KP prison department, who requested anonymity as he is not authorised to speak to the media.
Phase one included adding new barracks for prisoners, he added.
"Phase two and phase three are also related to new blocks" such as the construction of a hospital and a juvenile and women's jail, he said, while phase four includes an administration area and a mosque.
While jails are overcrowded in Peshawar, Kohat, Nowshera, Swabi and Timergara, "the issue in Peshawar is resolved with the construction of the new block", said another KP prison official who asked not to be named.
"More will be constructed soon to overcome the issue in other districts," said the official.
"The jails in KP need more space [for inmates] and housing for staff as well as better health facilities," said Riffat Ullah Orakzai, a Peshawar-based journalist.
Jails in the country are overcrowded, which is causing many problems for inmates, he added.
"There must be more toilets and washrooms and better canteens, as well as facilities to impart vocational training and other education to the inmates," he said.