PESHAWAR -- Khyber Pakhtunkhwa (KP) authorities are establishing more sports and workout facilities in prisons to ensure a healthy and positive environment for criminals and extremists so they can return to a normal life.
"We have set up an open-air gym in Central Prison Peshawar so the prisoners languishing in jail can go out to work out and better utilise their time in positive activities," Sports Secretary KP Abid Majeed said Tuesday (September 1).
Volleyball and badminton courts, facilities for table tennis, snooker and other sports will be available in jails in Peshawar, Mardan, Haripur and others, Majeed added.
All prisons across the province have instructions to send their requests for sports facilities in their jails to the concerned department, said Project Director Sports KP Murad Ali Mohmand.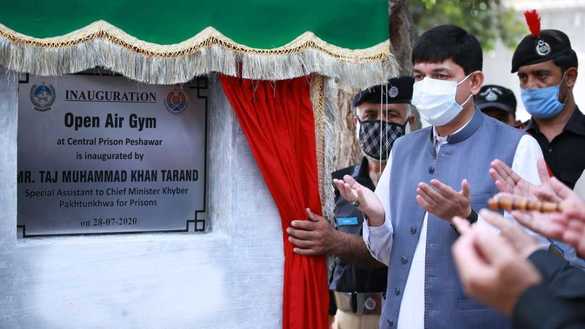 "So far we have set up 22 different kinds of workout equipment in Peshawar prison," said Mohmand. That prison has about 2,700 inmates.
Workers have installed a badminton court worth Rs. 9.6 million ($58,000) in Mardan Prison, he said, adding that prisons with enough land for football and cricket will have pitches (fields) for those sports.
"In the next stage, we will arrange sports tournaments and competitions for prisoners to encourage them to return to positive activities and become useful citizens," said Mohmand.
"We wre providing more sports facilities to inmates of jails in KP to improve conditions for them," Taj Muhammad Khan, adviser to KP Chief Minister Mahmood Khan, said while inaugurating the open-air gym at Central Prison on July 28.
Apart from sports, prisons soon will have small industrial units so that inmates can learn skills and support their families when they return to them, he said.
Workers are setting up a woodworking unit in Haripur and a leather-working unit in Central Prison, said Khan.
More sports and recreational facilities at jails will help de-radicalise inmates, said Qaisar Khan, a Peshawar-based journalist.
"This is all about changing the lives of criminals and extremists to something positive, and you can do that by providing them opportunities for healthy activities," said Khan.
He urged all jails in KP to provide indoor and outdoor sports facilities, especially for juveniles and women.
"There should be more opportunities in prisons for improving education and technical skills," said Khan.