LAHORE -- The Counter Terrorism Department (CTD) of Punjab Police on Wednesday (July 17) detained Hafiz Saeed, leader of the banned militant group Lashkar-e-Taiba (LeT) and its associated political arm Jamaat-ud-Dawa (JuD), for allegedly financing terrorism.
Police arrested Saeed and several associates as he was on his way to court in Gujranwala to apply for bail in a separate case, Additional Inspector General CTD Punjab Rai Tahir said in a statement.
They were booked for 23 different cases of terror financing, Tahir said.
A judge ordered Saeed's jailing for seven days on judicial remand.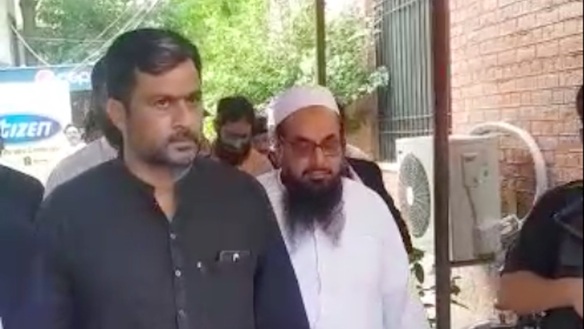 "The cases were registered at CTD police stations in Lahore, Gujranawala and Multan in the first week of July," he added.
Police filed the terror financing cases against Saeed, his brother Hafiz Masood and other LeT leaders including Abdul Rehman Makki, Amir Humza, Muhammad Yahya Aziz, MaliK Zafar Iqbal and others, he said.
The suspects "committed multiple offences of terrorism financing and money laundering under the Anti Terrorism Act 1997", according to the First Information Report (FIR).
The FIR accused five ostensible charitable organisations -- the Dawat wal Irshad trust, Maaz bin Jabal Trust, Al-Anfal Trust, Al-Madina Foundation Trust and Alhamd Trust -- of terror financing.
FATF wants action
The move against Saeed comes as Pakistan is facing potential blacklisting by the Financial Action Task Force (FATF) -- an anti-money-laundering monitor based in Paris -- for failing to do enough to combat terror financing, AFP reported.
FATF is set to rule on its fate in the coming months after placing the country on a watchlist last year.
The arrests are "linked to the constant pressure of the FATF to take actions against those involved in terror financing in the country and across its borders", said Lahore-based security analyst Shehryar Warraich.
"Pakistan looks serious this time to avoid the possibility of being incorporated in the FATF's blacklist with Iran and North Korea," he said.
India and the United States have long demanded the arrest of Saeed for various terrorist activities, including terror financing, said Riffat Ullah Orakzai, a BBC correspondent in Peshawar.
The arrest is part of Pakistan's battle against terrorists and in compliance with the FATF's requirements to speed up efforts against terror financing, he said.
"I think Pakistan would also like to show the world that it has never compromised its efforts against terrorism," he said.