ISLAMABAD -- Pakistan has met most of the requirements set by the Financial Action Task Force (FATF) aimed at combatting money laundering and terrorism financing, says the country's Interior Ministry.
The Paris-based inter-governmental organisation in June 2018 formally placed Pakistan on its grey list for failing to take action against money laundering and terror financing.
A deadline for Islamabad to complete an action plan aimed at meeting the FATF's requirements has been extended to September.
On June 10, Interior Minister Ijaz Shah presented a 20-month progress report to Prime Minister Khan that said authorities have completed a number of initiatives to comply with the recommendations of the FATF.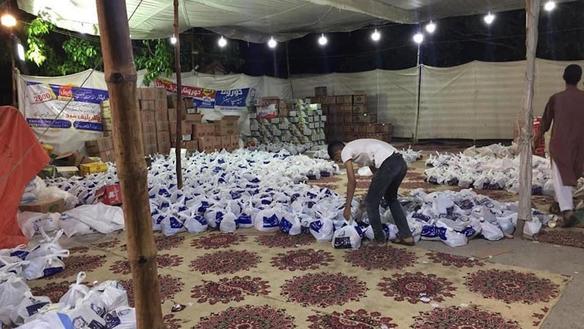 "Despite the challenges of the task assigned and concerns pertaining to internal security, the ministry was able to deliver by meeting the majority of the requirements of the FATF," the report said.
As part of the effort, the Interior Ministry outlawed 11 charities associated with extremists in a series of actions in March and May 2019.
In March 2019, the ministry banned Jamaat-ud-Dawa (JuD) and Falah-i-Insaniyat Foundation (FIF). Both were fronts for Lashkar-e-Taiba (LeT), which has been an illegal organisation since 2002.
In May 2019, the ministry banned outfits affiliated with JuD and FIF: Al-Anfal Trust, Idara-e-Khidmat-e-Khalaq, Dawat wal Irshad, Alhamd Trust, Mosques and Welfare Trust, Al-Madina Foundation Trust, and Maaz bin Jabal Educational Trust (JuD affiliates), as well as the Al-Fazal Foundation/Trust and Al-Easar Foundation (FIF affiliates).
Authorities have frozen 976 properties belonging to proscribed organisations and seized schools, colleges, hospitals, dispensaries and ambulances used by the groups under the guise of charities, according to the report.
In addition, Pakistani courts have convicted more than 200 individuals and supporters involved in terror financing and money laundering and recovered funds amounting to Rs. 2.4 billion ($14.5 million) from seizing the facilities.
Lawmakers have amended the 1997 Anti-Terrorism Act in order to ensure implementation of United Nations Security Council resolutions 1267 and 1373, which involve sanctions against al-Qaeda and other terrorist groups.
The Interior Ministry has introduced safe charity legislation in all provinces to curb the emergence of charities linked to proscribed outfits seeking to collect funds during Islamic holy months, notes the report.
Crackdown and convictions continue
The government has continued to take steps to curb terror financing and money laundering.
In the latest such step, four JuD leaders were convicted Thursday (June 18) in Lahore of terror financing.
An anti-terrorism court sentenced Zafar Iqbal and Yahya Aziz to five years' imprisonment each, while Abdul Rehman Makki and Abdus Salam received one-year prison sentences.
"Their conviction will play a major role in checking terrorism financing in Pakistan," said Rai Tahir, additional inspector general of the Punjab Police Counter Terrorism Department (CTD).
"This is a positive step in meeting intl obligations to counter terrorist financing," the US State Department Bureau of South and Central Asian Affairs said in a tweet June 12, referring to the men's indictment.
Earlier this year, another court sentenced JuD chief Hafiz Saeed to five and a half years in prison for terror financing and affiliation with an outlawed group.
The Punjab Police CTD in 2019 registered 23 cases against Saeed and other JuD leaders throughout Lahore, Gujranwala, Multan, Faisalabad, Sahiwal and Sargodha. It accused them of using seminaries and mosques for terror financing.
Recent efforts by Pakistani authorities against money laundering and terror financing in compliance with the FATF have been producing results on the ground, said Abubakkar Yousafzai, an activist who has worked on safe charity projects in Karachi.
"For the past two years, we have not seen FIF and other charities linked with militant outfits collecting donations to support their subversive activities," said Yousafzai.
[Abdul Nasir Khan from Lahore contributed to this report.]