LAHORE -- Despite an ongoing crackdown on banned militant organisations, analysts are calling for more action against groups such as Jaish-e-Muhammad (JeM) and Jamaat-ud-Dawa (JuD).
The Pakistani government on Monday (March 4) announced the freezing of accounts and seizure of assets linked to organisations banned by the United Nations (UN) Security Council. Provincial governments are carrying out Islamabad's orders.
Since the start of the crackdown, law enforcement agencies have arrested 121 activists of banned outfits throughout the country, the Ministry of Interior said in a press release on Thursday (March 7).
"The government has taken over control of 182 seminaries, 34 schools/colleges, 163 dispensaries, five hospitals, 184 ambulances and eight offices of the proscribed organisations," the ministry said.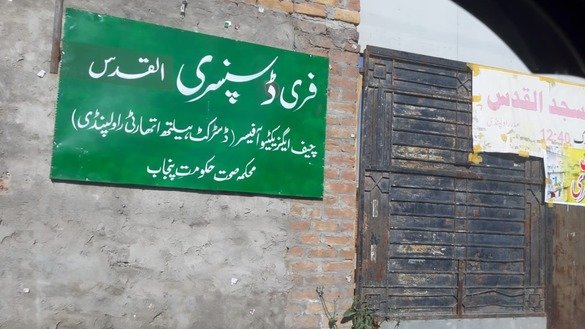 "The government now will run the affairs of schools/colleges, health facilities and seminaries," the ministry added.
The administration has also replaced many mosque prayer leaders in Islamabad Capital Territory (ICT) who have some connections with militants and banned organisations, Sagheer Chaudhry, bureau chief of 24-News in Islamabad, told Pakistan Forward.
Crackdown on JeM
JeM is one of the groups targeted in the crackdown. The militant group claimed responsibility for a suicide bombing that killed 40 Indian troops in Indian-administered Kashmir February 14, sparking weeks of tension between India and Pakistan.
Some observers are calling for more stringent action against the group.
"Would anybody know why the government is still reluctant to arrest Masood Azhar?" Muhammad Ziauddin, a senior journalist based in Islamabad and the former executive director of the Express Tribune, tweeted Wednesday (March 6), referring to the leader and founder of JeM.
"Masood's crimes are horrendous. He has brought Pakistan face to face with almost its final demise," Ziauddin said.
Pakistani authorities have arrested 44 JeM activists, including Abdul Rauf and Hammad Azhar, Masood Azhar's brother and son, respectively.
"The question of arresting Maulana Masood Azhar ... will be decided in the next couple of days," an Interior Ministry official told Pakistan Forward on Wednesday on the condition of anonymity.
"Prime Minister Imran Khan will make the final decision on whether to arrest Molana Azhar," the official said.
Ban on JuD, FIF
In a separate move, Pakistan's National Counter Terrorism Authority (NACTA) has formally banned JuD and its charity offshoot, the Falah-i-Insaniyat Foundation (FIF), under the 1997 Anti Terrorism Act, according to an Interior Ministry notification issued on Wednesday.
"At the moment there are 70 proscribed organisations on the NACTA list with the addition of the last two [JuD and FIF] being headed by Hafiz Saeed, the man who is wanted by India in the [2008] Mumbai attacks," Riffat Ullah Orakzai, a Peshawar-based senior journalist, told Pakistan Forward.
"Bans on militant organisations first began in the 1990s and continued from time to time till now. During these two and half decades, about 200 organisations were declared proscribed; however, the government lifted the ban on some outfits," he added.
"Simply banning militant organisations is not a solution, as they emerge with new names, as we have witnessed in the past," Orakzai said.
"Pakistan has to take some solid steps to satisfy the UN Security Council and neighbouring countries that Pakistani nationals and organisations are not involved in any cross border terrorism," he said.