QUETTA -- Iran is using a recent suicide attack that killed 27 Islamic Revolutionary Guard Corps (IRGC) members to inflame tensions with Pakistan, Pakistani officials and observers say.
A suicide bomber on February 13 rammed an explosives-laden vehicle into a bus that was transporting IRGC troops in the southern province of Sistan-Baluchistan, AFP reported.
Iran-based terrorist group Jaish al-Adl claimed responsibility for the bombing.
IRGC Ground Forces Commander Brig. Gen. Mohammad Pakpour Tuesday (February 19) said the suicide bomber was from Pakistan, Iranian news agency Tasnim reported.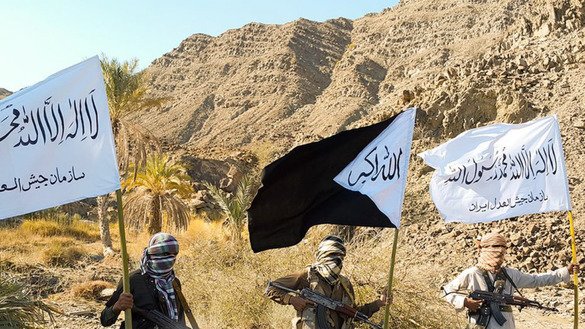 Another alleged member of the militant cell that planned the attack was also Pakistani, he said.
IRGC Commander-in-Chief Maj. Gen. Mohammad Ali Jafari earlier blamed Pakistan's army and Inter-Services Intelligence for sheltering terrorists.
"The government of Pakistan must pay the price of harbouring these terrorist groups, and this price will undoubtedly be very high," Jafari told mourners gathered at funerals for the dead in Isfahan February 16.
Jaish al-Adl, formed in 2012, is a successor organisation to the Sunni extremist group Jundullah, which has conducted a spate of attacks on Iranian security forces in recent years, mainly in Sistan-Baluchistan Province.
Pakistan 'not responsible' for Iranian security failure
"Pakistan is not responsible for Iran's internal security failure -- all allegations levelled against Pakistan without any concrete evidence are an attempt to damage bilateral ties," Muhammad Naveed, a senior defence official in Islamabad, told Pakistan Forward.
"The recent suicide attack in southeastern Iran was claimed by an Iranian armed group," he said. "The allegation that Jaish al-Adl militants have safe havens in Pakistan is a baseless claim, and Iran has not yet provided any actionable evidence to Pakistan to justify it."
Securing the border is a joint responsibility, Naveed said. "Our forces are very vigilant in ensuring the appropriate security in border areas; therefore, Iran -- rather than blaming Pakistan for its own failure -- must control illegal movements in its own jurisdiction."
"Our Foreign Ministry is taking the matter seriously through diplomatic channels, and a message has been categorically conveyed to Iran that such baseless allegations are hurting ties," he said.
Pakistan is ready to jointly investigate the attack, Pakistani Foreign Minister Shah Mahmood Qureshi February 17 told his Iranian counterpart, Mohammad Javad Zarif, by phone.
"The Iranian response regarding the February 13 attack was very irresponsible and harsh towards a neighbour like Pakistan, which has always helped Iran," said Gen. (ret.) Abdul Qadir Baloch, who has served as a corps commander and the governor of Balochistan.
"Iran itself is proving its guilt by accusing Pakistan without any proof," he told Pakistan Forward.
"The recent Iranian narrative against Pakistan looks planned, as earlier, Iranian officials were blaming Saudi Arabia and the United Arab Emirates for the February 13 attack, and now they have directly blamed Pakistan," he said.
"Iran is basically viewing Pakistan's ties with Saudi Arabia as a threat; therefore, it has started the blame game," he said.
A failure of Iranian policies
"Iran is facing a huge crisis due to recent US economic sanctions and pressure from its own public; that's why it is deflecting blame onto Pakistan," a senior intelligence official based in Quetta told Pakistan Forward on the condition of anonymity.
"Jaish al-Adl is an Iran-based militant organisation, and it is not the first time that group has claimed responsibility for an attack," he said. "The group Iran is linking to Pakistan is basically a product of Iranian policies."
The Iranian regime must investigate its own failed security mechanisms, which are facilitating militancy in its jurisdiction, he said.
"Securing the border is a joint responsibility, and today what Iran is facing is an outcome of its failure," the official said.
"Iran has previously levelled several allegations against Pakistan for militants' presence on its soil," Hassan Askari Rizvi, a senior Pakistani defence and security analyst, told Pakistan Forward. "However, this fresh claim is very serious and needs a result-oriented response from Pakistan."
Iran's involvement in sponsoring war in Syria, Iraq and other countries in the region through the IRGC-backed Fatemiyoun Division and Zainabiyoun Brigade contradicts its official position of peace and non-interference, he said.