ISLAMABAD -- Investment projects and an agreement to release thousands of Pakistani prisoners incarcerated in the Kingdom of Saudi Arabia (KSA) are just some of the outcomes of Saudi Crown Prince Mohammad bin Salman's two-day visit to Islamabad.
The crown prince, widely known as MBS, led a high-level delegation to Pakistan Sunday-Monday (February 17-18) on the first leg of a three-country Asian tour.
He conferred with Prime Minister Imran Khan, Chief of Army Staff Gen. Qamar Javed Bajwa and other Pakistani officials.
After his arrival late Sunday, the crown prince signed $20 billion in investment deals -- seven separate agreements and memoranda of understanding -- with Islamabad.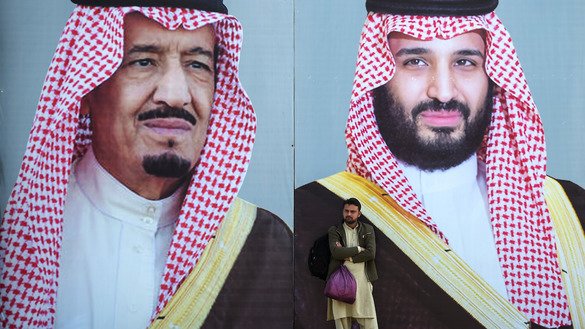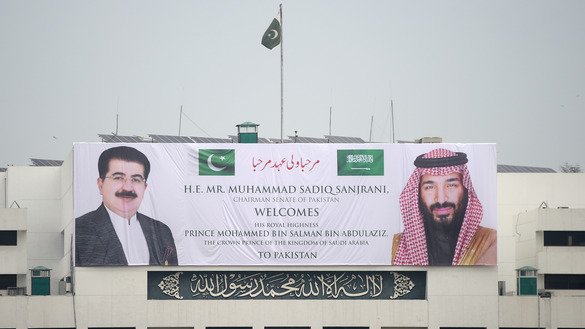 Islamabad is facing a serious balance of payments crisis and hopes the deals will boost its struggling economy.
On Monday, President Arif Alvi conferred the country's highest civilian award, the Nishan-e-Pakistan (Order of Pakistan), on the crown prince before his departure for New Delhi to meet with Indian Prime Minister Narendra Modi.
Saudi Arabia also promised to help "de-escalate" tensions between Pakistan and India.
"Our objective is to try to de-escalate tensions between the two countries, neighbouring countries, and to see if there is a path forward to resolving those differences peacefully," KSA Minister of State for Foreign Affairs Adel al-Jubeir said at a news conference in Islamabad.
Following the pledge, the crown prince held a series of meetings Monday afternoon with Pakistan's leadership before flying on to India. He is expected to finish the trip with a visit to China Thursday-Friday (February 21-22).
Co-operation for an 'economically stable' Pakistan
The investment deals inked in Islamabad are in the fields of energy, petrochemicals, mining, agriculture and food processing.
The two sides signed an accord for the KSA to supply Pakistan with crude oil and petroleum products and to establish a $10 billion oil refinery in the strategic Gwadar Port on the Arabian Sea.
Khan and MBS Sunday also jointly presided over the inaugural session of the Supreme Co-ordination Council, which was proposed by MBS during Khan's visit to the KSA last October.
The council is designed "to fast track decisions in key areas of bilateral co-operation, and for close monitoring of their implementation", Prime Minister's House said in a statement Sunday night.
Under the council, a Steering Committee and Joint Working Groups have been set up to "develop frameworks of co-operation in specific projects and submit recommendations to the respective ministers", the statement said.
"We believe there is great potential here, and we want to be part of Pakistan's growth," al-Jubeir said at the Pakistan-Saudi Arabia Business conference in Islamabad, accompanied by Pakistani Foreign Minister Shah Mahmood Qureshi.
This is investment, not charity, al-Jubeir said. "We want to see Pakistan as an economically stable country."
A helping hand
Pakistanis officials and analysts welcomed the KSA's investment in Pakistan.
Khan, who has visited Saudi Arabia twice since coming to power last summer, thanked the long-time ally for its support.
"Pakistan and Saudi Arabia are now taking this relationship to a level that [they] never had before," he said.
"Recent, generous Saudi investment that will help revive Pakistan's struggling economy shows the sincerity and long-standing friendship between the two countries," Mufti Muhammad Naeem, a leading Islamic scholar in Karachi, told Pakistan Forward.
"The Saudi investment deals came at a key time when Pakistan has been struggling with an uncertain economy, a looming balance of payments crisis and waning domestic growth," Wakeel ur Rehman, a Karachi journalist covering Pakistan's economy, told Pakistan Forward.
Last year, Saudi Arabia agreed to give Pakistan $3 billion in foreign currency support for a year, and a further loan worth up to $3 billion in deferred payments for oil imports to help stave off a current account crisis. Pakistan has so far received $3 billion in cash.
"With strong relations with the KSA, young Pakistanis who are highly developed in information technology and industrial sectors can help not only Pakistan but also the Kingdom by sharing their experiences and skills," Jabbar Abubhia, a Karachi-based technology developer, told Pakistan Forward.
Release of Pakistani prisoners
MBS's agreement to look into the conditions of millions of Pakistani inhabitants of KSA, including thousands of Pakistani inmates, is another symbol of the strong relations between the two countries, observers say.
During a ceremony held at Prime Minister's House, Khan requested that the crown prince personally review the situation of the 2.5 million Pakistanis residing in the KSA and to allow Pakistanis embarking on the Hajj to undergo Saudi immigration procedures in Pakistan.
That privilege, if granted, would save Pakistani pilgrims time and hassle once their planes land in Saudi Arabia.
In a move to aid Pakistani travellers in general, Saudi Arabia slashed visa fees for them effective February 15.
It reduced single entry visa fees from 2,000 SAR ($533) to 338 SAR ($90), while cutting the fee for a multiple entry visa from 3,000 SAR ($800) to 675 SAR ($180), according to the Saudi embassy in Islamabad.
Khan also asked for the release of more than 3,000 Pakistani prisoners being held in Saudi Arabia.
MBS said the kingdom would do "whatever we can do" to oblige Islamabad. Just hours later, the decision was made.
"HRH [His Royal Highness] Crown Prince MBS has graciously agreed to free 2,107 Pakistani prisoners in Saudi Arabia with immediate effect. Cases of the remaining will be reviewed. People of Pakistan thank HRH for responding immediately to Prime Minister Imran Khan's request," Qureshi tweeted February 18.
Last March, a joint report by Human Rights Watch and Justice Project Pakistan on the "Treatment of Pakistanis in the Saudi Criminal Justice System" found "widespread due process violations by the Saudi criminal justice system and Saudi courts".
Bashir Khan Mamond, a resident of Bajaur District, Khyber Pakhtunkhwa, whose brother has been held in a Saudi prison for the past three years, thanked MBS and Khan for playing their role in releasing Pakistani prisoners.
"MBS's visit to Pakistan proved to be a good omen for families of imprisoned Pakistanis," he told Pakistan Forward.