KABUL -- Many Afghans who migrated to Pakistan since August 2021 are reporting continuing difficulties and declining quality of life in their adoptive country.
More than three million Afghan refugees live in Pakistan, according to the Pakistani government.
Habibullah Zalmai, 34, who has been living in Peshawar for about one year, cited unemployment and economic problems as the main reasons for leaving Afghanistan.
"Work opportunities were decreasing every day ... and we had to immigrate to Pakistan," he said.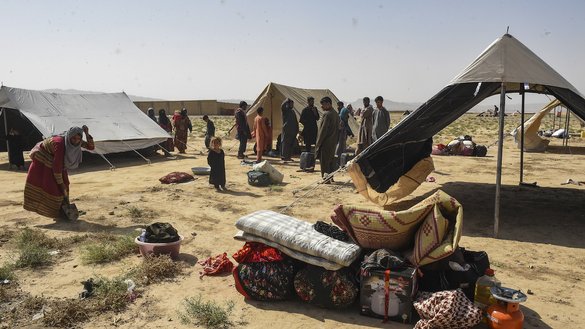 Zalmai had been doing administrative work for a construction company in Afghanistan until August 2021.
"The company I was working for closed since construction work decreased significantly," he said. After that, he started working in currency exchange, but he said he lost money in that line of work.
He has found another job in Pakistan.
Khalid, an Afghan journalist who requested to use a pseudonym, said he left Afghanistan in late 2021 and now lives with his family in Rawalpindi.
"I left Afghanistan because of security threats and increasing restrictions on media work," he said, adding that now he has few opportunities to earn a living.
"There is no media work for Afghan journalists in Pakistan. Most journalists are either unemployed here or do hard labour for very low wages," he said.
"The cost of living and unemployment are other major challenges faced by me and other Afghan refugees," Khalid said.
"I cover my living expenses by doing hard labour sometimes, or borrowing money from my friends," he added.
Fareshta Ramin, an Afghan human rights activist now living in an Islamabad suburb, said she was forced to flee Afghanistan amid security concerns and the severe restrictions on women's work and education.
"Problems and uncertainty in the resettlement of refugees, the bad economic situation, lack of supporting documents from the refugee agencies to allow Afghans to work and earn a living, lack of access to free education and livelihood needs such as housing, food and health services are some of the main problems faced by Afghan refugees in Pakistan," she said.
Visa challenges
Problems with extending visas are another challenge for Afghan refugees in Pakistan.
"The fact that Afghan refugees do not have permanent resident status and visas are not extended for them is another challenge they are struggling with," Ramin said. "They have to pay hefty sums for a three-month visa extension."
"If they overstay, they have to pay a large penalty whenever they leave Pakistan or return, to be allowed to travel again," she added.
These problems have led to mental anguish among some Afghan refugees, Ramin said.
Anwari, who has applied for asylum in a Western country, said that progress is very slow on his immigration case.
"There was no living opportunity for us in Afghanistan, and we had to leave the country and apply for asylum," he said. "But the long wait in Pakistan has deprived my children of education."
Anwari said his visa is about to expire and he is concerned about whether the Pakistani government will extend his and his family's visas.
"Unfortunately, the extension of stay in Pakistan has become a major challenge for us and we face many obstacles in renewing our visas," he said.
"Sometimes we have to pay hefty sums to visa facilitators, which we cannot afford."
Ghulam Murtaza Habibi, 47, emigrated to Pakistan in 2022.
"I was working for a non-governmental organisation [NGO] in the education sector in Afghanistan, but I lost my job after August 2021, when the NGO's budget was reduced," he said.
"Because of unemployment, I immigrated to Peshawar, Pakistan, with my family more than a year ago," he said. "I am unemployed, but my son, who is 17, works in the fruit market."
But the family can hardly make ends meet because of inflation and the high cost of living in Pakistan, Habibi said.
"Since we have moved to Pakistan, the only thing we can think of is finding food for our family, and unfortunately my son ... and my two daughters, who are 14 and 13, are deprived of education," he said.
Habibi's daughters could not go to school in Afghanistan. Because they lack the proper documents, they may not study in Pakistan either, he said.