KABUL -- Russia has begun recruiting former Afghan security personnel in Afghanistan and neighbouring countries to bolster its war of aggression in Ukraine, according to former Afghan military commanders.
Russia invaded Ukraine February 24.
Moscow's recruitment -- with the help of Tehran and Russian private military company (PMC) Wagner Group -- started in earnest about a month ago and some fighters have already deployed to Russia, they said.
Yevgeny Prigozhin, a St. Petersburg businessman and close ally of Russian President Vladimir Putin, founded the Wagner Group, which is now openly fighting in Ukraine and in other hotspots around the world on Moscow's behalf.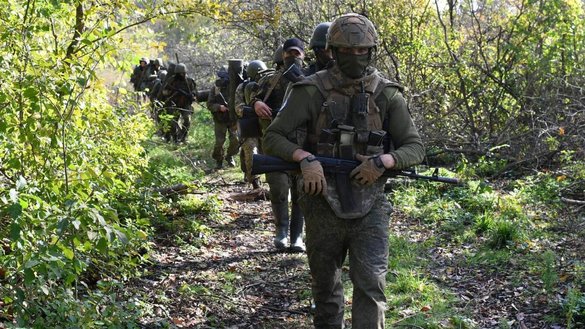 "Surveillance, torture, widespread acts of revenge, security threats and severe economic challenges have forced Afghan security personnel to flee the country and to fall into the trap of mercenary recruiters," said Farid Ahmadi, former lieutenant-general and ex-commander of Afghanistan's Special Operations Corps.
"Foreign private security companies that have worked in Afghanistan, with which some politicians and former senior ... officials co-operate or have partnerships, assist in the recruitment of [former] security personnel," he said.
The recruitment is happening right now in Iran and in Afghanistan, he said.
"They offer them salaries, visas for family members and relocation to other countries in exchange for going to war for them [the Russians]."
PMCs are for-profit entities, Ahmadi said. "They violate human rights, rights of refugees and international conventions for personal gain."
"In my conversations with former security personnel, I have warned them about the dangerous consequences of such a decision and that there will be no return for them," he added.
"I hope [my warnings] work and that they will pursue other solutions to their problems."
Afghans 'will be sacrificed'
Russia is recruiting former Afghan troops, confirmed Abdul Raof Arghandiwal, former major general and ex-commander of the 207th Zafar Corps and ex-chief of staff to the then-minister of defence.
"More than 30,000 Afghan security personnel, including members of the National Army, National Police and National Directorate of Security, fled to neighbouring countries, especially to Iran and Pakistan, to save their lives," he said.
Arghandiwal himself now lives in the United States.
"They faced problems in Iran once their visas expired and they were on the verge of being deported by the Iranian regime."
"In the meantime, according to a plan, Russia, Iran and the Russian Wagner Group took advantage of the situation and started recruiting Afghan commandos to fight for Russia in the Ukraine war," he said.
"Registration and recruitment of the Afghan commandos in Iran started a month ago and some personnel are already registered," Arghandiwal said.
"A few groups of these fighters have been sent to Russia for a trial period," he said, adding that their exact location is unclear.
"Based on the information my comrades have shared with me, the next groups will be sent to Russia and to the war in Ukraine in the coming weeks."
Russian recruiters promise to pay the Afghans and to move their families to Iran or Russia, Arghandiwal said.
However, "the commitment made by Russia is informal and not legally binding. Russia may just deceive them, as they will have no way to return once they are on the battlefield," he warned.
"It may pay salaries to recruited personnel for a month or two to encourage the rest of the [Afghans] to join, but in the end, they will be trapped with no way to return alive from the Ukraine war," he said.
"Although Afghan personnel are not interested in joining the Russian forces in the Ukraine war, they are pushed and have made a dangerous choice," he said. "They will unfortunately be sacrificed."
Arghandiwal called on Afghans "not to stand with the occupying Russian forces".
"Like Russia, which has occupied parts of Ukrainian territory, the former Soviet Union invaded our country, too," he said. "It dropped thousands of bombs on our people, killing 1.5 million Afghans and injuring and maiming millions of others."
"I call on the heroic security personnel not to sacrifice their lives for the sinister goals of the aggressors in the Ukraine war."
Russia turning to Iran
Arghandiwal accused Iran of being complicit in Russia's crimes and aggression against Ukraine.
"The Iranian government is a partner in Russia's crimes in the Ukraine war," he said. "It provided Russian troops with various types of weapons and drones so that its strategic ally would not be weakened against the US and NATO in the Ukraine war."
"At the beginning of the invasion of Ukraine, Putin thought he would overthrow the Ukrainian government in one to three months and install a regime loyal to Moscow's interests."
"He thought he would expand his influence, achieve his strategic objectives and defuse [alleged] threats posed to Moscow from the US and NATO," Arghandiwal said.
"But contrary to Putin's calculations, the war dragged on, and not only could Moscow not achieve its objectives, but it suffered heavy casualties and lost many weapons, pieces of equipment and planes. Its regional and international standing is damaged."
Faced with troop shortages in Ukraine, Russia has asked Iran to provide it with experienced combatants, said Rahmatullah Hassan, a former Afghan army colonel, now a military analyst based in Sweden.
"Iran did not send its 60,000-strong Afghan fighting force [the Fatemiyoun Division], which it has used in wars in Iraq and Syria, since the Fatemiyoun is Shia. Instead, it decided to take advantage of the tough situation of Afghan commandos who are taking refuge in Iran and started recruiting them in a joint decision with Russia and the Wagner Group," he said.
"Russian soldiers are not interested in fighting in Ukraine," he said. "They know that the war in Ukraine is aggressive and unjust. Therefore, many Russian soldiers have fled from the front to Turkey, Central Asia and other countries."
"To prevent its biggest defeat in the Ukraine war, Moscow has now turned to recruiting Afghan personnel."
'A historical shame'
"Russia's attack on Ukraine is aggression and an occupation," Hassan said. "It will be a historical shame for the Afghan personnel if they stand beside Russians. Like Russian soldiers, they will be killed in Ukraine."
"As a former military [officer], I call on the security personnel not to go to war in Ukraine and not to destroy their future and their family's future since there is no way to return from this war except dead," he said.
Moscow is turning to Tehran out of desperation, said Mohammad Asif Sediqi, former deputy speaker of the Afghan senate who now lives in Spain.
"Russia is losing so badly in Ukraine that today it is receiving weapons and drones from Iran to keep its war machine going," he said.
"Putin has lost the war in Ukraine and is threatening Ukraine and other countries with a nuclear attack," Sediqi said. "Russian forces have suffered heavy casualties in Ukraine, and now Russia wants to recruit Afghan commandos to achieve its sinister goals."
"I call on the former Afghan security personnel not to be fooled by the Russians and not to spill the blood of innocent Ukrainians as Russian soldiers do," he said.
"Iran has been recruiting Afghan refugees for years to fight for [Syrian President] Bashar al-Assad, and today, in violation of international laws on refugees, it is recruiting former Afghan security personnel to protect Putin's interests," said Ahmad Khan Andar, an Afghan military analyst based in Sweden.
"We call on the United Nations and organisations defending the rights of refugees and immigrants to stop Iran from violating the rights of Afghan refugees and immigrants and to stop the [Russian] recruitment of [former] Afghan troops," he said.