WASHINGTON -- Russia's Wagner Group has grown in notoriety over the course of the past year, from a shadowy band of private mercenaries to a "transnational criminal organisation" recruiting prisoners to fight in Ukraine.
Controlled by Yevgeny Prigozhin, a close associate of President Vladimir Putin, the mercenary group has about 50,000 fighters in Ukraine, US national security spokesman John Kirby said Friday (January 20).
Around 80% are drawn from prisons, he said, announcing that the United States is designating the Wagner Group as a "transnational criminal organisation".
This puts it in league with Italian mafia groups and Japanese and Russian organised crime, Kirby said.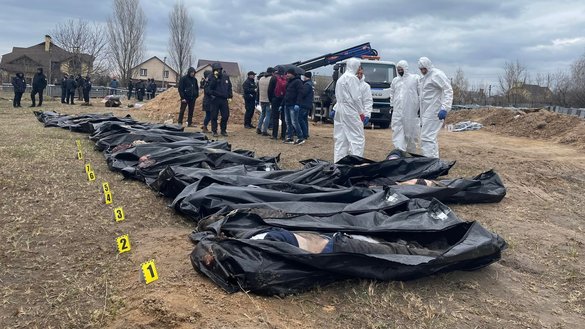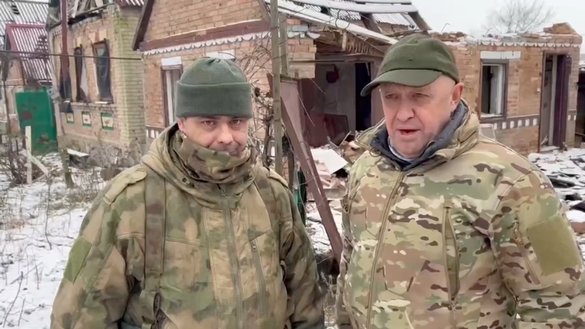 The US Treasury's designation will allow the wider application of sanctions on the group's sprawling global network, which includes mercenary operations as well as businesses in Africa and elsewhere, he said.
The Wagner Group has been sending thousands of men recruited in Russian prisons into battle, with the promise of pay and amnesty, Ukrainian officials say.
Following colossal losses in Ukraine, the Wagner Group also is recruiting convicts -- including rapists and murderers -- from the Central African Republic (CAR), according to local sources.
Russia, North Korea and Iran
Announcing the US sanctions on Friday, Kirby showed US intelligence photographs of North Korea supplying arms to the Wagner Group for its Ukraine operations, noting the group has become a rival to the formal Russian military.
The photographs, taken November 18 and 19, show Russian rail cars entering North Korea, picking up a load of infantry rockets and missiles, and returning to Russia, the US national security spokesman said.
The Wagner Group "is a criminal organisation that is committing widespread atrocities and human rights abuses", Kirby said, pledging to "work relentlessly to identify, disrupt, expose and target" those who are assisting it.
The arms transfers from North Korea are in direct violation of United Nations Security Council resolutions, Kirby said.
Moscow has sought arms from North Korea and Iran because global sanctions have limited its ability to restock its arms warehouses, he said in November.
North Korea "is covertly supplying Russia's war in Ukraine with a significant number of artillery shells, while obfuscating the real destination of the arms shipments", he said November 2.
The United States on November 15 imposed a fresh tranche of sanctions on the Wagner Group, along with other Russian and Iranian entities and individuals, for supporting Russia's war on Ukraine.
This includes Iran's transfer of drones to Russia, which has been using them to strike civilian infrastructure and cities, the US State Department said.
Russian forces in October began attacking Ukrainian civilian and critical infrastructure using missiles and the Shahed-136, an Iranian-made drone that Russian forces rebranded as the Geran-2 (Geranium-2).
Kremlin-Wagner rift
Kirby said there is evidence that Prigozhin's confidence in the relative success of the Wagner Group in Ukraine has generated tensions in the Kremlin.
"Wagner is becoming a rival power centre to the Russian military and other Russian ministries," he said.
"Prigozhin is trying to advance his own interest in Ukraine and Wagner is making military decisions based largely on what they will generate for Prigozhin, in terms of positive publicity."
Prigozhin has claimed credit for Russian advances towards the eastern Ukraine city of Bakhmut, including the capture last week of neighbouring Soledar.
But his infighting with other officials in the Kremlin could be hurting him.
According to the US Institute for the Study of War, Putin "is increasingly siding with" Prigozhin's rivals in high-level power circles.
In a Thursday report, the public policy research organisation noted that Putin has not directly credited Wagner with the Bakhmut area successes.
"Putin is likely attempting to reduce Prigozhin's prominence in favour of the re-emerging professional Russian military and Russian government officials," it said.
The Kremlin has denied tensions between the Russian army and the Wagner Group, following competing claims of battlefield wins in Ukraine.
International fugitive
Known as "Putin's chef" for having catered events for the Russian president, Prigozhin, 61, has been in US sights for years.
The US Federal Bureau of Investigation (FBI) is offering a reward of up to $250,000 for information leading to Prigozhin's arrest.
The US Justice Department indicted Prigozhin in 2018 for massive interference in the US presidential election two years earlier by the Internet Research Agency (IRA) and Concord Management and Consulting, companies he owns.
Washington hit Prigozhin with sanctions again 2020, saying the IRA was behind US election interference in 2016 and 2020.
The IRA also is accused of spreading disruptive propaganda during the elections and referenda of other countries, including Britain, Germany and France.
The European Union in 2020 levied sanctions against Prigozhin for destabilising Libya through his support for the Wagner Group.
For years Prigozhin has shied away from the limelight. That changed in September, when he finally acknowledged founding the Wagner Group in 2014, calling its fighters "bulwarks of our motherland".
In November he admitted to election interference.
"Gentlemen, we interfered, we are interfering and we will interfere," Prigozhin said in a statement quoted by his team.
"Carefully, precisely, surgically in our fashion, the way we know," he quipped.
The high-profile announcement was interpreted by many analysts as evidence Prigozhin was eyeing a possible political role in Russia.