Leaked intelligence documents that indicate China has resumed construction at a port in the United Arab Emirates (UAE) where it is reportedly building a secret military facility have been confirmed as accurate by Emirati military personnel.
News that China was constructing a covert military facility at Khalifa port first emerged in November 2021, with the Wall Street Journal (WSJ) reporting that the United States had been aware of the activity for close to a year prior.
Construction appeared to have been halted at the time of the WSJ report, but according to the new intelligence leak -- and information from three Emirati military officers familiar with the situation -- it has since resumed.
Last December, US intelligence services discovered that construction activities had been resumed at the suspected Chinese military facility in the UAE, the Washington Post reported April 26, referencing leaked documents.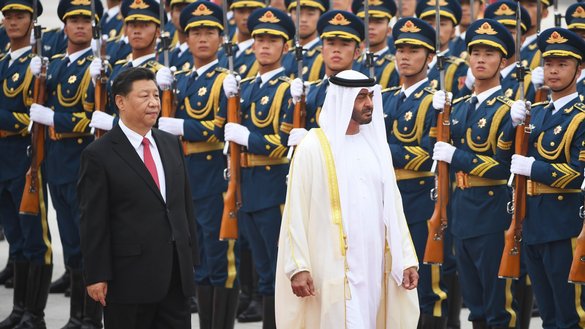 Emirati military personnel who spoke to Al-Mashareq confirmed the resumption of construction activity and the Chinese military presence in the UAE.
They also noted unusual restrictions on the entry of non-Chinese nationals into the above-board container terminal China has been developing at Taweelah in the immediate vicinity of Khalifa port.
In December 2018, the Abu Dhabi Ports company entered into a 35-year concession agreement with state-owned China Ocean Shipping Company Ltd. (COSCO) to operate and develop a commercial container terminal at Khalifa port.
Intelligence reports suggest that China is using legitimate commercial activity to camouflage its military activities at the port and at other ports in key areas.
They note the Emirati port development is part of a larger scheme to extend Chinese hegemony in strategically situated areas and to facilitate access to the region, via ports that stretch from the South China Sea to the Suez Canal.
Concerns about espionage
A US lawmaker recently sounded the alarm about potential Chinese surveillance activity in the UAE, according to the US congressional news outlet Roll Call.
Rep. Raja Krishnamoorthi said Beijing has offered to upgrade UAE's telecom infrastructure with 5G equipment made by Chinese telecom giant Huawei.
"Alarm bells go off because we know that Huawei infrastructure gives the Communist Party of China (CCP) a back door into accessing important data about users on the network," he told Roll Call.
Emirati military sources told Al-Mashareq the Chinese container terminal poses a long-term threat because it provides a potential platform for espionage activities.
"On the surface, the Chinese trade zone at Khalifa port looks like a station for containers and a transit station for Chinese goods, while the truth is quite different," a senior Emirati army officer said.
Construction work stopped for only a short period and has since resumed, with activity that can be observed with the naked eye, he said, speaking on condition that his name be withheld.
Even companies that are not owned by the Chinese military are under its direct control, he warned, and are obligated to share all the information they obtain and to carry out orders from the military leadership.
Retired Emirati army officer Abdullah al-Ameri told Al-Mashareq he does not expect China to establish "a military base in the traditional sense in the UAE but rather a security monitoring centre that monitors the Gulf region".
He said that Khalifa port is strategically positioned for military and civilian surveillance, though carrying out espionage is fraught with risk.
Monitoring the military movements of the United States and its allies from areas near where they operate "could lead to disastrous consequences", he said.
Al-Ameri noted that China's close relationship with Iran also "puts the UAE and the rest of the Gulf countries in constant danger".
This would be especially concerning if Iran is allowed to use the Chinese port facilities in the UAE, he said, noting that Iranian military boats are present in Gulf waters and have routinely harassed military and commercial vessels.
Now Iran "will have a supportive backer from the inside -- through Chinese monitoring stations -- that will impede the activity of any military units aimed at defending the Emirati coasts and waters", he said.
When the construction of this facility is completed, he added, China will have "considerable space to carry out its activities outside the borders, such as detentions and forcible disappearances, in addition to espionages".
China's attempts to expand
For non-Chinese nationals, access to the area of Khalifa port taken over by COSCO has been greatly restricted, said Col. Rashid Mohammed al-Marri, a former officer at the Dubai police anti-narcotics department.
"Even Emirati security and customs personnel do not have the authority to roam around and conduct routine inspections" as they do in other trade zones at Khalifa port, he told Al-Mashareq.
He said he has learned that the contract with the company stipulates the use of primarily Chinese labour, and that the same applies to monitoring and guard duty, which is "odd and strange with a country like China".
More than 4,500 Chinese companies and agencies are present in the UAE, he said, "which enables China to have a large number of Chinese nationals on site".
"COSCO, which has become known as a front for Chinese expansion, has other stations in the region, such as Egypt and other countries, which allows it to play a strategic role in relation to the Chinese incursion," al-Marri said.
The Chinese firm's activities in other global ports has been in the news this week, with the German government on Wednesday (May 10) agreeing to allow COSCO to buy a stake in a Hamburg port.
The German government controversially gave the go-ahead in October for the state-owned Chinese shipping giant to buy up to a 24.9% stake in the Tollerort container terminal in Hamburg, AFP reported.
This came despite security concerns over the sale of the infrastructure to Chinese investors.
COSCO initially sought to purchase a larger 35% stake in the port before a compromise agreement was announced.
Germany has been re-evaluating its economic relationship with China amid concerns over its human rights record and ties with Russia, as well as over the escalation of tensions over Taiwan.
In November, Germany blocked the sale of two chip makers to Chinese investors because of security concerns around the key technology.