When news broke late last year that China was secretly building a military base in the United Arab Emirates (UAE), alarm bells rang throughout the region and beyond as other hosts of Chinese infrastructure began looking closely at deals inked with Beijing.
The Emirati government was unaware that ships disguised as commercial vessels entering the Khalifa port were actually ships the Chinese military uses for signal intelligence collection, the Wall Street Journal (WSJ) reported in November.
The port, where the China Ocean Shipping Co. Ltd. (COSCO) operates a commercial container terminal, is situated about 5km from the Taweelah power and desalination plant, itself about 50km north of the Emirati capital, Abu Dhabi.
After US intelligence agencies revealed that China was covertly constructing what appeared to be a military facility at the Emirati port, construction halted.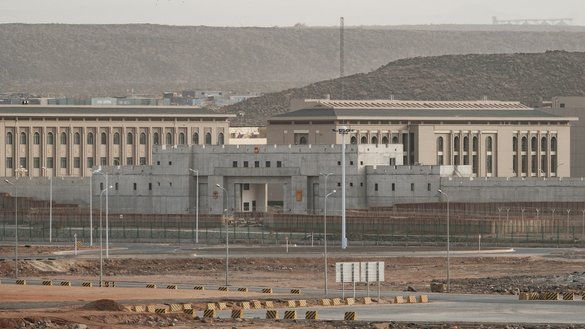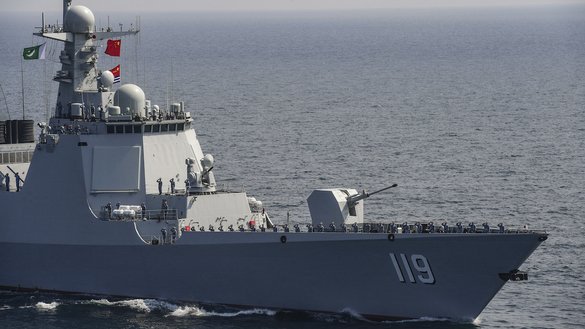 But concerns over the Chinese presence in the region are far from resolved.
Ulterior motives
The Abu Dhabi Ports company entered into a 35-year concession agreement with COSCO in December 2018, which enabled the Chinese company to operate and develop a container terminal at Khalifa port.
The terminal was ostensibly constructed to support trade generated by China's Belt and Road Initiative (BRI), also known as One Belt One Road (OBOR), a massive infrastructure project launched in 2013 linking 78 countries across Asia, Africa, Europe and Oceania.
But China's toehold in the strategically situated Emirati port -- as with its presence in a "necklace" of strategically situated ports that stretch from the South China Sea to the Suez Canal -- also serves other purposes.
In addition to expanding its political and economic influence, China has been investing in the chain of ports to facilitate military access to the region, observers say, setting off a ripple of concern in the Middle East and beyond.
As a prime example, Chinese activity at the port in the UAE began as a commercial endeavour. But Beijing quickly leveraged those commercial ties to establish an anchor for its military.
This behaviour follows a pattern.
China opened its first overseas military base in 2017 in Djibouti, reportedly to facilitate maritime operations around the Indian Ocean and East Africa. Beijing used the threat of piracy in the Gulf of Aden and desire to secure critical international sea lanes as justification.
Discussing Djibouti in 2016, Chinese Foreign Minister Wang Yi said that China would build "some necessary infrastructure and logistical capacities in regions with a concentration of Chinese interests".
Authorities in Beijing have used that same line of reasoning to make the case for a military base in western Africa as well.
Footholds around the world
In response to another WSJ report last December about China's plans for a military base in Equatorial Guinea, the Chinese-state run tabloid Global Times reaffirmed the increasing need for People's Liberation Army (PLA) "footholds in some distant waters" as China's overseas interests expand.
In recent years, China has built commercial port facilities in Pakistan, Iran and Sri Lanka, among other key areas, that could be used by its rapidly expanding navy.
In mid-January, Tehran announced it was beginning the implementation of a 25-year Comprehensive Strategic Co-operation Agreement with China, signed last year.
Under the terms of the agreement, Iran would be involved in the BRI through the launch of investment projects worth $400 billion.
In exchange, China would buy Iranian oil at a 30% discount from its world market price, Iraqi Centre for Strategic Studies director Ghazi Faisal Hussein told Al-Mashareq.
"China aspires to become a global economic centre of gravity by putting its hands on the region's enormous mineral resources," he explained.
From Beijing's perspective, "the point of the deal is for China to gain a foothold in Iran, particularly on the islands of Jask and Kish in the Persian Gulf", a former Iranian navy analyst told Al-Mashareq on condition of anonymity.
Though the deal is ostensibly commercial in nature, Chinese investment in the Iranian ports of Jask and Chabahar would allow its rapidly growing navy to expand its reach, the analyst said.
In another example, China entered into a secret agreement with Cambodia to allow its navy to use a base in that country, the WSJ reported in 2019, citing US and allied officials.
Both Chinese and Cambodian officials denied the reports, calling them "fake news" and "rumours".
But now China is secretly building a naval facility in Cambodia for the exclusive use of its military, the Washington Post reported June 6, citing Western officials.
The establishment of a Chinese naval base in Cambodia is part of Beijing's strategy to build a network of military facilities around the world in support of its aspirations to become a true global power, the officials said.
But with anti-Chinese sentiment on the rise in the region, Cambodian Defence Minister Tea Banh took pains to dismiss the reports.
In remarks at the Shangri-La Dialogue security forum, held June 10-12 in Singapore, he echoed Beijing's claims that the PLA has no intention of building a global network of bases, the Financial Times reported soon afterward.
Lofty goals
China admitted in a 2019 defence white paper that the military's tasks included protecting cargo ships and that the PLA would develop "overseas logistical facilities".
Currently, the PLA mostly relies on facilities at overseas ports that are owned or operated by Chinese state enterprises.
Chinese companies own or operate at least one terminal in 96 ports in 53 countries, according to an April report co-authored by Isaac Kardon, an assistant professor at the China Maritime Studies Institute of the US Naval War College.
That network of port infrastructure is rapidly becoming the backbone of the PLA's far sea operations, the report said.
However, China's goal of global military dominance remains far off, Kardon said.
"Even if Cambodia and the UAE and Equatorial Guinea were all going to come online in the next few years, the PLA is not on its way to a US-like global network of bases," Kardon told the Financial Times.
"[Unlike] the US, a country that fought in a world war and then sustained that position in the Cold War, China is only beginning to build an overseas military presence and it is leveraging its global economic footprint for that," Kardon said.
This "civil-military fusion" policy, which enables the PLA to leverage the assets and capabilities of civilian companies, has helped the PLA protect Chinese investments and trade, analysts say.
A Chinese military scholar, who asked not to be named because he had not been authorised to discuss the topic, claimed that China is against building military bases overseas on principle.
However, the scholar hinted at the dual purpose of Beijing's infrastructure drive.
"Our model is focused on development," the person told the Financial Times. "It has now become part of our military's mission to protect that development overseas, but we can also use the fruits of that development to fulfil this mission."