The Chinese surveillance balloon that flew over the United States in early February sparked a diplomatic furore and renewed fears over how Beijing gathers intelligence -- including via telecom giant Huawei.
Beijing is running a "well funded, deliberate programme" to use high-altitude, hard-to-detect balloons for spying on the United States and other countries, US National Security Council spokesman John Kirby said February 14.
The United States recovered important sensor and electronics parts from a suspected Chinese surveillance balloon it shot down February 4, the US military said a day earlier.
The balloon spent several days flying over North America, including over a series of top secret nuclear weapons sites.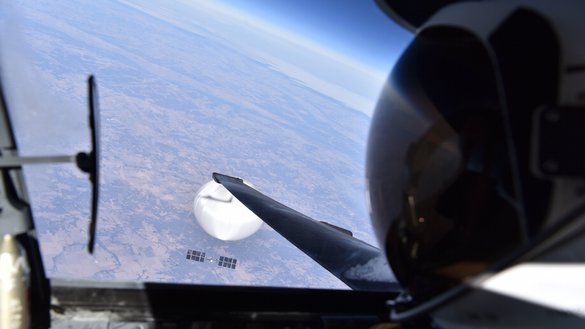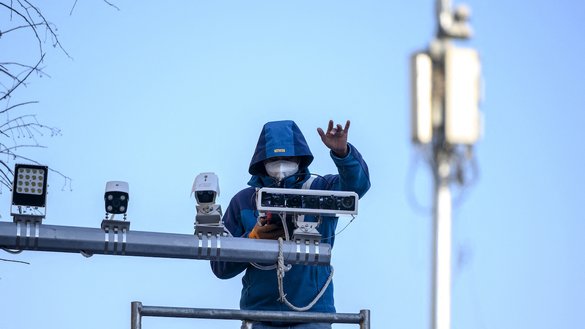 At a US government lab in Quantico, Virginia, US Federal Bureau of Investigation (FBI) engineers are poring over the remnants of the recovered balloon, trying to understand as much as possible about the balloon's technical capabilities, according to CNN.
These include what kind of data the balloon could intercept and gather, what satellites it was linked to and whether it has any vulnerabilities that the United States might be able to exploit.
The surveillance balloon effort, which has operated for several years partly out of Hainan province off China's south coast, has collected information on military assets in countries and areas of emerging strategic interest to China, according to several US officials, reported the Washington Post on February 7.
US officials have begun sharing specifics of multiple investigations with officials in countries targeted by Beijing.
"There has been great interest in this on the part of our allies and partners," said a senior administration official who spoke on the condition of anonymity, according to the Post.
"Many of them recognise that they, too, may be vulnerable or susceptible to this or an object of interest to the PRC," the official said, referring to the People's Republic of China.
'Unacceptable risk'
The balloon fiasco, which exposed real divisions of sentiment among Chinese citizens on social media and prompted speculations of more-concerning divisions within the Chinese government, has also prompted new focus on China's largest technology company, Huawei.
Huawei, which outwardly is a benign cell phone and consumer product manufacturer, in reality is supported heavily by the Chinese government and has deep links to the People's Liberation Army.
In 2019, the US Department of Justice charged Huawei with conspiring to steal US trade secrets and evade sanctions on Iran, as well as other offences.
Washington has banned the firm from supplying US government systems and strongly discouraged the use of its equipment in the private sector over fears that it would be obliged to share intelligence with the Chinese government.
"These new rules are an important part of our ongoing actions to protect the American people from national security threats involving telecommunications," US Federal Communications Commission Chairwoman Jessica Rosenworcel said in a statement in November, following a ban on approvals of new telecommunications equipment from Huawei and ZTE.
The company has continued to draw scrutiny from the US government.
In January, the Biden administration stopped approving licenses for US companies to export most items to China's Huawei, Reuters reported, citing sources familiar with the matter.
Huawei has long faced US export restrictions around items for 5G and other technologies, but US Department of Commerce officials have granted licenses for some American firms to sell certain goods and technologies to the company.
US officials are now creating a new formal policy of denial for shipping items to Huawei that would include items below the 5G level, including 4G, Wifi 6 and 7, artificial intelligence, and high-performance computing and cloud items, one person familiar with the matter said.
Licenses for 4G chips that could not be used for 5G, which might have been approved earlier, are being denied, said another person cited by Reuters.
Other Western countries have also blocked Huawei phones from 5G mobile networks, citing security risks.
For example, Lithuania's security services conducted an investigation into Huawei phones and found that certain models contained massive security risks.
"The risks we are speaking about are real," Lithuanian Vice Defence Minister Margiris Abukevicius told Voice of America (VOA) in 2021. "This is the best measure for risk reduction."
Other countries should take note of the research and consider doing the same, he said.
"I think our research is an illustration of how we should go beyond that discussion in the telecommunications sector, that we should think about other sectors," he told VOA.
The Huawei phone posed a threat because it automatically re-directed users to third-party app stores that could host virus-infected apps, said the report.
Global surveillance
For years, mounting evidence from across the globe has pointed to Huawei's central role in Chinese surveillance activities.
In 2021, The Washington Post broke a major news story on Huawei in which its journalists reviewed more than 100 Huawei PowerPoint presentations, many marked "confidential".
"These marketing presentations, posted to a public-facing Huawei website before the company removed them late last year, show Huawei pitching how its technologies can help government authorities identify individuals by voice, monitor political individuals of interest, manage ideological reeducation and labour schedules for prisoners, and help retailers track shoppers using facial recognition," the report said.
Huawei has also been linked to a face-recognition programme in Xinjiang, China, where millions of Muslims have been forced into "re-education camps" and subjected to torture, rape and other abuses.
Surveillance spending in Xinjiang has risen sharply in recent years, with facial recognition, iris scanners, DNA collection and artificial intelligence deployed across the province in the name of preventing terrorism.
An investigation carried out by surveillance industry publication IPVM and The Washington Post in 2020 concluded that Huawei, along with a number of other companies linked with the Chinese government, worked together to test and validate "Uighur alarms".
"If the system detected the face of a member of the mostly Muslim minority group, the test report said, it could trigger a 'Uighur alarm' -- potentially flagging them for police in China," the Washington Post reported then.
A face-recognition software feature devised by technology giant Alibaba, and tested by Huawei, showed how clients could detect the faces of Uighurs and other ethnic minorities within images and videos.
Huawei also worked with Megvii, one of the country's biggest facial recognition providers.
IPVM found a confidential Huawei "interoperability report" that outlined how the two companies worked together in 2018 to test an artificial-intelligence camera system that could scan faces in a crowd and estimate each person's age, sex and ethnicity.
Beijing has increasingly used artificial intelligence-assisted surveillance to monitor the general public and oppress minorities, protesters and others deemed threats to the state, said Maya Wang, a China senior researcher at Human Rights Watch.
"China's surveillance ambition goes way, way, way beyond minority persecution," Wang told the Washington Post in 2020.