"Pariah state" has become increasingly synonymous with Iran's status in recent years, but the Islamic Republic has taken it one step further lately with its sale of drones to Russia amid its war on Ukraine.
Isolated, sanctioned and bankrupt, the Iranian regime continues to commit gross political, human rights and economic violations on the home front and in the region -- and now on the world stage as well.
In a photo shared on Ukrainian president Volodymyr Zelenskyy's website on October 28, the embattled leader stands next to the remnants of an Iranian-manufactured drone, Shahed-136.
Kyiv and its Western allies have repeatedly accused Russia of using Iranian-made unmanned aerial vehicles (UAVs), commonly known as drones, in attacks on Ukraine in recent weeks.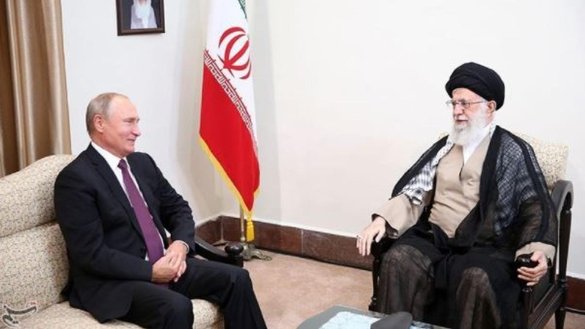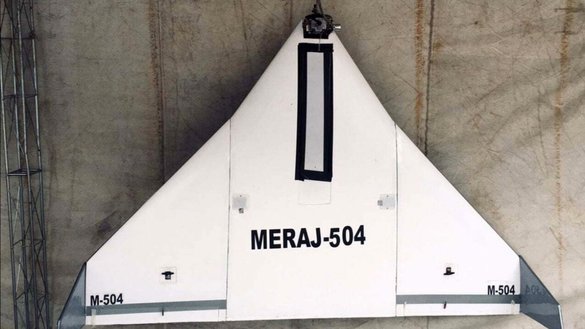 Russia has deployed those drones in its attacks on electrical infrastructure and other civilian targets in Ukraine, media outlets report.
Russia's use of Iranian drones in Ukraine is "appalling," US Secretary of State Antony Blinken said October 27, adding that the United States and its allies would seek to block such shipments.
Russia has used the drones to "kill Ukrainian civilians and destroy the infrastructure they rely on for electricity, for water, for heat", Blinken said.
In addition to supplying Russia with drones, Iran has sent trainers to occupied Ukraine to help Russians overcome problems with the fleet of drones they purchased from Tehran, the New York Times reported October 18.
The Iranian trainers, members of the Islamic Revolutionary Guard Corps (IRGC), are operating from a Russian military base in illegally annexed Crimea where many of the drones have been based since being delivered from Iran, the newspaper said.
According to Zelenskyy, Moscow has ordered about 2,000 drones from Iran, 400 of which have been deployed against the civilian population of Ukraine already.
So far, two models of Iranian drones have been identified in Ukraine's skies: Shahed-136 and Mohajer-6. Both belong to a type broadly referred to as Medium Altitude, Long Endurance (MALE) unmanned aircraft.
Insight Media on October 17 quoted Jean-Christophe Noel, a researcher at the French Institute for International Relations, as saying that the initial success of the drones comes "from being a new weapon on the battlefield".
Such drones are "a money-saving move for Russia, because it saves valuable cruise missiles worth $1.5 million to $2 million" per shot, said Sorbonne University researcher Pierre Grasser.
But "their main shortcoming is they can only hit stationary targets", he added.
Iran's continued denial
Although there is ample evidence that Iran is actively engaged, albeit indirectly, in Russia's war on Ukraine, Tehran has steadily denied it, claiming it has not sold drones and missiles to Moscow.
But on October 17, the Washington Post reported that Iran had sent officials to Russia in mid-September to finalise terms for additional weapon shipments, which reportedly include two types of Iranian-made surface-to-surface missiles.
"An intelligence assessment shared in recent days with Ukrainian and US officials contends that Iran's armaments industry is preparing a first shipment of Fateh-110 and Zolfaghar missiles," the newspaper said.
While the Iranian government vehemently denies its drones are being used against Ukrainians, multiple domestic news outlets -- some conservative -- have reported on it.
In September, the United States sanctioned an Iranian air transportation service provider that helped ship drones to Russia for use in Ukraine, warning non-Iranian firms against involvement in the trade.
It also blacklisted three companies and one individual involved in the research, development, production and procurement of drones and components for the IRGC, IRGC Aerospace Force and IRGC Navy.
Expanding relations in isolation
Iran has expanded its relations with Russia of late under the pretext of stimulating its near-bankrupt economy and resisting international sanctions.
Yet the notion that Tehran and Moscow would co-operate closely in Ukraine caught many observers -- including some leading Russian analysts of Iran -- by surprise, according to an October 26 Foreign Policy report.
Despite their recent alignment, Iran and Russia have a long history of enmity and mistrust dating back to the Tsarist era, including a series of Russo-Persian wars and frequent Russian meddling in Persian politics, the magazine said.
During the Iran-Iraq War of the 1980s, Russia sold its dilapidated weapons and tanks to the Islamic Republic at colossal prices, and it continues to do so, sparking further resentment inside Iran.
There is a pervasive anti-Russian sentiment in Iran, with many Iranians regarding Russia's recent agreements with the regime as going against their country's interests.
The Iranian government signed a long-term strategic agreement with Russia, prior to announcing Tehran's membership in the Shanghai Co-operation Organisation (SCO) in September.
Rather than helping the crisis-stricken Iranian economy, as government propaganda relentlessly claims, Tehran's SCO membership provides Moscow with open and unilateral access to Iran's resources.
Another agreement will be signed for "exporting Iran-manufactured parts and equipment to Russia and performing technical service and repair work on Russian planes in Iran's plane repair centres", Iran's Civil Aviation Organisation said July 26.
Analysts have described the agreements as "selling Iran".
Moscow also has threatened one of Iran's vital sources of income from the sale of oil by attracting Tehran's former clients, among them China, forcing Iran to further reduce the price of its already cheap crude oil, according to a Bloomberg report.
Accordingly, Tehran had to drop the price of its exported crude oil to match the level of Russian Urals, Bloomberg reported.
Solidarity with Moscow
During Russian president Vladimir Putin's trip to Tehran in July, Iranian leader Ali Khamenei expressed solidarity with Moscow.
Abandoning the previously conservative tone he had used regarding Russia's aggression against Ukraine, Khamenei praised Putin's "creativity", adding that "NATO would have started a war" had Putin not taken the initiative.
NATO is a "dangerous creature", Khamenei said.
During the meeting, the Iranian leader also called for strengthening "long-term co-operation" with Russia.
Following these remarks, the daily Javan, a publication affiliated with the IRGC, referred to Russia's invasion of Ukraine as a "legitimate and pre-mediated defence" and a "defensive jihad".
Khamenei's defence of Russia's aggression against Ukraine provoked critical reaction inside Iran, with political activists and journalists expressing concern about his remarks, particularly in reference to NATO.
The Iranian regime's decisions and the actions of the IRGC have resulted in biting sanctions on Iran and economic stagflation.
On September 23, Kyiv decided to significantly reduce its diplomatic relations with Tehran over its arms deliveries to Russia.
On October 20, the European Union Council sanctioned three individuals and one entity in relation to the use of Iranian drones in Russia's war in Ukraine.