Iran is supplying drones to Russia for its war against Ukraine, and analysts say such military co-operation is of immense interest for Tehran at a delicate moment for its leadership.
The United States has denounced as "appalling" Russia's use of Iranian drones after residents of Kyiv and other cities were shaken by a spate of recent attacks.
Ukraine has said about 400 Iranian drones have already been used against its civilian population, out of about 2,000 that Moscow has ordered. Tehran has rejected the allegations.
However, in a photo shared on Ukrainian president Volodymyr Zelenskyy's website on October 28, the embattled leader is seen standing next to the remnants of an Iranian-manufactured drone, Shahed-136.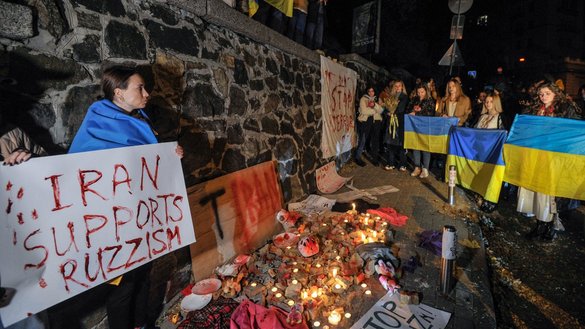 Iran and Russia, both former imperial powers that for centuries vied to dominate the Caspian Sea region, have long had a highly nuanced and delicate relationship marked by rivalry and co-operation.
Winning Russia as a close ally is all the more attractive for Iran's leadership right now, as it can count on Moscow to turn a blind eye to Iran's human rights and economic violations on the home front and in the region.
But Russia using Iranian drones against Ukraine would mark a key milestone in co-operation.
In addition to supplying Russia with drones, Iran has sent trainers to occupied Ukraine to help Russians overcome problems with the fleet of drones they purchased from Tehran, the New York Times reported October 18.
The Iranian trainers, members of the Islamic Revolutionary Guard Corps (IRGC), are operating from a Russian military base in illegally annexed Crimea where many of the drones have been based since being delivered from Iran, the newspaper said.
Military deals
"Iran could very well see the use of its drones against Ukraine -- backed by the United States and NATO -- as a way to strike at the West in its own backyard," said Eric Brewer, director of the Washington-based Nuclear Threat Initiative's Nuclear Materials Security Programme.
"Iran may view the destruction wrought by its drones in Ukraine as a reminder and warning to the United States, Israel, and Gulf states about what Iran could do should they ever strike."
Such drones are "a money-saving move for Russia, because it saves valuable cruise missiles worth $1.5 million to $2 million" per shot, said Sorbonne University researcher Pierre Grasser.
But "their main shortcoming is they can only hit stationary targets", he added.
White House national security spokesman John Kirby said he would not confirm reports that Tehran could also send short-range ballistic missiles to Russia but was "concerned about the potential" of Iran providing Russia with surface-to-surface missiles.
On October 17, the Washington Post reported that Iran had sent officials to Russia in mid-September to finalise terms for additional weapon shipments, which reportedly include two types of Iranian-made surface-to-surface missiles.
"An intelligence assessment shared in recent days with Ukrainian and US officials contends that Iran's armaments industry is preparing a first shipment of Fateh-110 and Zolfaghar missiles," the newspaper said.
Until Russia's invasion of Ukraine, Moscow had wanted to "appear co-operative" with international efforts to revive the 2015 nuclear deal and persuade Tehran to return to the accord, said Colin Clarke, director of research at the Soufan Group, a private intelligence and security consultancy.
He said Moscow did complete a sale to Iran of its S-300 air defence system with delivery in 2016. "But no new tanks, combat aircraft, ships, or other major combat systems have been sold by Moscow to Tehran since," he said.
Iranian army 'in a pathetic state'
The co-operation could work both ways: reports in September suggested that Iran was interested in buying Russian Sukhoi-35 fighter jets, a logical step given the ramshackle state of its own air force.
"The Iranian army is in a pathetic state," Pierre Razoux, academic director of the Mediterranean Foundation for Strategic Studies (FMES), told AFP.
He said some of the hardware was half a century old and had gone through the Iran-Iraq war. The army had to modernise but was restricted by sanctions, meaning it was "reduced to bartering", he added.
The deteriorating state of Iran's economy and transportation fleet was brought on "not only by the sanctions but also because of the diversion of public funds by Iran's IRGC to its regional proxies", political researcher Abdul Nabi Bakkar told Al-Mashareq.
Even if Iran were to purchase upgraded air defence systems from Russia, Iranian forces would be unable to properly use them, according to analysts.
"Many countries do not fully appreciate that effective air defence requires a networked system and not just one missile system component," according to commentary published on the RAND blog in May 2020.