A company with deep ties to China's military and political elite is responsible for security screening at some of the world's most sensitive airports, border crossings and diplomatic events, raising concerns about privacy and the potential misuse of data.
The company, Nuctech, has become the world's leading company, by revenue, for cargo and vehicle scanners, the Associated Press (AP) reported January 20.
In addition to the X-ray security scanners that passengers and baggage pass through at airports, the company makes explosive detectors and interconnected devices capable of ID card or ticket identification, body temperature measurement and facial recognition.
The United States, Canada and a number of other Western governments have refused Nuctech equipment over national security concerns.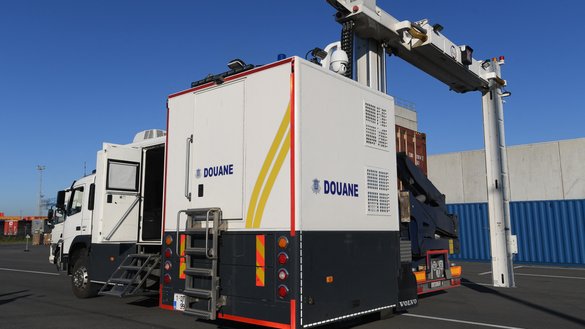 But the company's devices are in 26 of 27 European Union (EU) member states, according to public procurement, government and corporate records reviewed by AP.
With Nuctech scanners along NATO's borders with Russia and at Europe's largest ports and airports, a growing number of Western security officials and policymakers fear that Beijing could get its hands on government, industrial or personal data from the scanners.
"The data being processed by these devices is very sensitive. It's personal data, military data, cargo data. It might be trade secrets at stake," said Bart Groothuis, a member of the European Parliament and former director of cybersecurity at the Dutch Ministry of Defence.
"You want to make sure it's in the right hands," he said. "You're dependent on a foreign actor which is a geopolitical adversary and strategic rival."
Nuctech security products are found across Central Asia, particularly in Kazakhstan, where the company is present in at least 26 customs points, including Shymkent and Almaty airports and the seaport of Aktau, according to SecureTech corporation.
Complex web of power
Nuctech is an offshoot of Tsinghua University, an elite public research university in Beijing founded in 1911.
In 2012, Forbes dubbed the university China's "power factory" because of the large number of Chinese politicians it counts as alumni -- including Chinese leader Xi Jinping, former president Hu Jintao, former premier Zhu Rongji, former central bank governor Zhou Xiaochuan and former minister of finance Lou Jiwei.
Nuctech calls itself "a responsible Chinese high-tech enterprise" that relies on "independent innovation".
But the company's ownership structure is so complex it is hard to discern the lines of influence, accountability and control.
What is clear, however, is that Nuctech maintains very close ties to the CCP's academic and national security interests.
For most of the 2000s, Nuctech was run by Hu's son, Hu Haifeng.
Nuctech's ownership structure now comprises a dozen major entities across four layers of shareholding including four state-owned enterprises and three government entities, according to Datenna, a Dutch economic intelligence company focused on China.
With a 71% stake, Nuctech's largest shareholder is Tongfang Co., a high-tech enterprise founded by Tsinghua University in 1997. That connection seems innocuous enough, but following the trail of power shows a complicated web.
Tongfang's largest shareholder is the investment arm of the China National Nuclear Corporation (CNNC), which also has a 21% interest in Nuctech.
The CNNC is a state-run energy and defence conglomerate controlled by China's State Council.
The US Defence Department considers the CNNC a Chinese military company because it shares advanced technologies and expertise with the People's Liberation Army (PLA).
"The question here is whether or not we want to allow Nuctech, which is controlled by the Chinese state and linked to the Chinese military, to be involved in crucial parts of our border security and infrastructure," Datenna CEO Jaap van Etten told AP.
'Not really a company'
For the United States and Canada, and a growing number of European states, the answer is a resounding "no".
In July 2020, a Canadian government security review found that Nuctech's X-ray security scanners could potentially be used to covertly collect and transmit information, compromise portable electronic devices or alter results to allow transit of "nefarious" devices.
As a result, Canadian authorities declined a standing offer from Nuctech to provide X-ray scanning equipment at more than 170 Canadian diplomatic missions around the world, citing an "elevated threat" of espionage.
In December 2020, the US Department of Commerce added Nuctech to its Bureau of Industry and Security Entity List, restricting exports to the company on national security grounds, citing Nuctech's "lower performing equipment".
Nuctech equipment has been effectively banned from US airports since 2014, following a review of a confidential government report, the Wall Street Journal (WSJ) reported in June 2020.
But over the years, Nuctech has gained a foothold in Europe by lowballing its offers.
The company's bids can be 25–50% lower than their rivals, according to competitors, and sometimes they include perks such as extended maintenance contracts and favourable loans.
Nuctech has been involved in "a decade-long aggressive campaign to grab significant market share in critical infrastructure segments in Europe at the expense of US manufacturers", the US State Department said in a memo May 26, 2020.
Nuctech's prices are "economic statecraft", said Didi Kirsten Tatlow, a researcher who specialises in China's impact on Europe, technology and disinformation.
"It's not really a company," she told AP. "They are more like a wing of a state development drive."
'A strategic investment'
"This is becoming more and more dangerous," said Axel Voss, a German member of the European Parliament who works on data protection.
"I wouldn't mind if one or two airports had Nuctech systems, but with dumping prices, a lot of regions are taking it," he said. "This is becoming more and more a security question. You might think it's a strategic investment of the Chinese government."
Voss raised concerns about Nuctech's practices in an email to senior members of the European Commission (EC) in December 2019. The EC is the EU's executive body.
He said the company's "extreme low-level pricing strategy" suggests its motives are not commercial but rather "an interest to control strategic EU infrastructure and data driven knowledge".
Nuctech has a 90% share of Europe's sea-cargo screening equipment market and about 50% of Europe's market for airport passenger baggage and cargo screening, according to the US State Department.
"These machines are already deployed all over Europe. They're everywhere," Mikko Huotari, director of the Mercator Institute for China Studies in Berlin, told Politico in February 2020.
Human rights concerns
Nuctech's technology -- particularly the use of facial recognition, fingerprint scans and human body scanning "micro measurement" -- has also raised human rights concerns, especially in China's northwestern region of Xinjiang.
At least one million Uighurs and other Turkic-speaking, mostly Muslim minorities are incarcerated in "political re-education" camps in Xinjiang.
Independent investigations and interviews with former camp inmates have brought to light physical and mental torture, brainwashing, systematic rape and sexual abuse inside the camps.
Human rights organisations and a growing number of Western governments -- including the United States, Canada, the Netherlands, Britain, Belgium and France -- say Beijing's policies in Xinjiang amount to "crimes against humanity" and "genocide".
Nuctech's Chinese website says the country's western regions, including Xinjiang, "are important business areas" for the company.
The company works with police and other authorities in Xinjiang, providing X-ray equipment, licence plate recognition devices and an integrated security system for the subway in Urumqi, the region's capital city, according to Chinese government records.